I'm so psyched I can video chat with my girlfriend on Facebook now that the company has announced its video calling feature in cooperation with Skype. But how do I get started and set things up properly so I can see her smiling face? In the name of love, Dave, ya gotta help us out!
Easy does it, Romeo. Turns out that the feature is live, but Facebook hasn't done much yet to make it easy to find out how to enable video chat. Actually, the formal name is Facebook Video Calling, as far as I can tell. Either way, a rose still smells just as, um, yeah, whatever. Let's get on with it, eh?
The first thing you'll need is a video camera on your computer that's hooked up. I'm going to demonstrate it on my MacBook Pro with its built in video camera, and you'll see at the end I am having a video call with my friend Chuck who has a PC laptop with a built-in camera. It all works but ya gotta have the gear to play…
To start, you need to click on this link: https://www.facebook.com/video?calling.
Once you get there, you'll see the option of turning on Facebook Video Chat:



Take a deep breath. There are a lot of steps to this, but part of it is the extra security I get within Apple's Safari browser, so it's all good, just a bit tedious the first time. As you can see above, the first step on this journey is to click on "Get Started".
Confusingly, the next step doesn't have you download and install the video app that makes the magic possible, but rather teases you with the suggestion that it's already magically set up and you're ready to make your first video call instantly:



I'll pick my friend – and willing guinea pig – Chuck and it changes to a regular Facebook Chat window, but there's a new icon along the top: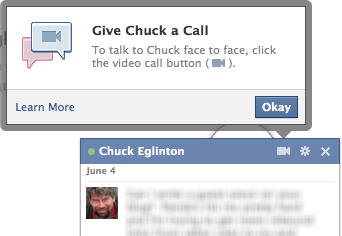 Since the goal is a video call, I'll click on "Okay" to proceed. Again, I'm not prompted to download any software or anything, I just have the little information window vanish. Um, okay. Now I have to click on the video camera link again:



Now, finally, it's ready to set things up: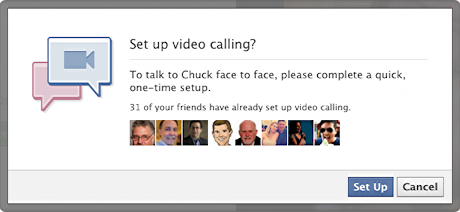 As you might expect, click on "Set Up" to proceed from here.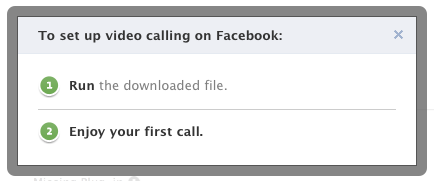 This is where things got a bit confusing in Safari because unlike some other browsers, it tends to keep your downloads hidden from view. I think this step is designed for browsers like Google Chrome where it automatically shows you the downloaded file on the lower left edge of the browser window. Instead, I got this:



I went to the Downloads window and tried to open up "FacebookVideoCalling-1.jar" (a "jar" file is a Java runtime, by the way), just to get this error message:


Okay. Another step. We can do this.
Click on "Install" and it'll download the necessary application framework from Apple:



After about a minute or so, the results:


That looks good, but once I click on "OK", now what?
To proceed, I went back to the Downloads window and tried to open up that "jar" file again. This time something more interesting happened:



Since this is the entire point of the exercise, I of course click "Open" and, finally, it looks like something useful is happening:


Once that downloads (yeah, a lot of new software for my computer!) that video call to Chuck finally initiates:


Problem is, Chuck isn't set up yet, as becomes obvious when he tries to answer it. In fact, the little window on my end changes to:



Fine. I drop that call and wait a few minutes for Chuck to go through the same steps on his end (at least we only have to do this once per machine for video calling to be enabled!).
Eventually, here's what I see:



Cool! A click on "Answer Call" and a blue window pops up. Do you think they thought about the blue screen of death when they picked this color? 🙂


A few seconds later everything's in place, I can see myself in the top right inset and the main portion of the video window is Chuck:


Slick and easy once you've gone through the confusing and complicated setup process. To end a video call simply click on the red button on the top left (on a Mac) or the "X" button on a PC. I expect there'll be an "End Call" button showing up, somehow, along with "mute" and "temporarily pause video", but for now, it's not too bad and it's a considerably bigger video window than Google Video Chat supports.
Hope that helps and enjoy video calls with you girlfriend! Kinda like the beginning of
Transformers: Revenge of the Fallen
, isn't it?