I have a new MacBook Pro from Apple with the retina display and I really like it but I'm a bit confused about the "power nap" mode. Apple says it lets the computer keep doing useful things while it's otherwise asleep, but I want to have some control over it and probably will turn it off so I don't waste power. What's your take?
I also have one of the new MacBook Pro systems with the high-res "retina" display and while I was initially skeptical about the "power nap" feature for exactly the reason you mentioned — that I'd have a dead laptop every time I went to use it because it hadn't really been in sleep mode over night — my actual experience with the feature is quite different.
Honestly, the hardest thing to get used to is that I like to check my email from my iPhone and if a message has come in to my mailbox and been shunted to a folder due to a rule in Apple Mail, it never shows up for the portable device due to how IMAP works. This means that I sometimes think I've gone without a message for an hour or two when there are a half-dozen sitting on the MacBook, waiting to be read. Not exactly a crisis, tho!
Apple lists all the things that your computer can do while having a Power Nap thusly:
Mail. Receive new messages.
Contacts. Your Contacts update with any changes you may have made on another device.
Calendar. Receive new invitations and calendar updates.
Reminders. Reminders updates with any changes you may have made on another device.
Notes. Notes updates with any changes you may have made on another device.
Documents in your iCloud account. iCloud pushes any edits you made to a document to your Mac notebook.
Photo Stream. Your Photo Stream updates with new photos from your iPhone, iPad, or iPod touch.
Mac App Store updates. Your Mac notebook can download updates from the Mac App Store.
Time Machine backup. Your Mac notebook can back up while it sleeps.
Find My Mac. Locate a lost Mac notebook even when it's sleeping.
VPN on demand. Corporate email updates securely.
Configuration profile. Macs in managed environments can receive configuration profile updates.
But wait, there's more! If your computer's plugged into an AC outlet, it can also download software updates, perform Spotlight index rebuilding and update the Help Center with new content. Quite a busy gadget when we think it's asleep. Maybe this should be called "iDream" instead?
In any case, I've opted to leave it enabled and so far have been surprised by how little impact it has on my battery life. For example, if I charge up to 100% before I go to bed, then unplug the MacBook Pro, it's still at 95% 7hrs later when I wake up. Not bad at all.
To get to the Power Nap feature, you need to go to System Preferences and look for the "Energy Saver" preference pane:



If you've never been to this preference before, it splits between battery and power adapter with a tab, as you can see here: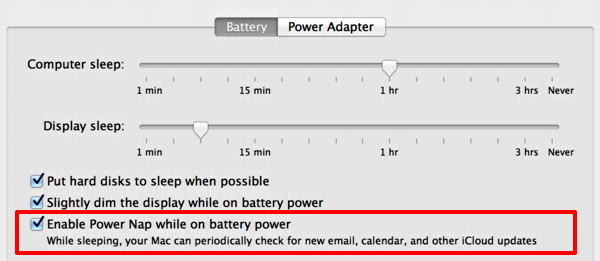 I've highlighted the checkbox where you can enable – or disable – Power Nap. Since it differentiates between battery and power adapter, you can also disable it for when you're on battery but enable it for when you're plugged in. Your call.
Note that option #2 on battery power is "slightly dim the display" versus on the power adapter tab: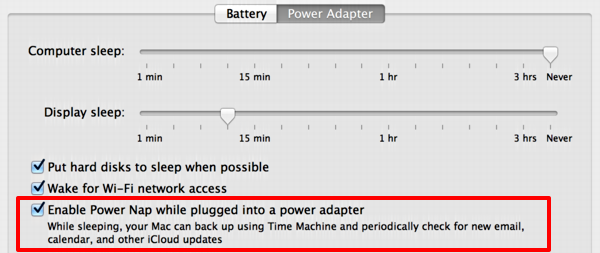 You can see that the #2 option is wake for wi-fi network access here. My guess is that this particular capability is obsolete now that Power Nap – while plugged in – does so much, but we'll see how this evolves.
In any case, if you want to disable Power Nap, you can now see exactly how to do it. I suggest that you try it for a week, though. I think you'll be surprised how little impact it has on your battery life and getting all those housekeeping tasks done while you're doing something else? Brilliant.