I'd like to have the option of using my Android phone as a hotspot on occasion when there's no other Internet option. How do I set it up safely?
There are as many different versions of Android as there are grains of sand on a beach. Well, maybe not quite that many options, but there are a lot of different choices and flavors of Android, both by major release and the customized versions for various vendors and manufacturers. I'll step you through how I set it up on my Xiaomi Mi 5s running Android 7.0 Nougat. Undoubtedly your phone will be different, but hopefully just subtly different!
Before we go further, however, it's important to recognize that not every cellular carrier wants you to use your phone as a portable hotspot so other devices can access the Internet. It's also alarmingly easy to eat through a lot of data in a very short amount of time if you're doing anything like streaming music, movies, or even using a cloud backup system (that last one's bit me more than once!). You've been warned, so be careful.
To start, go into your Settings app and look for "Hotspot" or "Personal hotspot":
If you don't have a hotspot option, search for it. If you still don't have it, you might have a version of Android where it's been shut down by the carrier, in which case you need to call 'em and ask what's going on. You might need to jump to a different data plan to gain access to this feature (which is a bit dumb, but hey, it's their network, right?)
Assuming that you do have "Personal hotspot" or similar, tap on it to get to the main settings screen:
You can turn on the hotspot, but let's configure it first. That's done by tapping on "Set up WLAN hotspot". Easy enough. Here are your options:
The SSID is the name of the wireless network you're creating. You can leave it as the default, or you can do something more fun or interesting. I'll change mine from the default of "Mi Phone" to "Mi5s" just to differentiate it further.
More importantly, however, notice below it that the default security is None. That's a mistake. You always want to enable a password for the hotspot access because you don't want random people you don't know accessing your phone!
Tap on "Security" and two options appear:
Choose WPA2 PSK [which stands for Wifi Protected Access v2 Pre-Shared Key] and you'll be able to enter a password. Even a poor password is way better than nothing, but it's easy to use a capital letter or two and create something memorable and easy to enter:
Yes, my password is "HookMeUp". Easy, right? But unlikely to be guessed by someone who only has access while I have my phone's hotspot feature enabled – and I recommend you only have it on when you're actively using it, then turn it off again when you're done.
Ready to go. All that's left is to actually turn on the hotspot itself:
You can see the switch on the top. Also notice at the bottom you can see a list of all connected devices at any time if you're wondering about whether anyone else has hooked up without you noticing!
And that's it, you're up and running. In fact, now you can pop onto your Mac and have it prompt you for the new password before you connect and utilize it:
Oh, and one final coolness. See the prompt on the Android settings for "Share QR Code"? Here's what you'd see: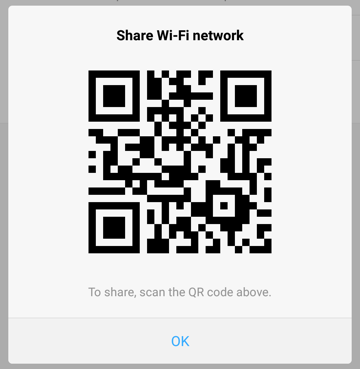 If someone scans that code, they'll immediately be hooked up because it contains not just the SSID information but the password too. Cool, eh?
Pro Tip: Useful? I have lots more Android help on the site too. Please check it out!