Just hooked up a Linksys Wi-Fi Router and want to set it up so my kids can't go online in the middle of the night. Can you help me figure out how to set that up?
You're in luck because I'm also using a Linksys router in my office. It's a top end WRT 3200 ACM router and I've actually written about it before here on the site: Up to Speed with the Linksys WRT 3200 ACM. Check it out!
What makes the Linksys line really easy to work with is that almost all of the configuration is done through a Web-based interface, meaning that it's the same experience whether you're working with an entry level router suitable for a dorm room or a higher end 802.11ac router like the WRT 3200 ACM. Once you have your router online, the next step on the configuration journey should be to connect to LinksysSmartWifi.com.
Connect to it on your home network and you should see a home page like this:
Lots of things to do — and I recommend you turn off guest networking for security, as I've done — but for this particular task, look on the list on the left side and click on Parental Controls to proceed.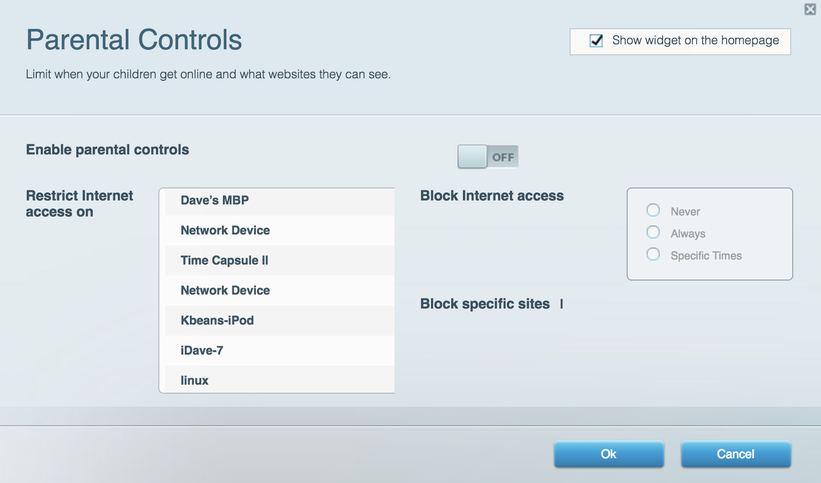 My daughter has an iPod that she likes to use for network games and there's really no reason in the world for her to be doing so in the wee hours of the night, so I'm going to turn off Internet access for her device starting later in the evening thru the following morning.
To do that, I'll find her device — Kbeans-iPod — and click on it, then click "ON" to enable Parental Controls, then "Specify Times" in the box on the right.
It'll look like this:
To specify on and off hours, a single tap on "Edit" adjacent to "Specific Times" brings up the slightly confusing access grid:
Click on a white box and it becomes a black box, meaning that access will be blocked. Click on a blocked box and it'll regain access and become white. Above you can see that Sunday thru Thursday Internet is blocked from 10pm-7am, and on Friday and Saturday night access is blocked, but not until 11pm.
While you're on this page, make sure that the router has your correct time set (see lower right) because if it's off an hour or two, all the times you specify will be off that hour or two also.
Looks good? Click "Ok" to set the access and go back to the previous window.

Oops! Click "ON" on the very top to make sure that the overall controls are enabled (though it seems like if you make any changes that should happen automatically, but that's another story).
One more task: let's block a specific site just so you can see how to do it. In fact, it's super easy. Just click on "Add" adjacent to "Block specific sites" and type in the URL. You can see that I've blocked "thepiratebay.org" so that my daughter won't be able to access that site either from within an app or the Web browser on her device.
That's it. Another click on "Ok" and it's back to the main page, but this time there's a new configuration summary window for Parental Controls:
Excellent. And that's all there is to it! Now my daughter has a site blocked (and she might never realize how) and has the entire Internet blocked from bedtime to breakfast every night, automatically. Smart, and easy!