Been reading a lot about blue light and sleep patterns and really want to enable "night shift" on my iPhone 6s. How can I turn this feature on?
Well, you're in luck because it's only in the last 24 hours that Apple released iOS 9.3, the first iPhone and iPad operating system that actually includes the Night Shift feature you're talking about. Night Shift, for those of you who aren't familiar with the name, lets you automatically filter out the blue spectrum light from the display on the device, allowing your brain's melatonin production to not be disrupted if you look at your screen in the evening or really late at night.
I have a similar feature on my MacBook Pro (a handy little app called f.lux) and it takes a bit of getting used to because colors can shift quite a bit, particularly if you're doing something like editing a photograph or looking for clothes as part of a late night online shopping binge. Caveat emptor. Still, I have found that I seem to be sleeping deeper since I've turned these features on and it's way better than dealing with some of the blue-light-filtering glasses on the market that are supposed to be ideal for this task.
What I'd suggest is that you try it. Turn on Night Shift for a week and see how it works for you.
To enable Night Shift, make sure you've upgraded to iOS 9.3 or higher, then tap on Settings.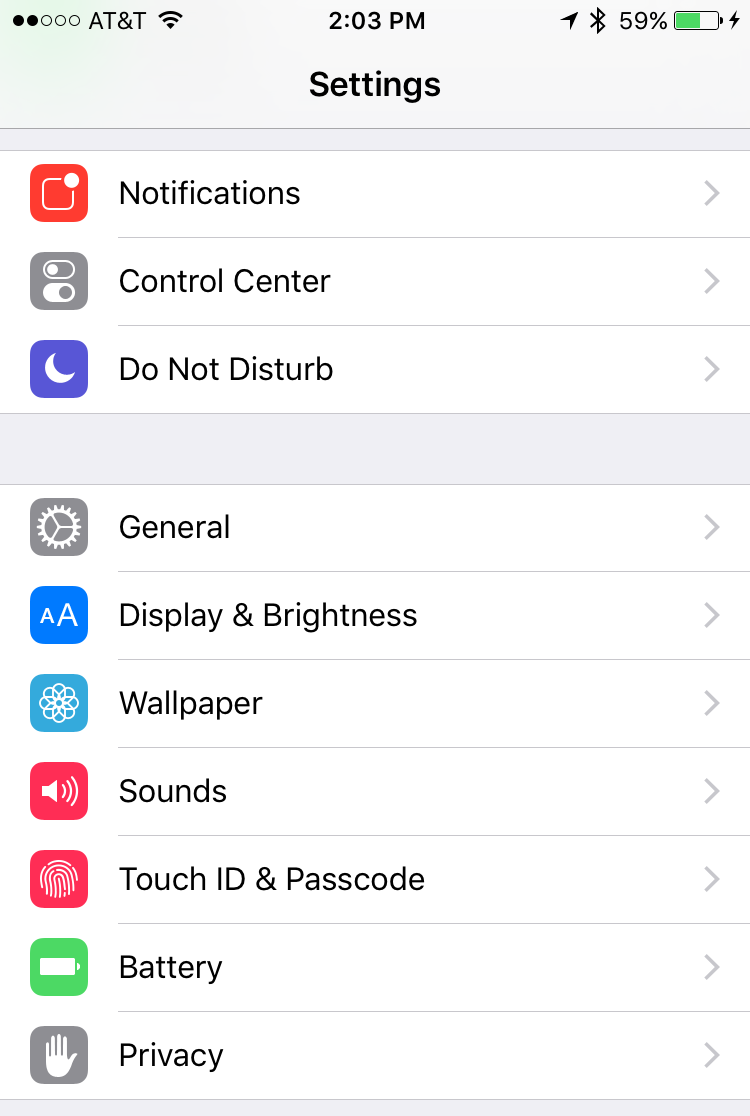 Scroll down as needed and tap on "Display & Brightness".
If you're in iOS 9.3, you'll see Night Shift as one of the options: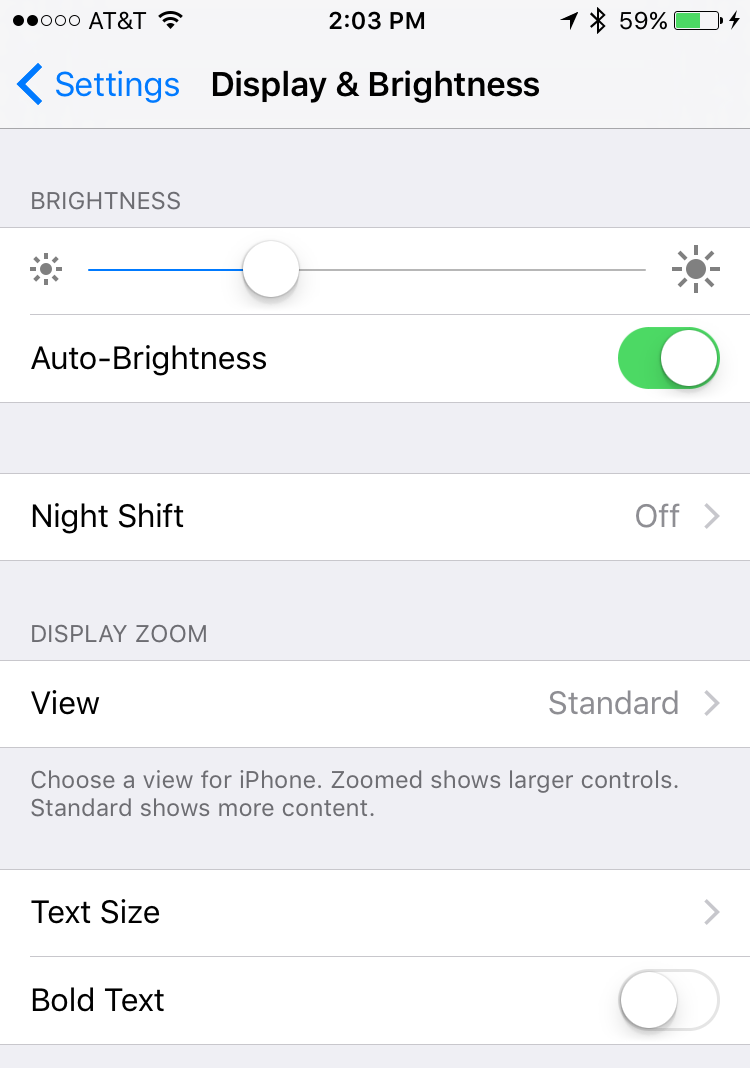 If you aren't seeing Night Shift, you need to update your iOS version. Go to Settings > General > Check for Update to do that.
Tap on "Night Shift" to enable this feature: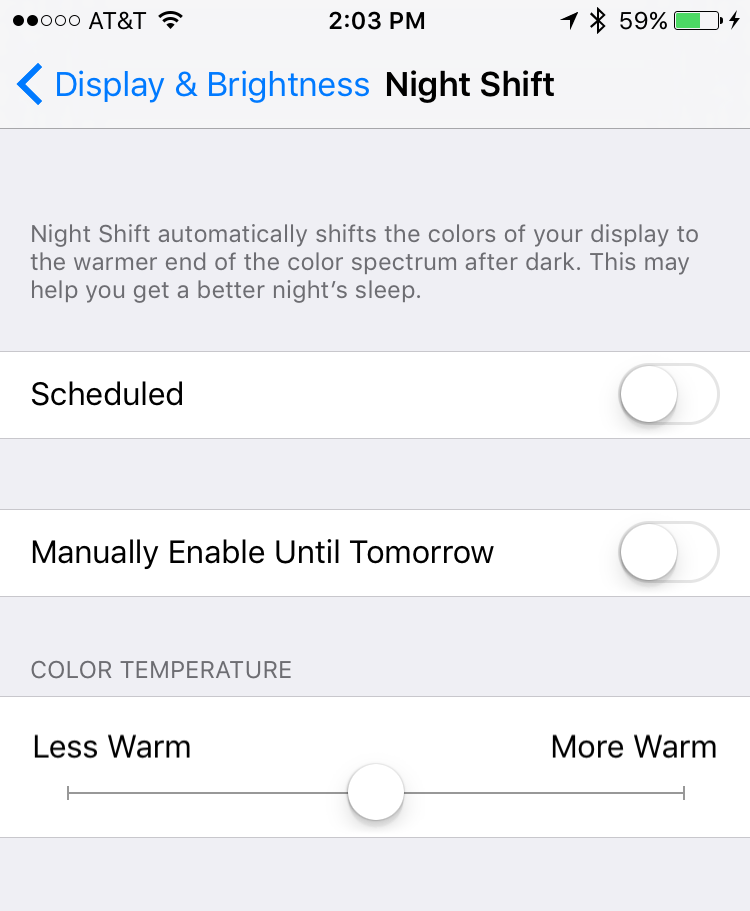 You can manually enable it to try it out, but I suggest you just tap on the "Scheduled" button and set it up to automatically turn on so you don't have to think about it. A tap on the slider adjacent to "Scheduled" and it's enabled, with a default of 10pm-7:00am: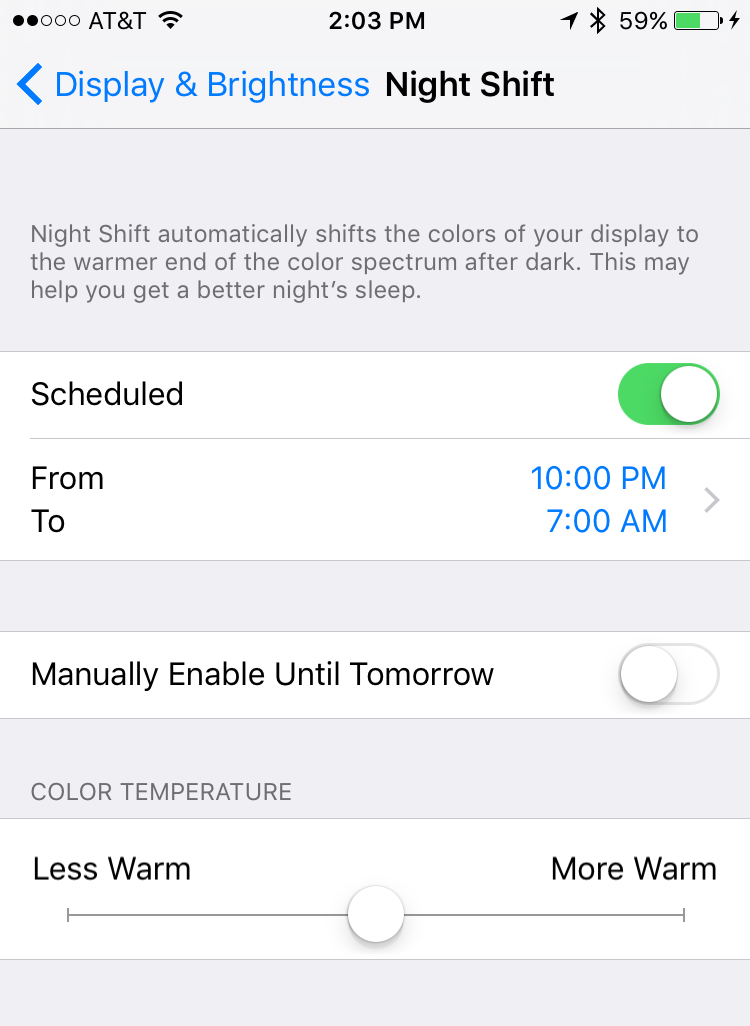 Tap on the From/To schedule, however, and you can fine tune how you have it set up or even just switch to sunset/sunrise (note: this does not play the song of (approximately) the same name from Fiddler on the Roof. Just so there's no confusion!):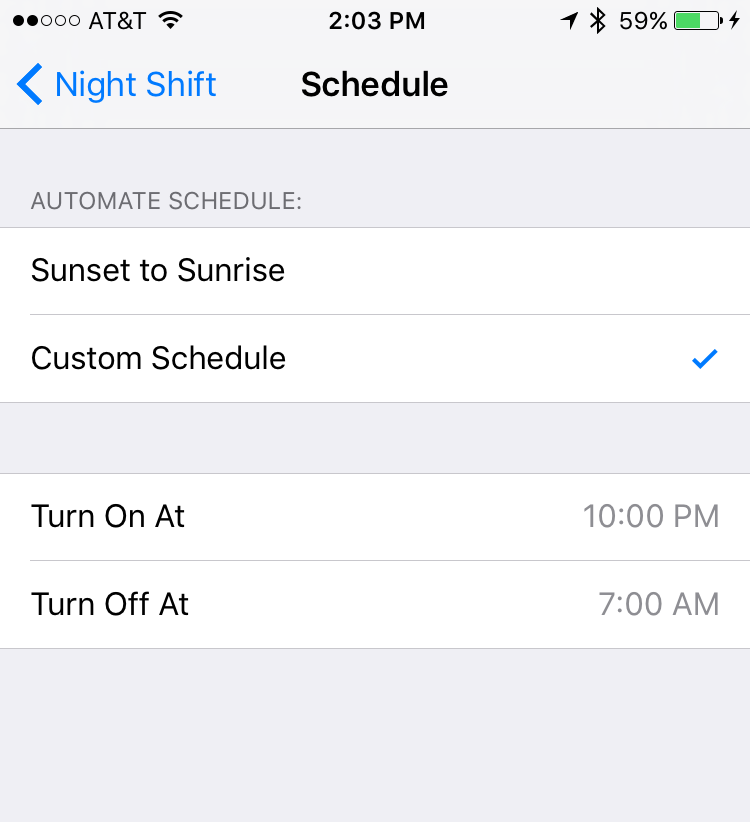 You can change it as desired, but I'm going to stick with the 10pm – 7am schedule, which fits my personal schedule quite well.
Done? Done. Just leave the app by pressing HOME.
That's it. You have Night Shift running on your iOS 9.3 device (it'll also work on iPads). Now, on to sleep!