I read that the new MacOS 12 "Monterey" release includes a built-in language translator. That would be really useful, particularly when I'm in the field (and often offline), but how do I access it? Running MacOS 12 on an iMac.
Every time there's an operating system update for the Mac, new features sneak in, often unheralded. There are Web sites that track the changes and improvements, but generally speaking, it's often on us users to figure out what's new and how to utilize it. The new built-in language translation features in MacOS 12 "Monterey" are very much in this category. In fact, digging into it I can't help conclude it's not quite done either, but even with its quirks, it's darn useful!
The challenge is that you have to enable it, download the language libraries you want, then find where to enable local translation. Suffice to say, that that setting is very much non-obvious, actually buried deep in the System Preferences area. Fortunately, however, you have me as your tour guide, so let's figure all this out and get the translator feature working on your iMac!
HOW TO USE THE MACOS 12 BUILT-IN LANGUAGE TRANSLATOR
To get started, let's just copy and paste some Spanish prose into the Notes app. As you might expect, spell check goes bonkers over all these "misspelled" English words:
Why Notes? Because not every app on MacOS supports the built-in language translator yet, though most all Apple apps do. Notes, Apple Mail, and Safari are all examples of programs that have this support.
Select a portion with click-drag and Control-click on the selected area. A context menu appears:
As highlighted, choose "Translate" and it'll fire up that language translator. Well, once you give it approval to send the text to the Apple language server for analysis and processing: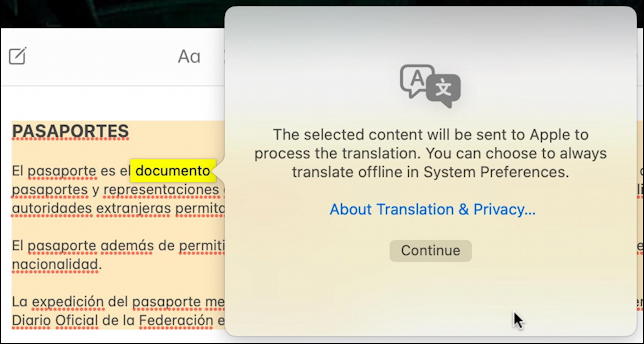 We'll set up local translation in a moment, but for now, just click on "Continue" to accept these terms.
Within a second or two the translation appears in the pop-up window: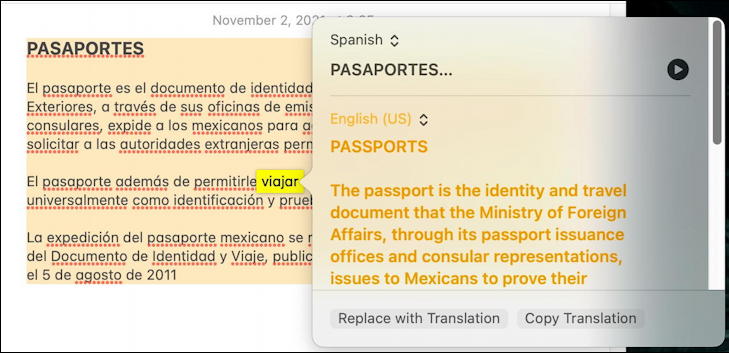 Notice the two buttons on the bottom of this pop-up window too: Replace with Translation and Copy Translation. You can also change the destination language from English to another language by clicking on "English (US)".
Now, what about local translation? Let's get that set up.
HOW TO ENABLE LOCAL LANGUAGE TRANSLATION IN MACOS 12
You'll want to jump into System Preferences and search for "translate" in the top right search box: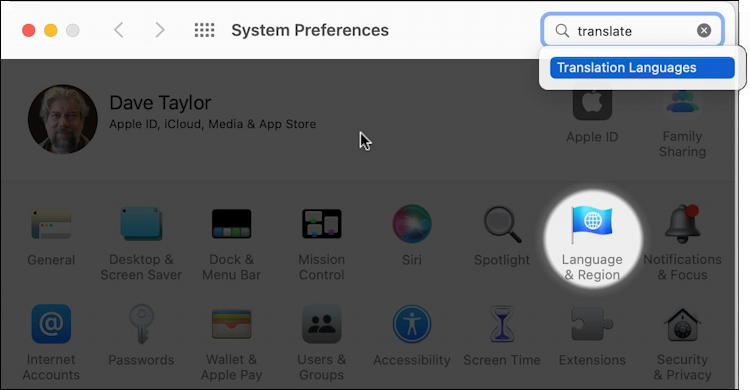 It highlights "Language & Region", which makes sense. Click through and you'll be here:
Here's where you have to be a bit of a detective. Along the bottom is the new button "Translation Languages…". Click on it to proceed…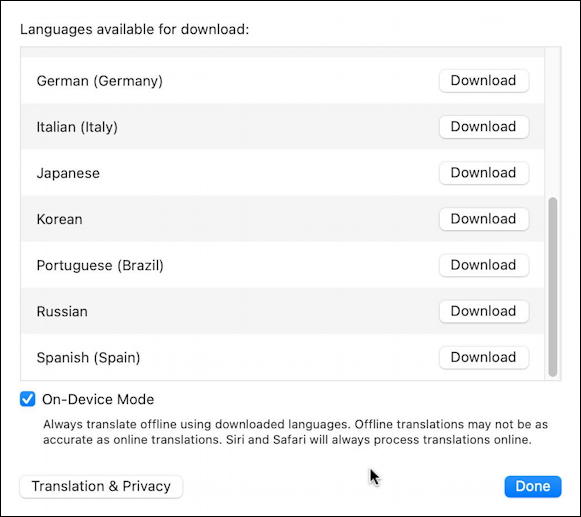 Here's where it's a bit wonky still: Download a language and you'll still have to download it a second time when you first request that translation. I recommend you do the one really important thing here: Enable "On-Device Mode" by checking the box adjacent. Click on "Done" and you can proceed.
At this point, go back to your Notes document and again Control-click on the Spanish language portion (or whatever language sample you have). When I do, the pop-up window is quite different: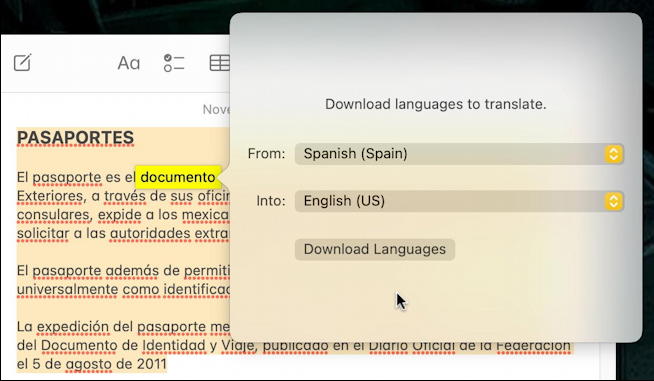 Notice that it automatically selected the source language here. I ensure it's correct, specify the destination language, and click on the "Download Languages" button to proceed.
Once it's done downloading the language dictionary, it again offers up a translation within the window: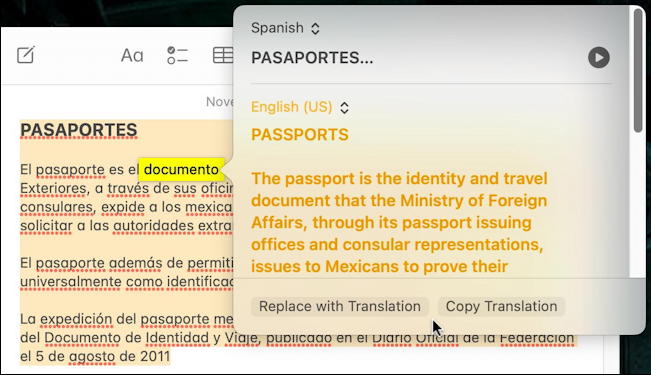 Pretty easy to work with, and it'll do its magic even if you're offline at the time. Very handy!
TRANSLATING LANGUAGES WITHIN APPLE SAFARI
This also means that you can land on a Web page in another language and use this same feature to translate directly. Just select the text to translate, Control-Click on the passage, and it'll translate it almost instantaneously:
A really well-implemented feature (other than the dictionary download confusion) and one well worth enabling and having at your fingertips for the next time you encounter content that you can't otherwise read.
Pro Tip: I've been writing about MacOS since the days of MacOS 9! Please check out my huge Mac help library for hundreds of useful tutorials and how-to guides while you're visiting. Thanks.