I've moved my Mom to a Windows 10 system and want to know how to get it to be able to use dictation or text-to-speech so it can read Web pages to her as her eyesight is poor.
While we're not quite at the sci-fi film ideal of a computer that can chat with us and is indistinguishable from a human being, computer voices have come a long way in the last decade or so. Some, like Cortana and Alexa, are remarkably good and getting better all the time, but others are a bit behind, though still quite functional. Windows 10 includes the Cortana voice system which makes you think that it would be the same engine used for text to speech features, but, alas, it isn't.
Which isn't to say that the text to speech dictation and reading system in Windows 10 isn't very good, because it's actually quite acceptable. For a situation like someone who has a difficult time reading on the screen or just gets quickly fatigued it can be a life saver. Would I want to listen to my Win10 system read War and Peace however? Probably not. Fortunately that's why we have audio books! 🙂
Anyway, your Mom's computer has everything you need to get this working, but you do need to enable the feature before you can try it out. To do that, do a Cortana system search for "speech":
As highlighted, choose "Change text-to-speech settings" and you'll get the following options and settings:
Most likely, the speech language is what you want, but you can definitely experiment with different settings if your Mom is multi-lingual! Where this gets interesting is the second section, "Text-to-speech", because you can choose from a couple of different voices: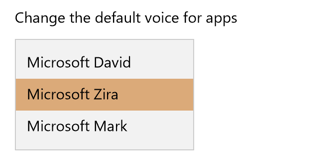 It's a bit curious that they have two such mainstream male names and "Zira". Interestingly, though, Zira is "Messenger" in Hebrew. Now you know.
You can try all three voices and you can tweak the speed to make it faster or slower when reading; just make your choices and click on "Preview voice" to hear how he/she sounds. I prefer Zira as she reminds me of Alexa!
That's it. You're set up. Now to use it, simply right click on a text passage.
For example, here's an article from MSN.com about James Cameron:
If you wanted to have the computer read out the story, the easiest way is to simply click and select the first word or paragraph, then right click on the selection:
The choice is easy: "Read aloud". It will then commence reading, highlighting the current line or phrase in blue and the word it's actually pronouncing in yellow. It's quite cool, actually:

It's much more effective to see and hear it, however, so here's this sentence being read as a video capture:
So that's the story. I hope this helps you get your Mom all set up with text to speech and dictation on her new Windows 10 computer!
Pro Tip: While you're here, do check out our extensive Windows help area too. Thanks.