I've been reading about your blue light night filters on various devices with great interest. What I really look at a lot at night, however, is my Android phone. So, is there a blue light or night lite filter or similar available in Android?
At this point I believe this will cover all the primary bases for night light filters for major operating systems! We've written about how to turn on Night Shift on a Mac system, how to enable Night Light on Windows computers, and how to engage Night Shift on an iPhone or iPad (going back to iOS 9). Heck, I even wrote about how to turn on Blue Shade on a Kindle device to accomplish the same result! But Android? Nothing. Yet. So let's fix that.
To briefly summarize why this is important, blue frequency lightwaves control the production of a hormone in your body called melatonin. Melatonin controls your circadian rhythms (sleep cycles): you want lots of it produced when it's sleep time, and you want it to go away during the daytime when you should be awake and alert. Normally that's just how our brain works and why the blue frequencies occurring in natural daylight are so important. It's also why we sleep more in the winter! Once the sun sets, we're biologically wired to get sleepy. Unless, of course, you expose yourself to lots of blue frequency light throughout the evening. Not good and it'll definitely mess up your sleep cycles. Solution: Eliminate that blue light in the evening!
Having explained that, you clearly already understand the relationship between blue frequency light and sleep. So let's just jump into the Android world and turn on Blue Light. Start in Settings and search for "blue". Easy enough:
Lots of options, notably Bluetooth, but the entry you seek is "Blue light filter", about half-way down the screen. Tap on it to proceed. Notice, btw, that Google (Android's creators) is focused on eye strain, not talking about circadian rhythms at all. There's also some data to show that blue light from screens can increase eye strain, btw, though blue light causing eye strain remains contested by professionals. though no systems let you have a small amount of blue light filtering during the day and more as the evening progresses, so draw your own conclusions.
Anyway, back to our Android phone!
Here's what you'll see (slightly truncated to take up less space here on the Web page):
You can turn it on immediately to see what it does, which is good because then you can use the slider to see how filtering out different levels of the blue spectrum affects your screen. I tend to have a lot filtered out, maybe at 75% or so; after a few seconds you won't even notice but at night particularly it's easier on the eyes and less stressful.
Now, tap on the slider adjacent to "Turn on as scheduled" to set up a schedule so it automatically triggers every night. You'll need to grant the app permission to see your location: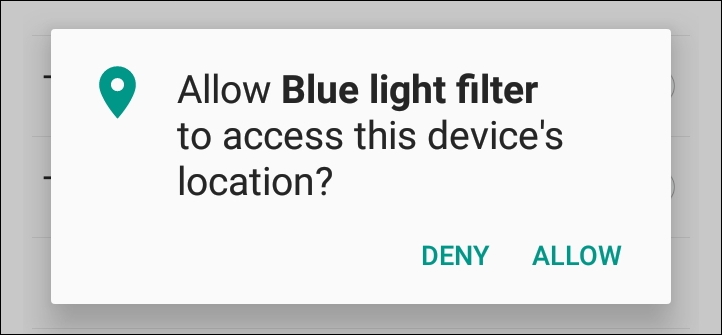 You'll want to do that if you want to set it to use sunset/sunrise (since that varies by location), but if you just want to set an on and off time, you can DENY this access. My recommendation: ALLOW this access.
Either way, now you can see your two choices:
I very much prefer having it work sunset to sunrise rather than on a timed schedule (remember, you'll forget about it after just a few days and won't even notice that it's enabled) but you can choose which you prefer. Either way, you just enabled the Blue Light Filter for your Android smartphone. Well done!
Pro Tip: I have oodles of useful Android tutorials here on the site and invite you to browse and check them out!