I just got an LG V30 and am excited to have this new smartphone. One feature I can't figure out how to enable or turn on, however, is the "always on" display. My phone just goes dark when I'm not using it. Help!
If you're used to an Apple iPhone, the idea that your screen is always on and always showing useful information like time, temperature and related, is a bit disconcerting, but Android phone users have been enjoying Always On for many years, depending on device. Even better, the impact on your battery life has become less and less as companies have figured out ways to power the screen more efficiently.
Which leads to the question how the heck do you turn the darn thing on? 🙂
Interestingly it seems that different manufacturers have different default settings, and at this point it's primarily LG and Samsung that are using Always On as a differentiator for their devices. Since I just finished reviewing an LG V35 ThinQ [see My review of the LG V35 ThinQ on YouTube] I also was a bit stymied by the fact that by default it wasn't enabled. Why not have this as a default setting?
In any case, it's pretty easy to set it up and customize the display. Let's have a look…
To start, jump into Settings.
If yours looks a bit different it could be that this particular phone was running Android 8.0 and you might be on an earlier version of Android. Turns out that while you can enable the Always-on display from this main window (it's about halfway down the screen) let's see a smarter way to navigate the Android settings area instead.
The cool kids use search to jump straight to the setting and options they seek, so let's do that by tapping on the magnifying lens at the top right. Then tap in "always" and look what happens: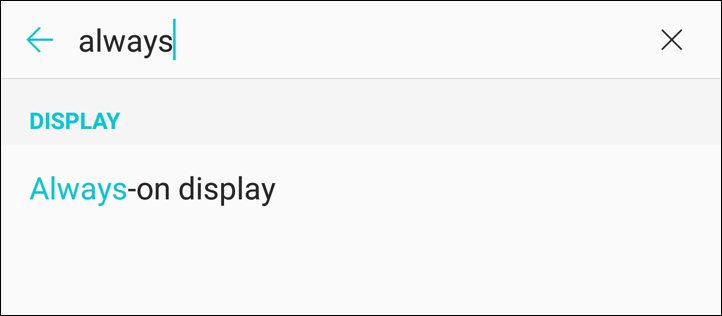 There we go. Straight to the correct screen, no hunting involved. Just tap on the match, Always-on display.
Now you'll be here:
First step, enable it! That's done by tapping on the slider control adjacent to "Off". Once you've done that everything ungrays and you can choose from a variety of general display formats – Digital clock, Analog clock, Dual clock, Signature, etc – and then fine tune what else you'd like on the screen. Heck, you can even customize colors:
I like a simple display with a contrasting color, so I chose the darker red. As my color of choice.
It's then previewed on the settings screen:
Note that you can also set "Brighter display" but I'd recommend caution around that setting as it can impact your overall battery life on your LG device. Try it if you want, though, and see how that works out for you.
Whatever design, layout, images and features you choose, now ya know how to enable and customize your Always-on display on your LG phone. Have fun!
Pro Tip: We have lots of Android help here on the site, please take the time to check it out!