I don't want to have a widget on my blog that shows what I'm doing on Instagram, I want to actually embed Instagram photos in blog posts directly. Is that possible?
Instagram is a great photo sharing application, but it is frustrating sometimes how it's so locked into the mobile world if you also work on actual computers (well, to be fair, modern smartphones really are portable computers, but I think you know what I mean!). You can't post photos from a Web browser to your Instagram account, which is actually a good thing because it'd be even more overrun with spam and junk than it is now: once you allow Web access people would be able to program their posts and it'd soon look like, well, like Twitter, which has fallen to a shadow of its former glory for just that reason.
On the other hand, the Instagram team hasn't forgotten us non-mobile users and the interface it offers is quite attractive and offers everything you can do from a mobile device except post new photos. You can browser other Instagram users — for example, here's my Instagram photo stream — leave comments and "like" photos.
More to the point, you can also dig up the code to embed an Instagram photo in a blog post or other Web page.
Let's start by having a peek at my current Instagram feed: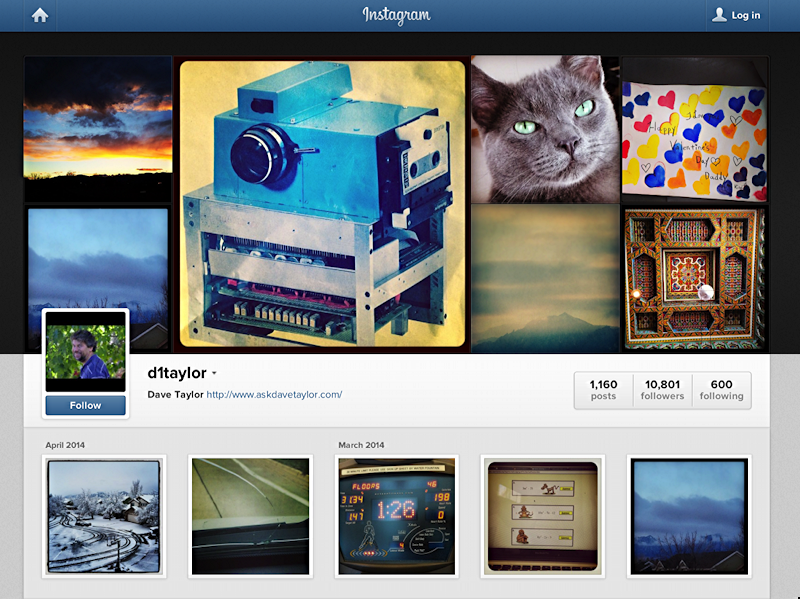 When you look at the page live you'll see that the images on the top change, showing a nice overview of the photos in that user's stream. Nice.
Note also that you can follow an Instagram user directly from their Instagram page if you're logged in: Just click on "Follow" under their profile pic.
Scrolling down a bit, I find an image that catches my eye from a game I playtested. Moving my cursor over the image reveals some stats:
You can see that it was posted on Feb 9, 2014, has 7 "likes" and zero comments.
Clicking on it opens up the image almost full-window, with more options and the ability to comment, etc:
If there were comments, they'd be shown on the right rather than that big blank space. Note at the bottom I can click on the heart to like the photo or leave a comment. Kinda weird on my own photo, but these features also exist when I'm viewing other photos from other Instagrammers (instaphotographers? instausers?)
More importantly, notice the button with three dots on the lower right. And click on it:
As you can probably guess from this point, you want to click on "Embed".
Do so and a window pops up with some embed code: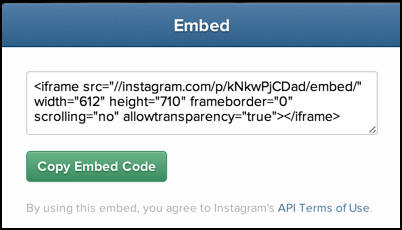 What does it do?
Let's find out!
So that's the scoop. Easy enough, and darn useful too.