I signed up for a Paypal debit card as an easy way to access my Paypal balance [see Paypal Debit Card vs Paypal Plus Card] after wondering for a long time how to get to the money without requesting checks every few weeks and it's working well, but I'm wondering if there's a better way to track transactions than just logging in to the Paypal web site?
Glad you find the PayPal Debit card useful. I have had one for years now and while it's not technically a credit card, it's one of the two cards I have in my wallet. The other one? An Amazon Rewards Card through Chase Bank. The latter is a real "credit" card, however, and the difference, in case you 're not sure, is that a "debit" card lets you spend up to but not over your existing balance in the account, whereas a "credit" card lets you go into debt, spending beyond what you have and then requiring that you pay it back — or make at least a minimum payment per month — up to your "credit limit".
As it happens, I'm very much against credit cards and think that profligate spending is the path to getting into serious trouble. That's why I only have one, and that's for emergencies. Earn it, then spend it, and your life will be a whole lot better. But… you didn't ask me a question just to hear my philosophy of personal finances, did you? So, okay, enough preaching. 🙂
You are correct that there's a way you can set up your PayPal account, and, by extension, your PayPal Debit Card, to email you all sorts of notifications and updates. What's frustrating, though, is that it isn't mentioned in the Paypal help system, so search as you might, you'll never find information on "email credit card transaction receipts" or similar.
Instead, here's the scoop. Log in to your PayPal account and along the top you'll see the usual set of options:

You want to click on "Profile", as I have highlighted here.
Now you will see quite a lot of information about your account and how you've set it up, including this handy navigational aid with four primary categories: personal info, money, settings and selling tools:
Notice that under "My settings" it says "Notifications". That's the one. Click on "My settings" and one of the areas you can burrow into is Notifications:

Click on "Update" to the right of this entry, even though the description makes it sound like it's all marketing and sales promo notifications.
Now, scroll down a bit and you'll see:
The choice of notifying you when you "make a purchase with my PayPal ATM/Debit Card" is what you want, and then immediately below chose either HTML or Plain Text for the format of the email. Scroll to the bottom, click "Save" and you're done!
HTML email notifications, by the way, are very clean and easy to read: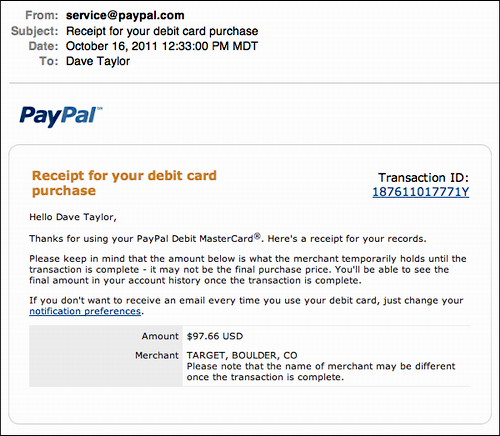 I have them enabled because it's very handy to keep an eye on what's happening, particularly if you are worried about unauthorized transactions or recurring transactions that you've forgotten about.
---
Thanks to my pal Anne Mitchell of
The Internet Patrol
for helping me figure out how to enable this. Really, PayPal, it should be easier to find in your help system…