Is it possible to have Instagram automatically email me a copy of every photo that I post? I know that I can tap on the email link when I post photos, but that's a manual step and I am sure I'll forget to do that sometimes, and I seek something completely automated. Does Instagram offer such a feature?
Instagram has a lot of cool features but I've never seen anything where it can automatically email you a copy of every photo you post, unfortunately.
So does that mean my answer is "no"?
Actually, it doesn't, because there's a really cool site called IFTTT — If This Then That — that offers a powerful set of recipes you can create to do a ton of cool things based on you actions on individual social media and sharing sites. Basically, any site that has a robust application programming interface (API) which covers a ton except, alas, Pinterest. But that's a separate discussion.
For now, yes, you can do exactly what you want if you're willing to through about a dozen steps. Then when you're done, it'll work automatically forever, and you'll never have to pay attention to it again. What I've done, in fact, is set up a rule that emails me a copy of every photo I post, including caption, to my Gmail account, then using a filter I have it automatically whisk away into a specific "Instagram" folder. I never see it, but they're accumulating in case I ever need to go back and see. A perfect invisible backup!
Let me show you how I did it. It's complicated. But you can do it. 🙂
First off, go to IFTTT (they pronounce it like "gift" without the leading "g") and sign up. Verify your account, then you'll see the following on the home page:


You want to create a new "recipe" in their parlance, so click on the big blue "Create a Recipe" button.
You'll then see all your active channels, which initially aren't very many:
"Instagram" is a new channel that isn't configured by default, so you'll need to click on "Add more Channels". Do so, then scroll down until you see the Instagram logo:
Click on "Instagram" and it'll explain what you're about to do:

Looks reasonable. Click on "Activate" to turn the channel on.
Well, actually, it sends a request to the Instagram server, but you still have to confirm that you want to let IFTTT access your Instagram account:
Click "Authorize" and you'll be dropped back on the IFTTT page, but with your Instagram access enabled. Now it's time to create your recipe!
Find the following and click on the blue "this":

Now you'll need to scroll down to find Instagram on the list of trigger channels. (I've slightly modified this screen capture to make it a bit smaller, there are lots of other choices!)

Click on "Instagram" and it'll offer a variety of different trigger events. For this recipe choose "Any new photo by you", though notice that there are a lot of other interesting possibilities: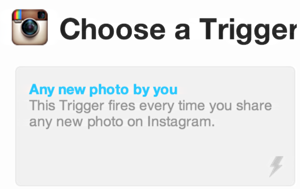 There's nothing else to specify in this case (you can also set up a recipe to have all photos that someone else posts emailed to you too, for example, in which case this is where you'd enter their Instagram ID):
"Create Trigger" and you're halfway done with the process. Next up, what to do when that trigger is activated:

To get to the second portion, click on the blue "that" and you'll get to choose an action for the recipe to take. Click on the "mail" icon and it'll show you:
Almost done. Now it's time to configure exactly how the mail should look. By default, the message subject is the Instagram caption and the message body is the image and the Instagram URL that links directly to that post on the service:
Since my goal is to automatically filter out all these messages, I want a fixed, easily identified subject instead, and the caption can easily go in the message itself. I type in the desired subject — "[Instagram] New Photo Posted" and when I click in the message body field, the pop up "Ingredients" menu drops down and offers me easy shortcuts to a variety of different fields I can have added: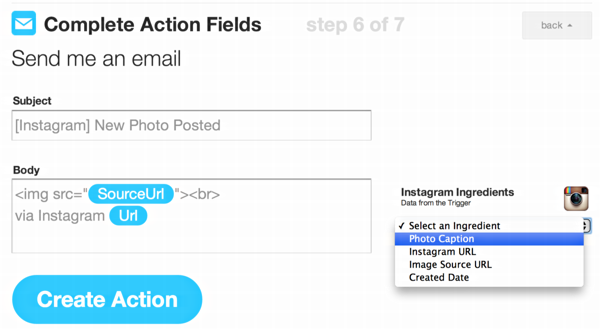 You can see that I'm about to select "Photo Caption". Once I do, a big blue arrow with the label "Caption" appears. I type in the label and click on the "+ Caption" button and…

You can see that the message body looks great and includes the photo, photo caption, and the Instagram URL itself. Nice.
Next step is to click on "Create Action" and I'm basically done other than adding a small description so I can remember what I've created:
Looks good? Click on "Create Recipe" to activate it.
BAM!!
Done.
Not too bad, though definitely a number of steps involved.
What have we done? Let's have a look. On my iPhone I posted the following photo into Instagram:
Within a few seconds a copy of it showed up in my Google Mail account, as I'd hope: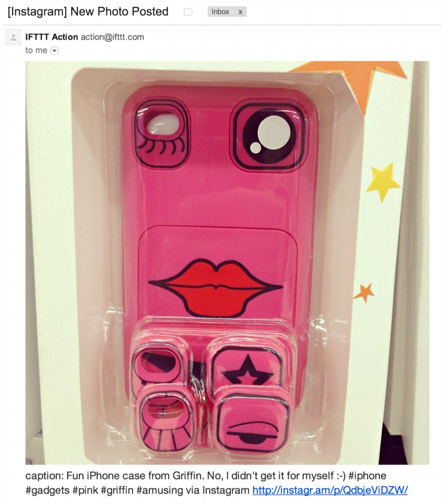 While looking at that message I clicked on "Filter Messages Like This" and took the steps outlined in my earlier tutorial on
how to create Gmail filters
. In total, maybe ten minutes to get everything set up and tested, and now it's running 24×7 whether I remember or not.
Slick, eh? IFTTT is a very cool service. And when they add Pinterest it'll be even cooler. 🙂