I'm a pensioner and on a tight budget. My sister just sent me some Word documents to edit and I don't know how to proceed: I don't have Microsoft Word on my PC. What are my options?
By creating a de facto industry standard for word processing, Microsoft has made a whole lot of money through Microsoft Word, and then the latest iteration, Microsoft Office 365, which is now a subscription service. At $9.99 / month or $69.99 / year, however, you get to slowly pay an unbounded amount of money instead of the few hundred dollars to buy the software outright back in the day. They're cunning, those Microsoft folk, so most Windows computers come with a free 30 day, 90 day or even six month subscription to Office 365, which just gets you hooked into the system and makes it just about impossible to quit once the free period ends.
(This, of course, is no different to any other company's approach to maximizing per customer revenue, so it's not a criticism of Microsoft as much as an observation of how the industry has changed)
Fortunately, there are some really interesting alternatives out there if you need to have interoperability with Microsoft Office documents but don't want to buy Microsoft Office or subscribe to Office 365 on your computer. One that I like is Google Docs, which offers an online-only, browser-based solution that can read Word documents and save your edits back as an MS Word doc, ready to share with your sister or anyone else. Here's a good video from GCFLearnFree.org to learn more: Get started with Google Docs.
But there's a much more interesting alternative available too, a free software option called Open Office. Written by a substantial group of programmers whose goal was to duplicate Microsoft Office but in a free and cross-platform manner, it's continued to grow for years and is now a remarkably powerful and capable suite of programs. Better yet, you can download and use it on your Windows computer for free, and you'll be delighted how well it works.
Let's have a closer look! First off, here's my test Word document, my latest column for the Boulder Daily Camera newspaper: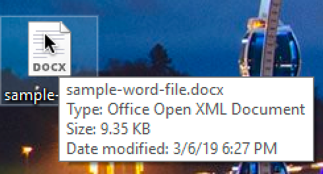 Since I don't have any of the Microsoft Office suite – or Office 365 – installed, searching for "microsoft word" reveals that there just aren't many options on this computer: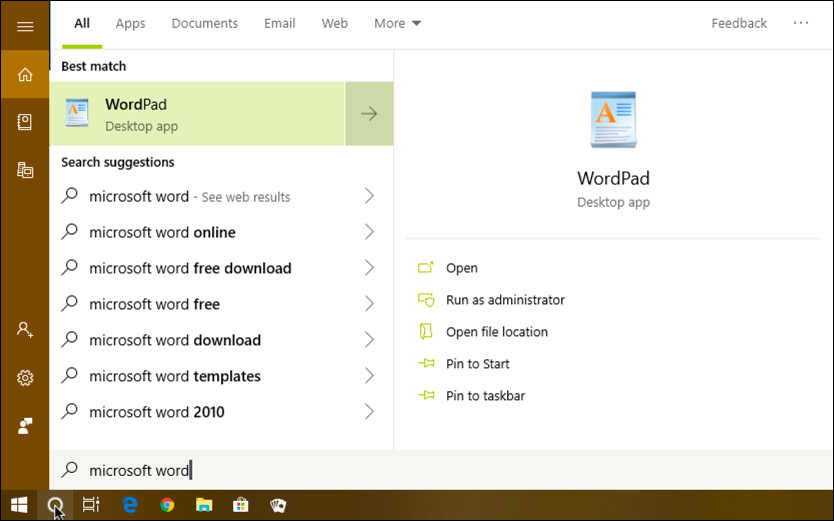 WordPad is supposed to be able to read Microsoft Word documents, but when I try to open this particular file in WordPad – horror! – it's blank. Empty! No document at all. Not good.
So instead let's install Open Office and see how that works. Pop over to www.openoffice.org and here's what you'll find: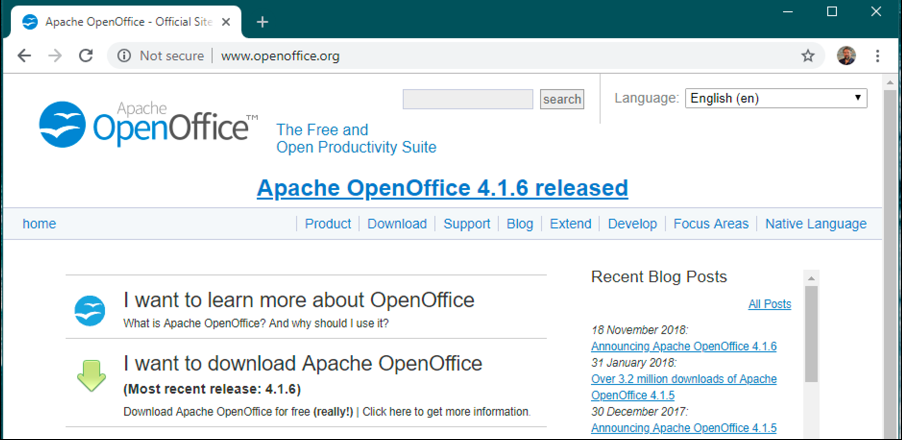 Interestingly, it's actually part of the Apache project. Apache is one of the most popular Web servers on the Internet and while it seems like it might be named after a Native American tribe, it's a-patchy that forms the basis for the play on words. Just FYI, of course!
Choose the download option and you'll find that there's support for Linux, Mac and Windows. Choose a Windows EXE:

It's a pretty quick download for most users – open source software tends to be leaner than the corporate bloat of big commercial apps in my experience – so it won't take long for you to get here: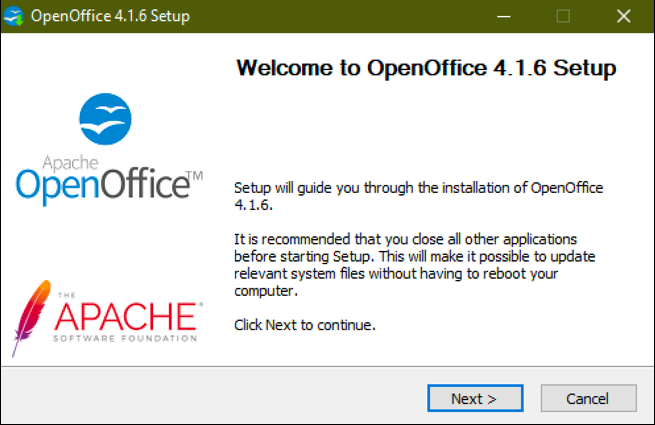 You know what to do here. Just keep clicking "Next >" until you find your way out of the maze of twisty passages…
Eventually you'll come to this fork in the road: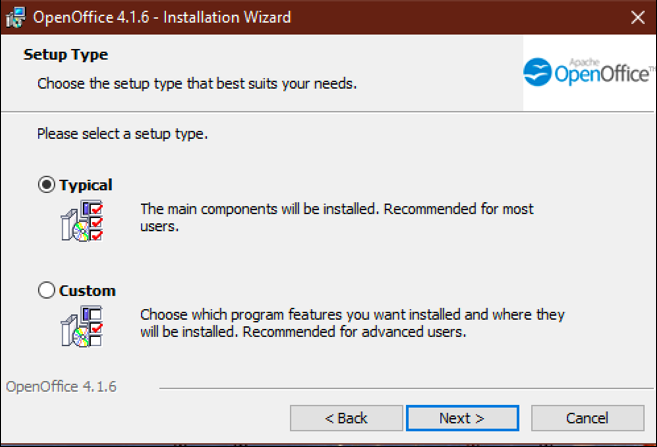 This is where you might want to pause and consider. If you just want a word processor that interoperates with Microsoft Word files, choose "Custom", but if you'd like to install the entire suite for maximal flexibility down the road, well, "Typical" is the way to go. On my computer disk space is a bit tight so I'm going to do a Custom install. A few clicks and here's what I see: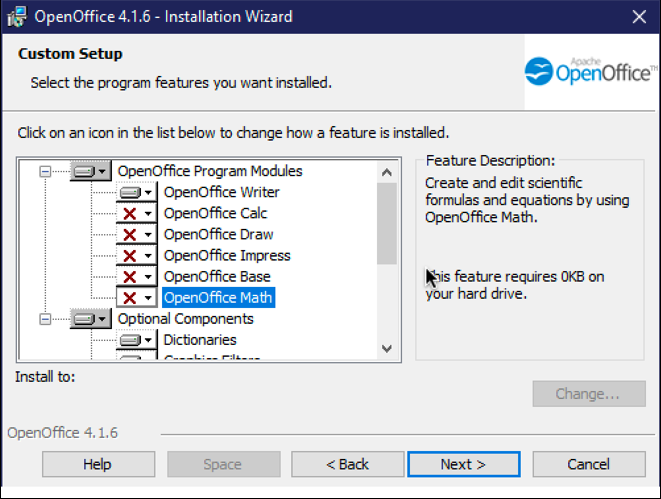 You can see that I'm going to install OpenOffice Writer (the word processor) but skip OpenOffice Calc, OpenOffice Draw, OpenOffice Impress, OpenOffice Base and OpenOffice Math. I could always install them later if they proved necessary, but for now it's Writer that I want.
To proceed, you guessed it, click on "Next >". Make your life easy now by choosing to associate Microsoft Word documents with OpenOffice Writer: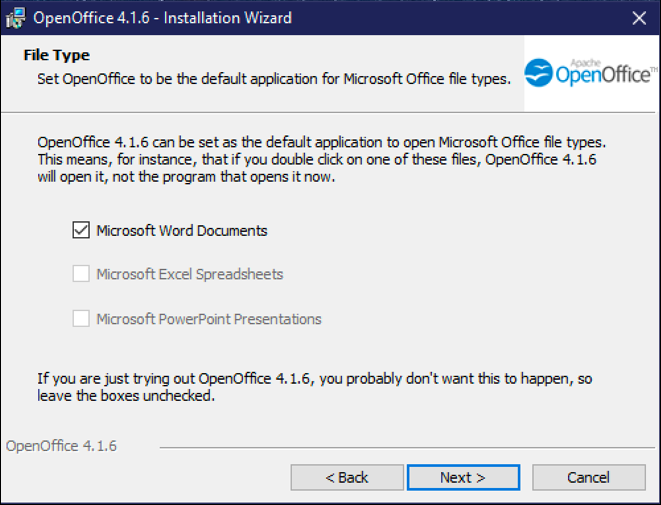 That's it. Done. Installed. Now finally when I go to open up that Microsoft Word file in OpenOffice Writer, it's as I expect: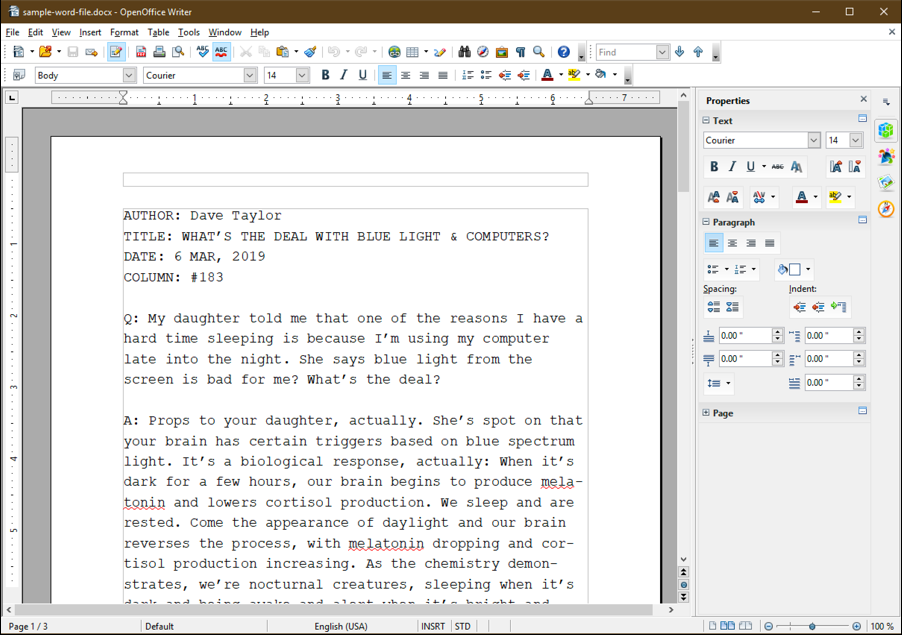 Look closely at the above screen capture and you'll see that the program offers a huge array of features and capabilities, making it an excellent – and free! – alternative to Office 365.
Check out OpenOffice for yourself, you might just find it's a solid and far more affordable solution.
Pro Tip: I've been writing Windows help tutorials for eons. Please check 'em out while you're here! Thanks.