Students send me homework assignments as Microsoft Word files, but I don't have Word, I use Google Docs exclusively. Is there any way I can open up a Word doc on my Desktop within Google Docs within my Web browser? Running Chrome on Windows 10.
It's easy to fall into thinking that each of the major word processing systems is a self-contained universe. Word files can only be edited in Word, Google Docs only creates Doc files, etc. But it turns out that is most definitely not true and every one of the major editing suites, from OpenOffice to Apple Pages, has a surprisingly high level of interoperability. In other words, if you get a Word document, you can open it in just about any editor! Not only that, but all of these programs listed can save in Microsoft Word's .DOC or .DOCX formats too, making for even more interoperability.
The question, then, is how do you get the document from the Desktop on your PC to Google Drive so that you can see it and open it in Google Docs. Then once you're done, how do you save the new marked up version back to your desktop, if so desired? Let's start with the first question…
HOW TO OPEN A DESKTOP WORD FILE IN GOOGLE DOCS
I'll demonstrate with a .docx file, but this will work with .doc, .txt, even .rtf files, as you might have been sent. Turns out you can upload and open the file in a single step, so let's start out by simply going to docs.google.com to jump straight to Google Docs. When I do that, I'm shown recent documents I've created or were shared with me:
Nice, but where's the document that's on my Desktop? How do I upload it? No worries, that feature is hidden in the folder icon on the right:
Yes, it's called the "file picker", which sounds more like a country song than a software feature. 🙂
Click to open up the file picker and you'll see this: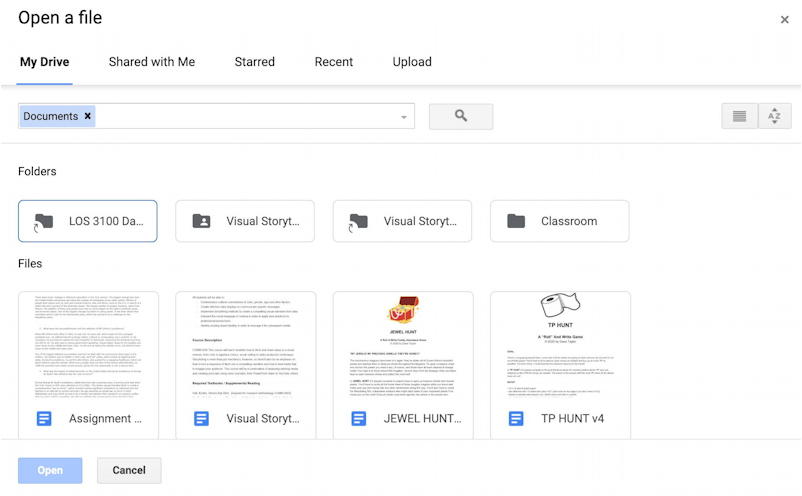 Makes it easy for me to access the folders and files in my own Google Drive, but that's not what we want. Instead, click on "Upload" along the top. Now you'll (finally!) see this in the center of the window:
Click or tap on the blue "Select a file from your device" and choose the Word document from your student.
It will need to be uploaded…
Then it'll be saved to your Google Drive and opened up so the next thing you see is your doc: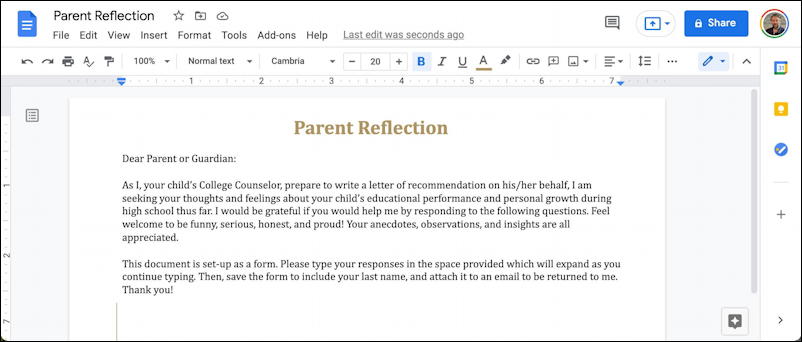 Mission accomplished.
HOW TO SAVE A GOOGLE DOC TO YOUR LOCAL COMPUTER
Before I wrap up, however, let's quickly look at the reverse process: How to save your newly edited Docs file back onto your PC. That's done off the "File" menu:
Not only can you choose to File > Download the saved file, you can even choose the output format from the surprisingly extensive list. Here are your options:
Microsoft Word (.docx)
OpenDocument Format (.odt)
Rich Text Format (.rtf)
PDF Document (.pdf)
Plain Text (.txt)
Web Page (.html, zipped)
EPUB Publication (.epub)
Quite the extensive list. Pick the best format for your needs and it'll be downloaded in that format and saved directly onto your computer. Handy. And easy too!
Pro Tip: I've been writing about Google's office suite and tools since the very beginning. Please check out my extensive Google Help Library for lots of useful tutorials while you're here. Thanks!