Need to convert PDFs to Word, create PDF forms, or even extract data from a PDF form then the slick Windows PDFelement might just be your best solution…
A lot of people receive PDF documents but never realize that they can be edited, annotated, even converted to other formats with the right tools. The "portable document format" is a great way to preserve layout across platforms too, but I've certainly encountered plenty of situations where I wish I could tweak or modify a PDF I received or even pull out all the text or images so I could work with it in Microsoft Word or even Excel. But how? Free PDF viewers certainly don't offer much in the way of features.
Enter PDFelement Pro from Wondershare software. As with all the Wondershare products, it's simple, elegantly designed and works great within the world of Windows 10. I decided to test it out by exporting a PDF to Word and adding a few form elements to the doc too.
To start, grab a copy for yourself – the demo version is free to try – and install it. The splash screen for installation is simple enough:
Once it's installed, the interface looks quite a bit like a modern Microsoft Office product:
The doc I'll start with is a PDF version of The Gettysburg Address, which I open with the "Open File…" link. Here's the main view of a PDF doc in PDFelement 6:
Simple and straightforward without any tool windows or other elements getting in the way of reading the PDF document itself. But look along the very top for key functions: Comment, Edit, Page, Form, Protect. You can also use the "I want to…" shortcut on the top right too, if that's your preference.
I'm going to export this and convert it to Microsoft Word format by clicking on the "To Word" button on the top right.
You can see the target filename: gettysburg-address.docx. Once saved, though, what happens if I open it in WordPad on Win10?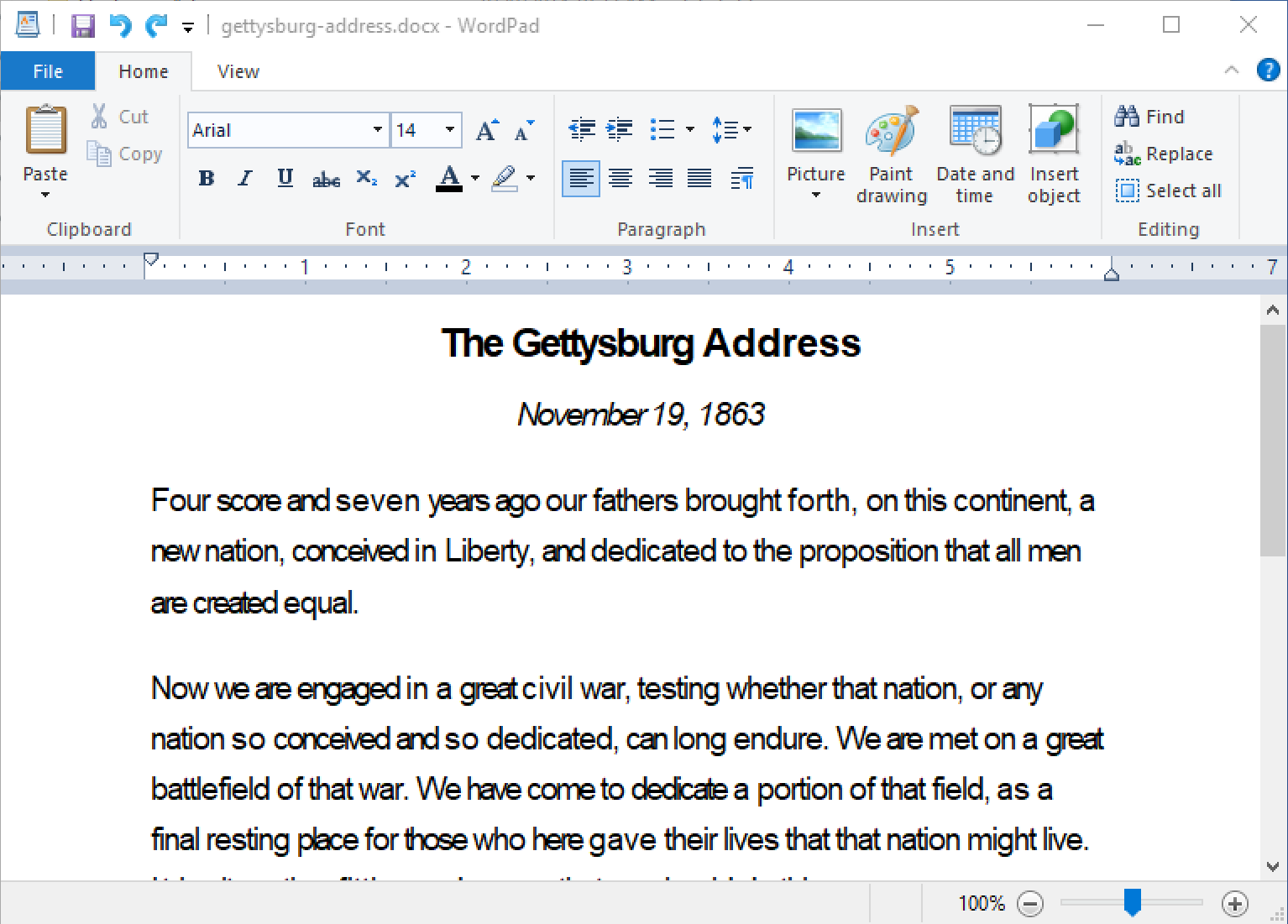 I might change the typeface within WordPad, but you can see that it's done a perfect job of exporting the PDF and saving the text as an MS Word document, including all formatting. Nice, and super easy.
Next up, let's take the original Gettysburg Address PDF and add a few questions to the bottom with the PDFelement 6 form values. A click on "Form" along the top and you can see all the various elements that are easily added:
I used "Comment" to add the text prompts, but the input boxes are text input fields produced by clicking on the appropriate button, then moving and dragging to resize. Quite fun and easy, actually, less than 60 seconds for both text prompts and both field entries.
Let's quick save the newly modified PDF and check it out. A click on "File" produces this unusual window:
I'll save it and then try to open it in Preview on a MacOS X system to check cross-compatibility. The results:
Notice here I've started to enter the answers and that while there's a nice blue box on the Windows 10 system, there's no background color or border in the Mac version. But we can fix that!
Back in PDFelement 6, right-click on one of the form input fields to get the context menu:
Lots of interesting options — including the ability to specify tab order to simplify data input — but for this task we want to click on "Properties" to proceed. This brings up a big, complicated window with oodles of options for fine-tuning the format and presentation of your form elements:
The "Appearance" tab makes it easy to change background color, add a border, etc. There's a lot more you can do with the Text Field Properties as with related PDF Form elements you can add of various other types and formats.  Heck, you can even turn your PDF form into a spreadsheet, complete with cells that calculate based on the values of other cells:
Quite cool, actually, and once we're done with the form, the appearance is sufficiently different when viewed in Preview on the Mac system that the form becomes much easier to fill out:
There are other interesting features that PDFelement 6 offers, including the ability to extract user entered data from PDF forms, batch process PDF forms, comment and annotate PDF docs, switch to a secure PDF and even digitally sign PDF documents. You can also use the built-in OCR (optical character recognition) system to convert a PDF into text. All in all, if you work with PDF documents, it's a darn helpful tool to download and have ready to go.
PDFelement Pro 6, $99.95 for one PC license, or just $187.91 for up to ten computers. Also available for Mac systems if you'd prefer that to Windows.
Disclaimer: Wondershare sent me a software license for the purposes of this review.