I keep forgetting my friends and colleagues birthdays on Facebook, which occasionally gets me into trouble. What's the fast way to ensure I remember and post happy birthday wishes to my Facebook friends?
Facebook birthdays. While there are some people who spend the time to actually wish you a meaningful happy birthday wish, there are a lot of people who just say "happy birthday!" to everyone in their social circle regardless. Which leads to the perhaps somewhat philosophical question of do they really care? but… this is the era of social media and so maybe that's not so important. I know, I know, I'm cynical about this. 🙂
Still, there is something pretty fun and affirming when it is your birthday and 50 or more people post birthday wishes on social media. Better is when people remember and mention it in a Snapchat, email, on the phone or even in person but still, for billions of users, Facebook is a key part of their digital social life.
Fortunately, Facebook makes it really easy for you to track birthdays, whether you want to post a wish or not. In fact, there are a couple of ways to see whom among your friends has a birthday today. To start, on the top right of your Facebook pages is a small box that has events and, yes, birthdays:

There are two lines here: the first is birthdays (Mark and 1 other person) and the second line reminds me that I am heading to a friends' "House Shower and Baby Warming" party at noon. What you might not have realized is that you can click on the birthday reminders and a pop-up window makes it super easy to see who's birthday is today and post your well wishes. A click and here's what I see: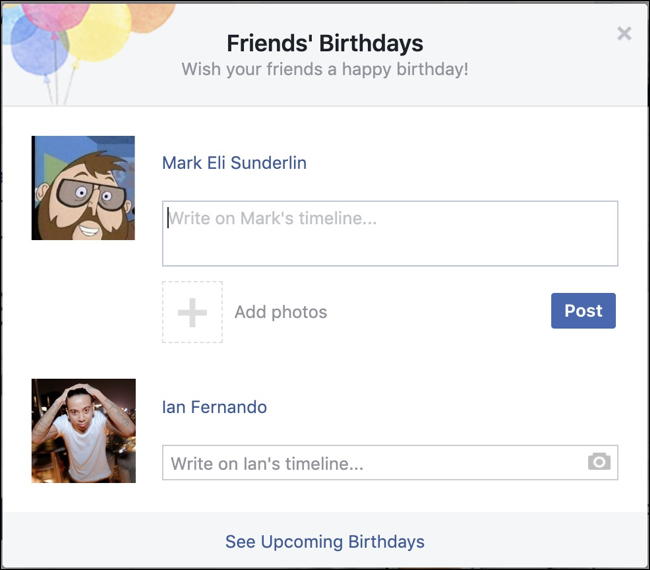 Sometimes Facebook users will have their settings such that you cannot post to their timeline, but generally what you see above is a pretty typical display. Today it's only Mark & Ian, but I've seen a dozen or more people show up in the Friends' Birthdays screen.
From this point if you do want to wish them a happy birthday, a long personal message or just two words copied and pasted, you can do so here. I'll wish Mark well, then compose a quick note to Ian too: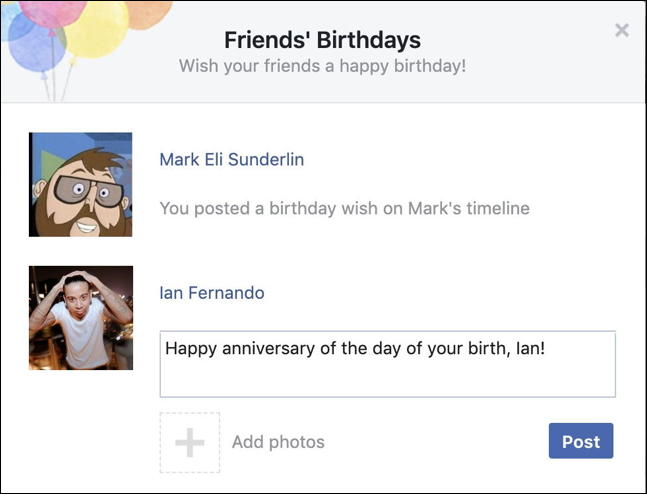 Another click on "Post" and I'm done with birthday wishes and I also know whom of my friends is celebrating today too! Handy if I bump into one of them at a party at, say, noon today…
It also turns out that there's a second way you can get to birthdays on Facebook too. On the left side of your main Facebook timeline page click on "Events". You'll then see this set of choices: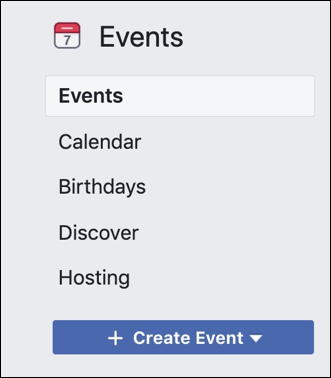 Yes, Birthdays show up on this list. A click and you can again see whose birthday it is, but if you scroll down a bit, you can see who is celebrating their birthday tomorrow or any other day into the future, which can be really helpful if you want to actually send cards or know you will see them at an event later in the week. For me, tomorrow's birthday list looks like this:
Pretty useful to know that my friends Dawud and David are one day away from their birthdays too!
Now you know. How you choose to honor and celebrate your friends' birthday is up to you!
Pro Tip: I've been writing about Facebook forever. Please check out my quite extensive Facebook help area for lots more useful tutorials, and don't forget to follow AskDaveTaylor on Facebook too. Lots of fun and unique content shows up there every day!