I work with a lot of companies in different parts of the EU and am baffled about how to easily type in people's names and related on my Mac. I know that Option-n "n" gets me the tilde on an "n" but I don't want to remember a dozen option key sequences! Help!
Every computer operating system has that same challenge understanding multiple languages. If you were using your Mac in Spanish with a Spanish keyboard, then an enye would be easy and would be a key on your keyboard. Señor would be a breeze to type. But need an acute or grave accent, want to add a cedilla or umlaut or even use an eszett and it's quite a bit more complicated. Which sidesteps the way more complex issue of non-Latin languages like Russian, Chinese or Thai.
But let's focus on the languages of the nations that comprise the European Union so we don't go too far into the weeds! 🙂
You are correct that the MacOS X system supports typing in specific option key sequences which will then apply a diacritic to the subsequent character typed if it makes sense – so option-n n gets you an eñe character – but that's a pain. Instead, you can try something that I believe is relatively new in MacOS: Push and hold down a character on the keyboard and select from the pop-up list of diacritic variations that appear in a pop-up!
For example, I want to type in the city Sáo Paolo. So here I am in Pages, poised to type the "á":

Oops, already typed in the "a", but now I want to back up and type the letter again, but this time I'm going to push and hold down that 'a' key for a second or two. A tiny window pops up:

Did you know there were that many variations on the letter 'a' in various languages? You can click on the correct variation, but what's more cool is that you can also just type the corresponding number too, so '2' turns that 'a' into the correct character!
This works with the 'n' key too:

And, of course, also with the eszsett in German too, by holding down the 's' key:

If you're typing French and need to use the cedilla, that's covered too, with the 'c' key:

Once you realize this feature exists on the Mac, you'll never look back and you'll be proud of how polylingual you are with your typing, getting every accent and diacritic correct, whether you're in email, a text message or a more formal document:

And those more complex character sets like Russian's Cyrillic? You can start by adding a keyboard for that language in the "Keyboard" System Preferences. Start by clicking on the "+" on the lower left and you can choose Cyrillic from the many (many!) options shown: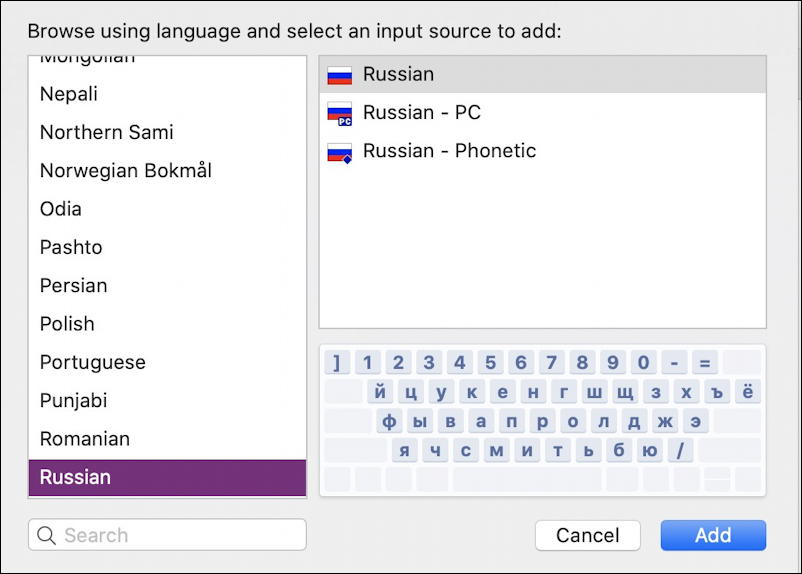 As you can see in the lower right, it completely remaps your English language keyboard for all the Cyrillic letters, which you can then switch to as needed.
Languages like Arabic, Thai and Chinese are more complicated and beyond the scope of this piece. Doable, but complicated!
Pro Tip: I've been writing about the Mac system since way before it was running something called Mac OS 9. Please check out my extensive Mac Help with tons of useful tutorials while you're here. Thanks!