I know that both my iPhone and my iMac have AirPlay; is there some way to use that to mirror or share my iPhone screen on my iMac? I thought this was a feature added in the latest MacOS and iOS?
While Apple's AirPlay is most commonly used to share content with a television or AppleTV unit, you are correct that it also lets you share what's on your iPhone with your Mac system too. Sort of. If you have it set up properly. The biggest limitation is that most of the video streaming services block video sharing from your phone, whether through AirPlay or even with a physical connection through a lightning-to-HDMI adapter. Why? I can't honestly say, but you'll find it quite annoying and quickly realize it's far more efficient to just sign in to your favorite streaming services on your iMac or MacBook directly.
But that's once you get things all set up and working, right? Let's go through the checklist to ensure you have everything configured as required.
MACOS CONFIGURATION FOR AIRPLAY SHARING
To use your MacBook or iMac as a receiver for AirPlay, you need to go into the Sharing setup. That's found in "System Preferences…" from the Apple menu. Choose "Sharing" and you'll see this:
First off, check the name of your device and rename it to something mnemonic if you'd prefer. If this is a stationary device you can set up various types of sharing here, including file sharing, printer sharing, etc. If it's a mobile device like a MacBook Air, however, I recommend not enabling any sharing for security. For AirPlay, as highlighted, you will need to enable "AirPlay Receiver", however.
Check that box, close this window, and your Mac's ready to go.
SHARE IPHONE SCREEN WITH MAC SYSTEM
Pick up your iPhone and ensure that both it and your destination iMac are on the same wireless network. This won't work if they aren't on the same network. Once you've verified that, pull down from the top right corner of your iPhone screen to bring up the shortcut view:
Again, I've highlighted the button you want to tap to get to AirPlay sharing, it's the overlapping rectangles icon. Tap on it and you'll see a list of available AirPlay receivers:
Notice that the device name matches – that's important to ensure you don't inadvertently share your iPhone screen with someone else on the same (possibly public) wifi network. If your iMac doesn't show up, go back and verify that both devices are on the same wifi network.
Assuming it does, hurrah! Tap on it and after a moment or two, your iMac screen will go black and the iPhone screen will be shown in all its glory: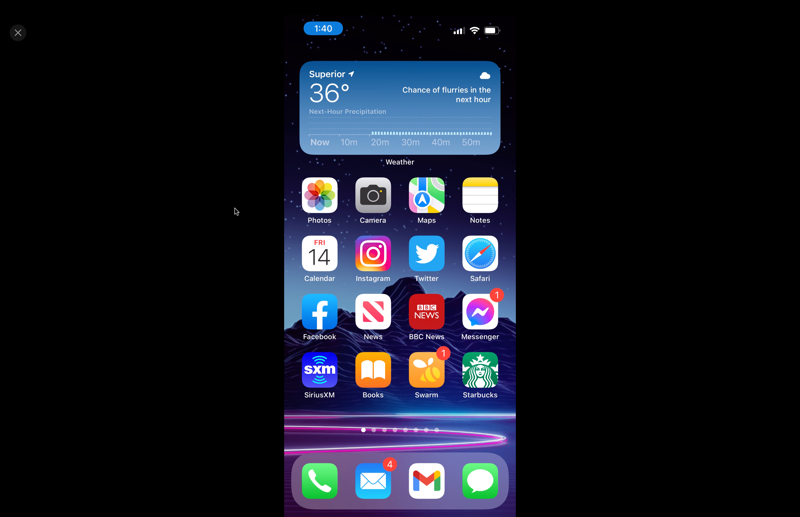 What can be disconcerting is that the AirPlay feature completely takes over the Mac display screen. You can't minimize, you can't move it around, the only feature you can access is to disconnect it by clicking on the tiny 'x' on the top left. Otherwise for all intents and purposes, it's just a display screen for that iPhone or iPad.
Try different apps on your iPhone to see what will share properly. Peacock, for example, shares its adverts, but once you get to the actual film or episodic content, that won't show up on the Mac:
It's frustrating! Still, there are a lot of iPhone apps that will work great, so it's still worth experimenting with, particularly with games and productivity apps.
HOW TO DISCONNECT AIRPLAY BETWEEN MAC AND IPHONE
Done sharing? You can disconnect by tapping on the "x" on the top left of the Mac screen, or, on the iPhone, you can swipe towards the center from the top right corner again to bring up the shortcuts window:
Notice that this time the AirPlay sharing button has a white background. That's because it's in use. Tap on it and you'll see almost the exact same pop-up window:
The important change is that link on the bottom: "Stop Mirroring". Tap on that and you'll disconnect your two devices. Done.
Pro Tip: I've been writing about the iPhone and iOS since the very first iPhone was released. Yes, I've owned every major iPhone model! I've also written quite a few iPhone help articles on a wide variety of topics, so please check 'em out while you're visiting. Thanks!