My Win10 computer is complaining that the hard drive is filling up. I don't get it because while I have a lot of movies, I don't think I have tons of files overall. How can I free up space??
While it's possible that your movie files are filling up your disk, particularly since HD movie files can be 1-3GB in size (or more!), there are a lot of potential culprits to check before you buy a new hard drive or delete your movie library! Like all operating systems, Windows 10 has a tendency to leave litter behind after all its system operations and while those usually don't amount to a huge amount of space, if you're running out, every megabyte can count.
The first place I always look, however, is in programs. Ask yourself; do you really need all those programs? Unplayed games, for example, can consume quite a lot of disk space as they require storage for maps, graphics data and more. You can always delete unused programs through Apps & Features. Here's a handy tutorial: How to Easily Delete Programs from Windows 10.
Still here? Great. Let's talk about the underappreciated Disk Cleanup, a program that's been part of Windows since the early days of the system and still lives on, even if it's got one of those old school interfaces! In fact, heck, let's just launch it.
To launch Disk Cleanup in Windows 10, simply type in its name in the Cortana search box: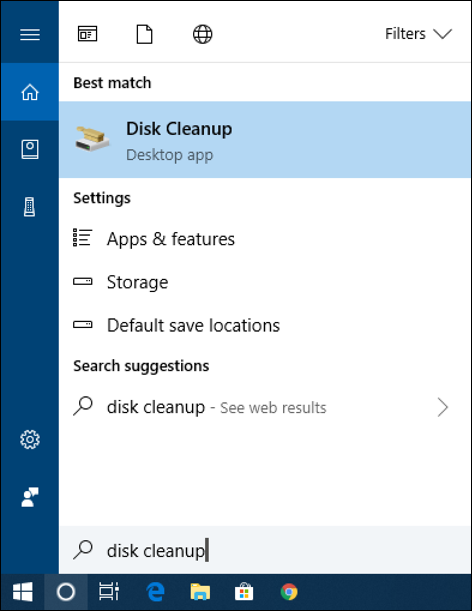 I hope you are using the search box every day, actually. It's by far the easiest and most efficient way to interact with Windows, launch programs, and jump straight to specific settings. Anyway, the desktop app "Disk Cleanup" is what you seek, so click or tap to launch it.
Then be prepared for a crufty old interface:
There's really nothing to love about this interface, but the program does perform an important task, so it's "grin and bear it" time. As you can see if you scroll through there are a variety of types of junk and temporary files that can safely be cleaned up. My system's in good shape: If I delete all the temp files I will save 33.2MB of disk space. But if you've never cleaned up your temp files and caches, this could be dozens or even hundreds of times bigger!
Click "Clean up system files" as a first step. It recalculates all the sizes to make sure the data it's showing is exactly current. Seem odd when you just launched the program ten seconds prior? Well, that's just how it is… 🙂
Doesn't take very long to run and probably some of the values shown in Disk Cleanup will now be slightly different: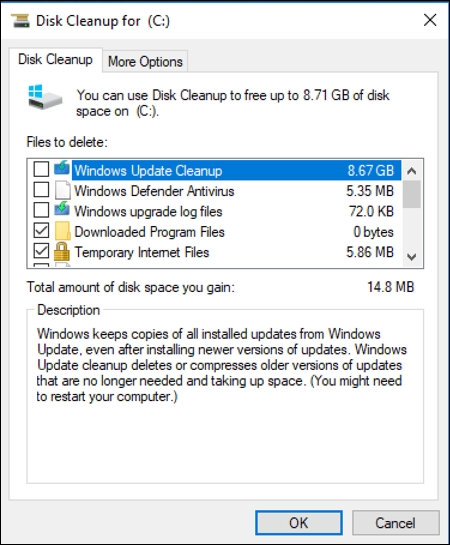 Check as many boxes in the list as have any significant size (cleaning up 72KB is probably pointless!), then click on "OK" to proceed…
Yeah, you know what to do. Click on "Delete Files" to proceed.
Then you'll see a progress window flash up: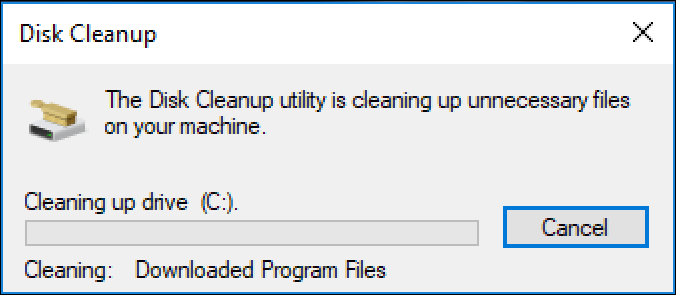 it's a bit disconcerting that when the process finishes, the program vanishes. No notice, no success message. It just… *poof* vanishes from the screen. Relaunch it, however, and you should see formerly full folders and directories are now empty or very close to it: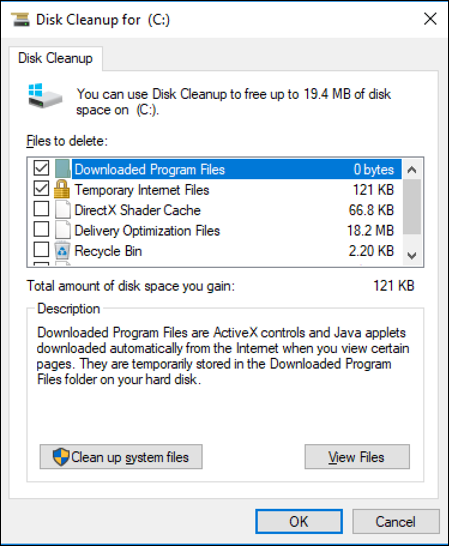 Did you catch that Temporary Internet Files is now 121KB from its previous size of 5.2MB? Not much space freed up, but it does all add up.
Hopefully this will help you find and recover some of the unused disk space on your PC too!
Pro Tip: While you're here, please take the time to check out our extensive Windows help library. Tons of useful content!