I have a Rakuten Kobo ebook reader, the Libra H2O, and really like it. I'm wondering, though, how can I force check for a system or firmware update? I don't see any obvious options or controls…
All three of the ebook reader ecosystems are built around the same display screen technology, eInk, which produces extraordinary battery life – imagine if your laptop lasted a month or two between charges! – but also means that they're surprisingly similar in user interaction. The Kobo lineup of ebook readers is perhaps the least well know in the United States, but it should get more visibility. Rakuten is a huge company in Asia and their online library and store are quite comparable to the Amazon Kindle library, and there are typically more budget titles.
The interface is unlike Windows, MacOS, Android or even an iPhone system, however, so you need to know where to tap to get to some of the basic functionality. Let's have a look at KoboOS 4.32 to see how it all works.
FINDING SYSTEM SETTINGS ON A KOBO LIBRA H2O
Always start at the home screen, where you can see thumbnails of books in your personal library and a link to the store, among other things. Here's how that looks on my Libra H2O:
What you want to tap on is the three-horizontal-line "hamburger" menu on the lower right. Tap on that and a menu appears:
The Beta Features can be fun to explore, but tap on "Settings" to proceed.
To proceed, you need to ensure that you're on a Wi-Fi network. I'm not, so I'll quickly log in to the Starbucks wireless network at one of their zillion cafes…
LOG IN TO STARBUCKS FROM A KOBO LIBRA H2O
It's surprisingly easy to do. Tap on "Wi Fi connection", then choose the Starbucks network from the list…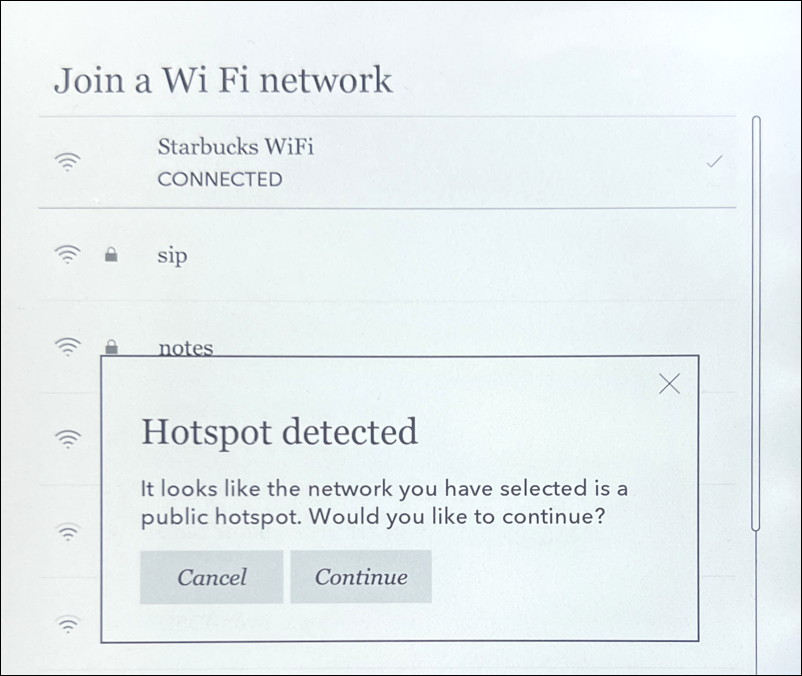 Notice that the screen shows "Starbucks WiFi" and "CONNECTED", but we're not quite there yet. Tap on "Continue" on the prompt stating Hotspot detected.
Your Kobo will now prompt you what to do next:
Enter your first and last name, email address, and home zip code and you'll be ready to log in. You'll know it worked when you see this:
Logged in and online. Sweet!
CHECK FOR KOBO UPDATES ON LIBRA H2O
Now that the device is online properly, time to go back to that Settings screen. Tap on "Device information" and here's what you'll see:
You can see that I'm running version 4.32.19501 of the Kobo software. Is there a more recent version? Click on "Update check" and it'll check. Odds are that there isn't one, however, because the Kobo checks in for updated books, new books, and system updates approximately every 24 hours.
While we're here, also tap on "View release notes" to see what's new in the latest version of KoboOS:
And that's it, the basics of how to get to settings and check for an update on your Rakuten Kobo Libra H2O ebook reader (and most any other Kobo reader too). Enjoy!
Pro Tip: I've had Kindle devices for many years and have written quite a few eBook and eReader Help tutorials here on my site. Please take a few minutes to check it all out!