I use Twitter from within my PC's browser, way easier to see than peering at my tiny phone screen. Unfortunately, while there's a nice emoji search system on my phone, there isn't one on my PC. How can I find the right emoji for a tweet within Twitter on my browser?
Turns out that Twitter has a very nice built-in emoji library that includes, yes, a search feature. There's also an emoji keyboard pop-up in Windows too, as it happens. Next time you're typing anywhere on your PC, even in the Taskbar search box, try pressing the Windows logo key and the period. Up pops a window that not only shows you all the emoji available, but includes an integrated search feature if you just start typing in a few letters that describe the emoji you seek, like "fire" for fireworks!
On a Mac? Don't despair, you can do something very similar by pressing the following three keys simultaneously: Control+Command+Space. Sound confusing? I have a tutorial I wrote about it, actually: How to Use the MacOS Emoji Keyboard. Either of those should get you going, but it turns out that Twitter has its own emoji search tool included in the Web interface too. Let's have a look.
ALL ABOUT THE TWITTER EMOJI KEYBOARD
I also use Twitter almost exclusively from my computer rather than my phone, so I always have a tab open with my Twitter notifications updating and ready to peruse. Handy! Within that interface at twitter.com, here's what I see if I click to share an update with my followers and have already typed in a few words:

The ability to specify who can reply is new, which is why it's front and center. Did you know you can constrain responses to just people who follow you? Or prevent responses altogether? Click on the "Everyone can reply" link to learn more if you're curious.
What people often don't explore are all the buttons along the bottom, the Twitter posting toolbar. Left to right they are 'add an image or video', 'add a GIF from the [huge] Twitter animated GIF library', 'create a poll', 'access the emoji keyboard' and 'schedule your tweet'. The circle graphic shows how close you are to maxing out your tweet by length, the "+" lets you write a sequence of tweets if you need more space and, well, the "Tweet" button is probably self-explanatory!
A click on the emoji keyboard smiley face icon and the following pops up:
If you see an emoji you like, just click on it. Doesn't get easier than that. You can also scroll upwards to reveal the really enormous number of tiny images you can access through the emoji keyboard. Not only that, but categories are easily accessed through the shortcuts along the top (the smiley is highlighted, but it's then animals, food, sports, vehicles, etc. The leftmost, the clock, actually lets you jump to your most frequently used emoji as yet another helpful shortcut.
But it's that search box that's super interesting. Type in a narrow search and you'll get nothing or a single match, like "church":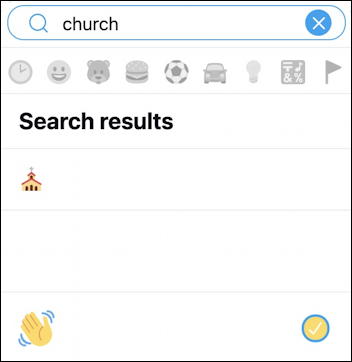 Helpful, but if I search for 'religion' instead, there are a lot more matches: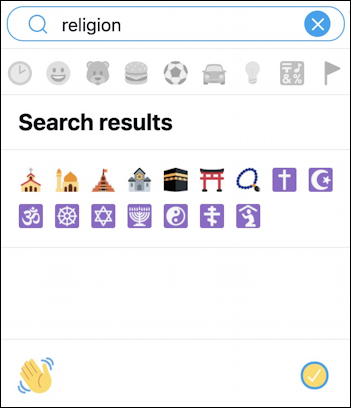 Here's a closeup of those emoji, because if you're like me, you definitely don't immediately recognize them all:

One of the secrets of working with the Twitter emoji keyboard is that if you move your cursor over an emoji, it'll show a bigger version of it and list its name on the lower right. Very helpful! For example, if I move the cursor over the fourth emoji from the left on the top row: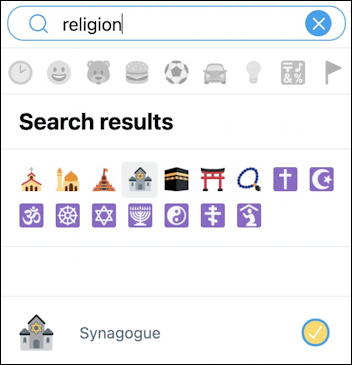 You can see it a bit better, it's a Synagogue.
I add a row of emoji, including some fun ones to be inclusive of those people who pray at the beach, at home, in their car, even at a volcano:

Okay, it's probably not that common for people to pray to a volcano, but I've been to Hawaii, I know how Pele works and how people should be cautious of incurring her wrath! 🙂
Anyway, this tweet's ready to go, so with a click on "Tweet", it's live. In fact, here's how it looks on my iPhone:

A very close examination will reveal that many of the emoji are slightly different in appearance on the phone compared to the computer. I think that the reinterpretation of imagery is pretty interesting!
Now you know all about the emoji keyboards not only within Twitter, but on your PC and Mac systems too. Go forth and tweet up an emoji storm!
Pro Tip: I've been on Twitter since the early days and have written lots and lots of useful tutorials. Please check out my twitter help area for more useful guides. Oh, and why not follow me, @DaveTaylor, on Twitter too? Thanks!