My kids send me lots of animated GIF images via text message but I have no idea how to reply in kind. Boring. How can I join in on the fun on my iPhone?
I have exactly the same situation with my kids, actually; they would send me tons of "memes" and animated graphics and I had no idea where they all came from. Did they just have an app for 'em? Or spend lots of time in Google, downloading animated images? Turns out neither was the case and that there's a simple add-on to Messages (aka "iMessage") that lets you choose from a massive library of animated GIF images and send them to your friends and family, all without leaving Messages!
Having said that, I do want to highlight that if you're on a tight data plan you might not like doing this too often as the images you send do need to be downloaded to your phone, then uploaded to send to your texting circle. Probably not a big deal but always good to at least mention that it does use some bandwidth.
Now, it's likely that the #images add-on is already installed in Messages and you've never noticed because you – like most everyone else – just go straight to the keyboard to type. Let's find out!
Jump into any text message dialog and look at the bottom set of icons: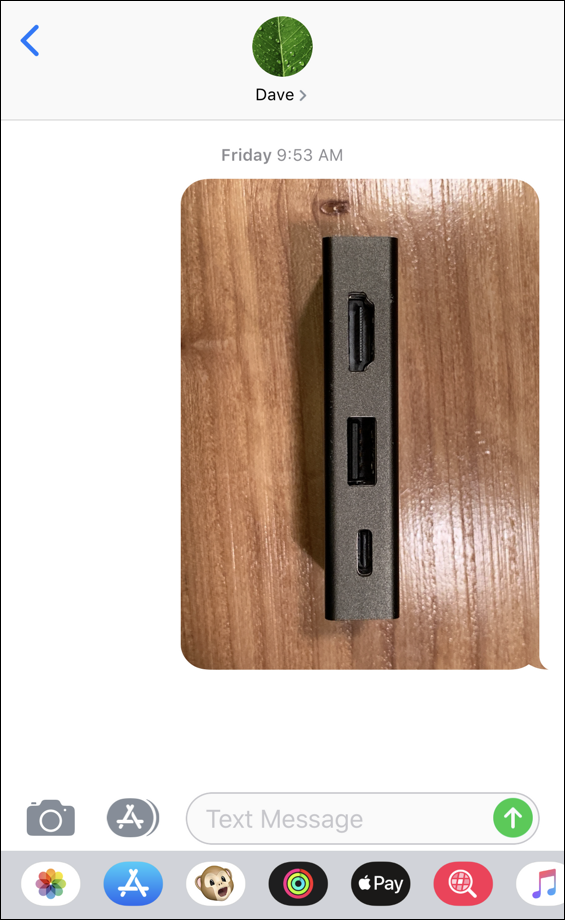 You can see I have quick access to my Photos, the Messages apps store, animoji (animated emoji), activity emoji, Apple Pay, the music symbol of iTunes and… that red one that I skipped on my list. Hmmm…. If you look very closely it's a magnifying glass with tiny white squares within. That's #images and it's what you want to access.
Don't have it? Swip the plug-in icons list all the way left and you'll see a "•••" icon with "More" under it. Tap on that and you'll be able to specify which you want to have show up in Messages: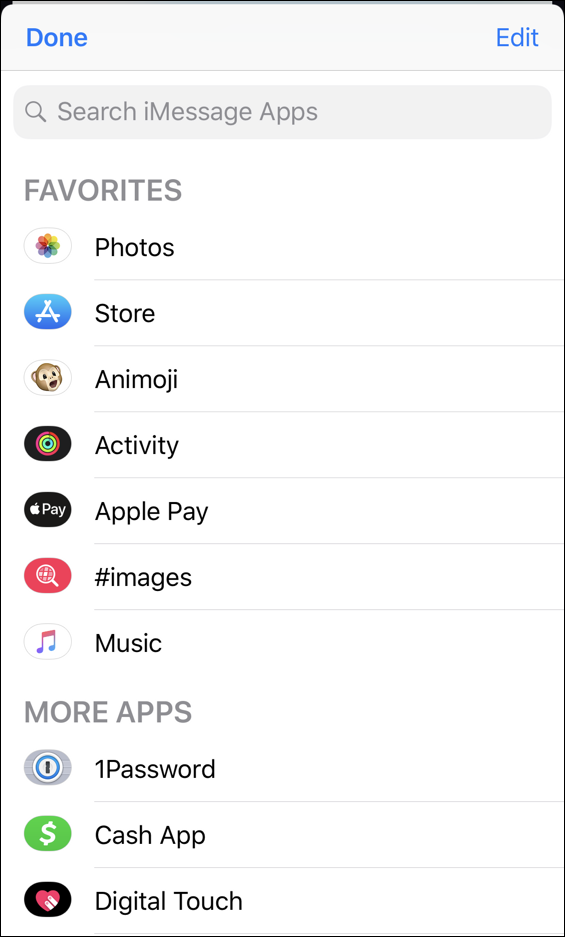 At this point just ensure that you have #images listed as a favorite and it'll show up just fine, ready to use.
Now, back to Messages. Tap on the #images app icon and you'll have a window open up from the bottom with a bunch of popular animated GIF images. Once you've used it a while, it'll be those you most recently used: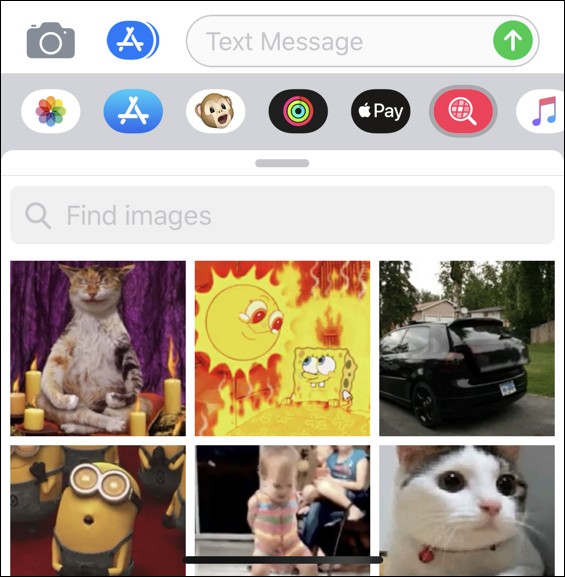 They're all animated, of course, but here I'm just using static images. You get the idea!
What I think many people miss is that you can search the dataset of images by keyword. For example, let's look for awkward or inappropriate Santa Claus images. That's easily done by tappin gin the "Find images" box and tapping…
All sorts of interesting suggestions, but let's go old school and just stick with "Santa Claus", the second possibility. Instantly it's replaced by tiny thumbnail images from which you can browse and choose: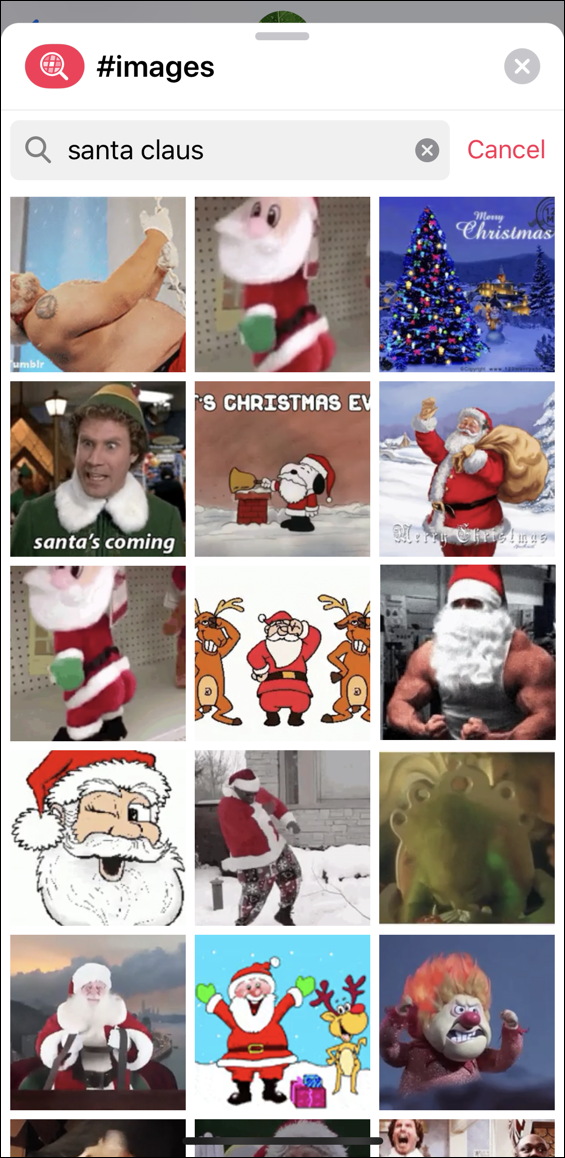 The muscle-bound Santa image is a winner – and it's even funnier as an animated image too. To browse more possibilities, simply swipe up or change your search. The database is massive so I've never stumped it regardless of what I search.
Choose the winner by simply tapping on the image. Then the full animated GIF will be downloaded to your phone…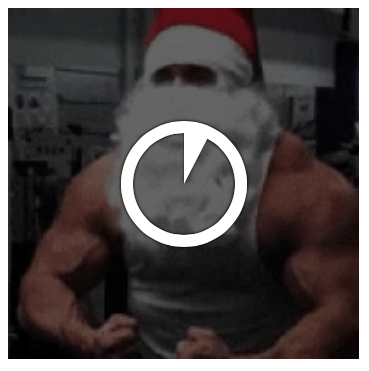 Once it's done, the image automatically shows up in the outbound text composition box: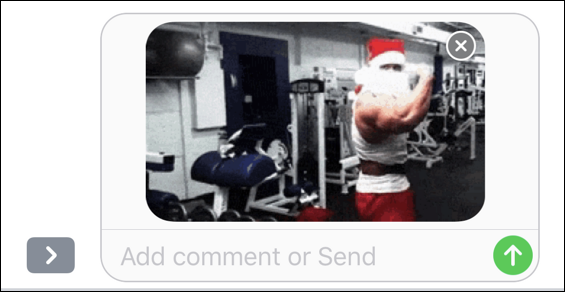 Add a comment or let the image stand alone. Ready? Tap the green button and…
Sent! Now you are ready to have Animated GIF duels with your kids. Go!
Pro Tip: I've been writing about the iPhone since before it was released. Really. Check out my iPhone help area for more details!