I love that Starbucks picks a different iPhone or iPad app each week to feature at the stores. For free, why not grab the app and give it a whirl? Problem is, I hate entering the redeem codes. Is there an alternative that's easier?
If you've been to a Starbucks in the last year or three, you've seen stacks of these cards sitting by the register or near the coffee pick up area, cards offering a free song from a CD or a free app or game. They don't say much about the content (the entire back of the card is information about how to redeem it and get the free content) but it's free, right, so why not download the song, try the app, and see if it's any good.
Worst case, you delete it again. No harm, no foul, just a few minutes wasted.
If you have the Starbucks app for your smartphone that also has a section with a pick of the week, but they're not the same picks as the cardboard cards are in the stores, which I find a tiny bit confusing. But hey, more free content. 🙂
If you haven't seen these cards — and they might be US only, I don't know — they look like this: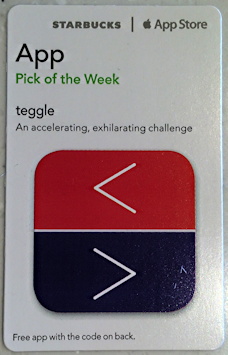 Flip it over and the redemption code is a definite hassle to enter correctly, I completely understand what you're saying!
Fortunately, you don't need to enter it at all because your iPhone has a camera.
Launch the "App Store" and look at the bottom of the screen: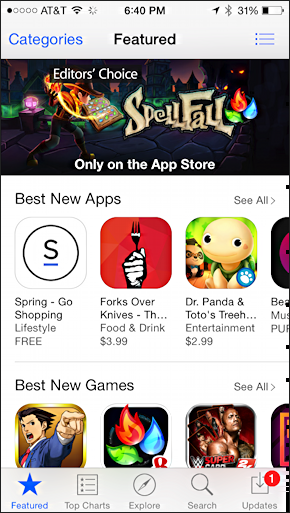 Swipe down, down, down to get to the very bottom of the "Featured" view and you'll find a "Redeem" link: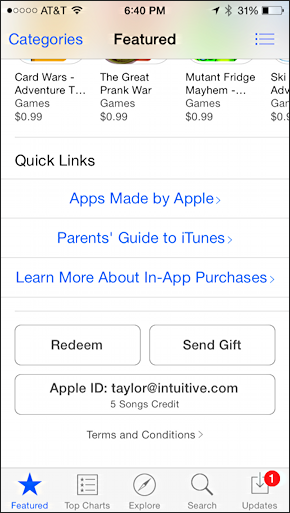 Tap on it and here's where the magic happens…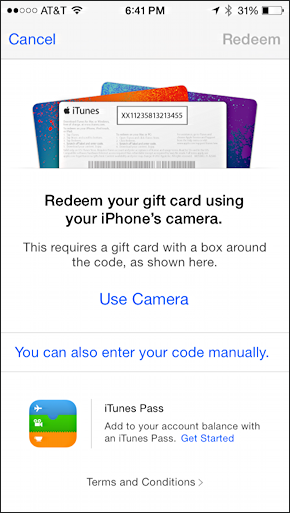 See the link in the middle? Tap on "Use Camera".
Then just point the camera at the back of the card. It'll find and identify the redemption code and its box:
Then a second or two later…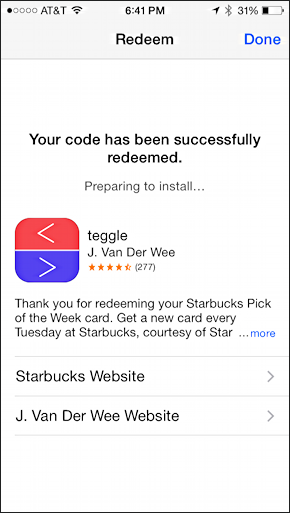 And just a moment or three after that, it's installed and ready to go:
So now you know. Use your camera to redeem those codes and you're good to go in seconds with just a few taps. Slick.