Buying a new smartphone can be exciting and anxiety-provoking both: New devices are fun, but how are you going to migrate all of your contacts, music, photos and data from the old phone to the new? Cross platforms, like moving from an iPhone to an Android phone, and it's doubly complicated. That's where iSkysoft's Switch program can be a real win…
I work with a lot of different smartphones, from Samsung to Apple, Google to LG, Huawei and dozens of smaller companies. Turns out that there are a lot of really interesting mobile phones on the market from companies throughout the world. Moving a SIM card from one phone to another is easy, but it's always a challenge to transfer data, contacts, music, photos and everything else, whether I'm going iPhone to iPhone, iPhone to Android or, the opposite, Android to iPhone.
That's why when iSkysoft reached out and asked if we wanted to test iSkysoft Toolbox and its Switch utility, I was quite interested. The Toolbox is a suite of helpful utilities for both iOS (iPhone) and Android owners but you buy the individual components that you need, rather than having to purchase everything en masse. A quick download later and I was ready to try out the phone to phone transfer program Switch by migrating from an Apple iPhone XS to a Google Pixel 3 XL…
At a glance you can see all of the different tools and features:
Switch is on the lower left, and with a click it launches: It's actually a separate program.
Here's the main screen:
Notice that I've already plugged in my iPhone XS (called "iDave XS") but that the program's automatically assumed it's the destination, not the source. No worries, that's easy to switch. More importantly note the pop-up: Tap "Trust" on your iPhone to continue, and unlock if it's locked. On my iPhone, meanwhile, I see this:
I should note that when I say "plugged in" I mean that literally. You'll need to have the correct wires so you can plug in both the source and destination phones simultaneously to your Mac system. For my setup that means a USB-C to Lightning for the iPhone and a USB-C to USB-C for the Pixel 3 XL: In both cases they're plugged into my MacBook Pro which only has USB-C ports.
Back to task! To proceed, a tap on "Trust" on the iPhone and Switch automatically recognizes that the phone has granted access. Now I see this:
You can see I clicked on the "Flip" button near the top to make the iPhone XS the source device. You can also peek at the middle portion to see all the categories of data and information that the program can transfer from one phone to another, whether it's Android to Android, Android to iOS or iOS to Android. Or, iOS to iOS, but you get the permutations, right? 🙂
Next up is to plug in the Android phone and that is a bit more complicated because you need to enable Developer mode and allow debugging via USB so that the program can access the file system directly. The steps are explained in the program but it's pretty easy. Just remember to tap 7 times (you'll understand once you go through the steps!). After a minute or two of fiddling, you'll see this in iSkysoft Switch:
Yes, there's a typo in the program. It should say "Authorization". Oh well.
On the Android phone pops up a somewhat complicated dialog box:
Basically, tap to check the checkbox, then tap on "OK" to proceed.
Now Switch will finally be able to show both devices and let you begin to decide what you want to transfer!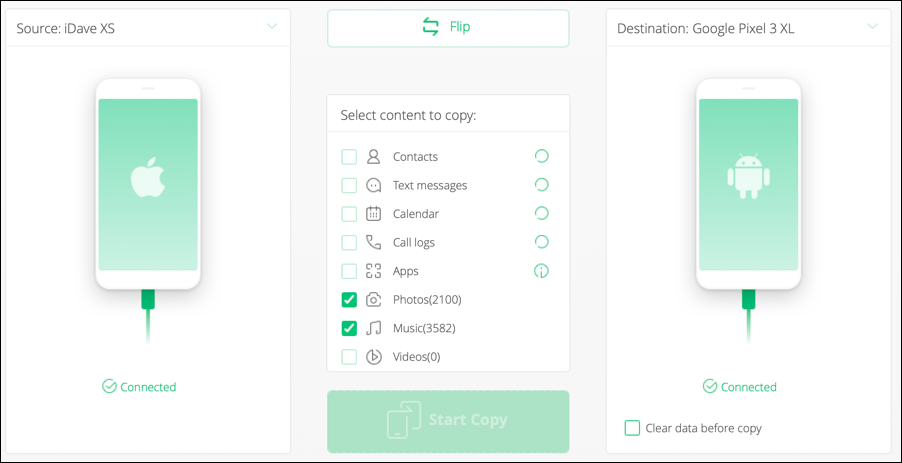 In the center you can see that the program's already been analyzing data on the source device and ascertained that I have 2100 photos, 3582 songs and zero videos on my phone. It'll take a few minutes, but you'll need to wait and let Switch finish analyzing and tallying up data on the source device. Eventually everything will be analyzed and you'll get to see, like I do, just how darn many text messages are on your device.
I have 53,540 text messages on my iPhone. Sheesh. And 1044 contacts and 413 calendar events and a call log with 225 entries. I don't need to transfer all of that over to the destination Google Pixel 3 XL, however, so will limit things to my contacts, calendar and music. Ready to transfer, it all ends up looking like this:
Which means it's time to click on "Start Copy". This will now take a while. In fact, my copy took over an hour, all told!
While the copy is happening, there's a status window that zips along showing everything that's happening: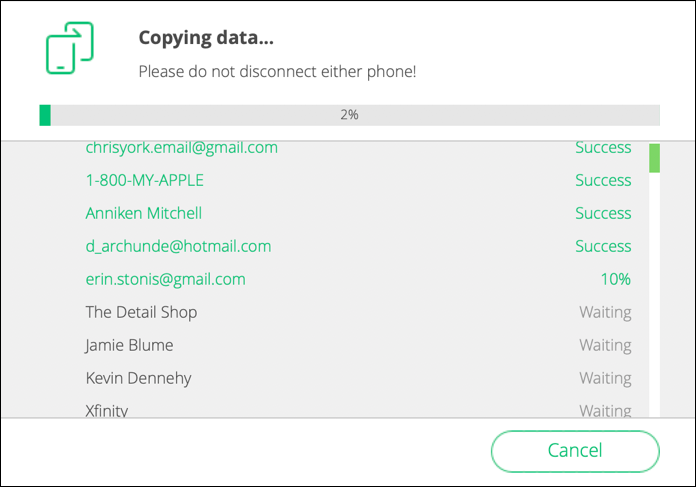 Eventually, after you've gotten a cup of coffee, watched an episode of your new favorite Netflix show and checked to see if UPS dropped anything on your porch from Uncle Joe, it's done. Easy enough, actually. And now I can pop onto my Pixel 3 and see that there are indeed quite a few songs:
13 Gig of music! That's part of why it took so darn long.
And how about contacts? That's a bit more complicated because I removed dupes and apparently some of what iOS consider contacts Android doesn't believe are fully populated data records and therefore aren't contacts. The result is that everyone I look for is in the Android contacts list, but the total count is off by almost 10%: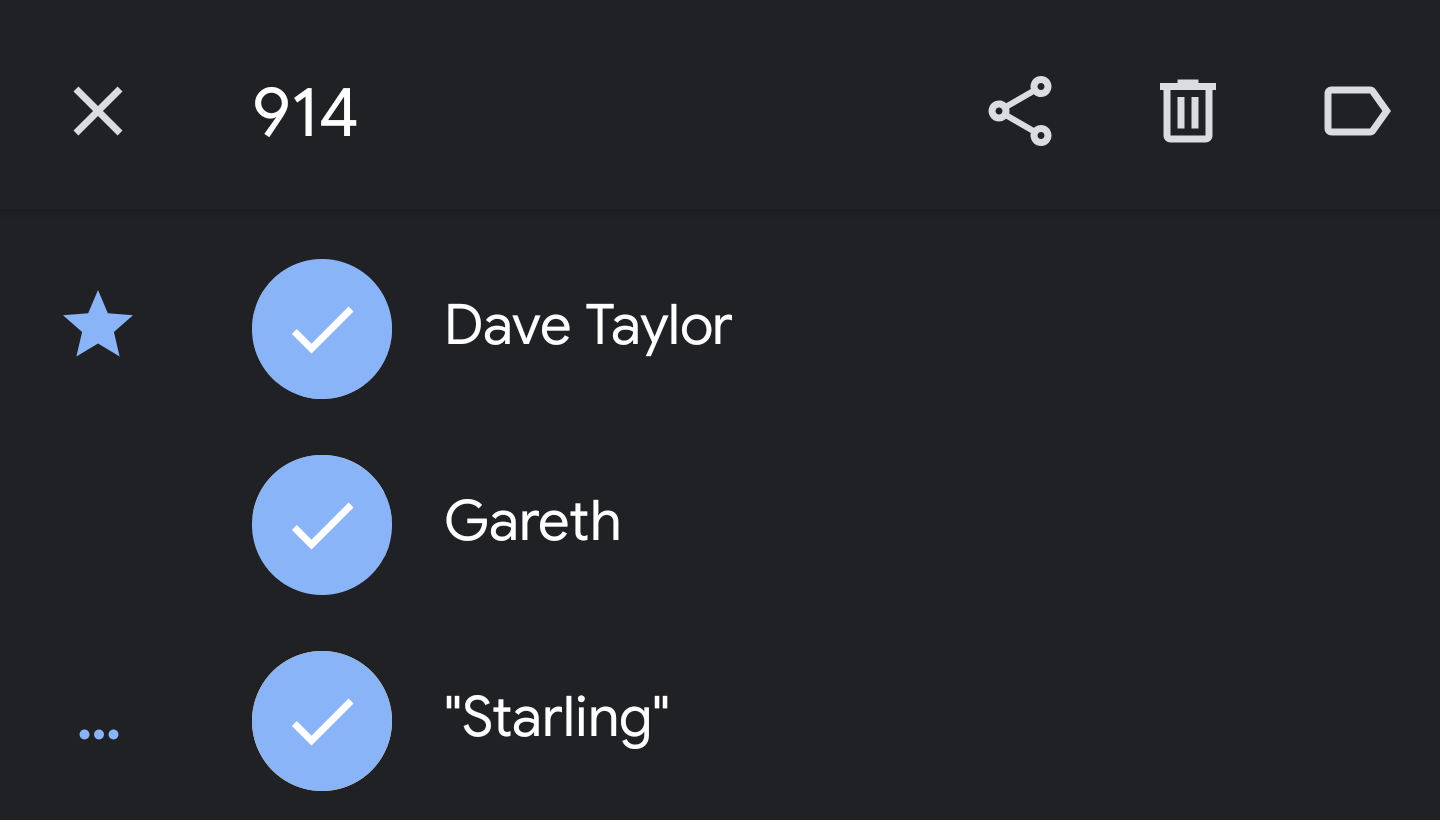 Even with that slightly anomalous result, the Pixel 3 has gone from an empty phone with some apps to a phone with all my music, contacts and calendar events, ready to switch SIMs and enjoy as my new primary phone.
For most people, a program like iSkysoft Switch is a once every year or two utility, though it can help with tablet computers too if you want to move from an Android tablet to an Apple iPad, for example. Still, at the price point, having the entire process automated makes this rather a no-brainer purchase, and at $39.99 for a lifetime license, this can be a great help for you, your friends and your family as new devices show up every few months.
iSkysoft Toolbox – Switch (iOS & Android) – $29.99 for one year license, $39.99 for lifetime license. From iSkysoft.
Disclosure: iSkysoft supplied me with a license code for the program in return for this review.