I've installed Ubuntu Linux on my old Windows PC and want to add accounts for each of my children. What's the fast way to do that? I'm not much of a Linux expert…
Modern computer systems have really good built-in help systems, and Ubuntu Linux is no different, offering not only good documentation with the system but a good system-wide search that doesn't require you to type in on a command line. In fact, it doesn't work on the command line, of all unlikely Linux things!
At the same time, it's not quite like using a Windows computer or a Mac OS X system either, so there are some quirks to learn about, one of which is that the locked/unlocked admin interface icons are, well, backwards. You'll see.
To start, launch Ubuntu Linux on your system and log in to your administrative account (most likely your default user account is an admin account). Then click on the search icon on the toolbar, it's the circle with the three dots:
Hmm… what to type in? How about "add user"? 🙂
You can see that it's showing the "User Accounts" control panel.
That's what you want! Click on it.
Now you're at the User Accounts area of your Ubuntu Linux system:
Here's where I find it a bit confusing: The box on the top right is showing that the user has to validate themselves before they can change anything on this admin interface, but to me, it looks like it's already unlocked and ready to proceed. Perhaps the issue is that the padlock should reflect the current situation (locked) and the word Unlock should be more clearly a button?
In any case, you need to click on the Unlock button. 🙂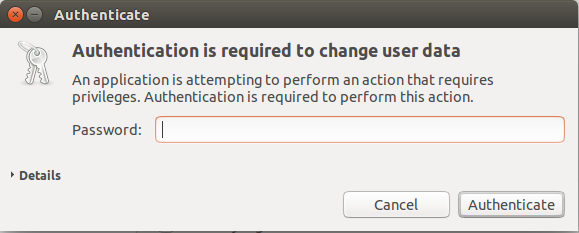 Once you've authenticated yourself, click on the "+" button on the lower left of the main "User Accounts" window.
A new user window will pop up:
At this point you can choose between Standard and Administrative accounts. For your kids? Standard, for sure!
Then enter their Full name in the appropriate box, or just their first name, as appropriate. It'll automatically suggest an appropriate username based on that, basically the same words, but all lowercase without spaces:
Looks good! Click on "Add" to add the user account.
And, ah, well, you're not quite done, as is shown:
Look closely at "Password" where it says Account disabled. That's not good!
To fix it, click on the words "Account disabled" because that's actually a button. It now prompts you to set a password for the new account: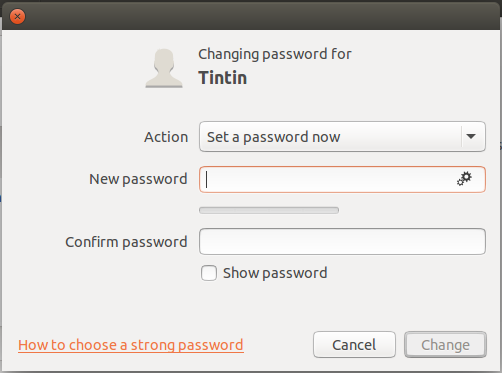 This is a bit of a cranky password entry box too: You can't proceed (by clicking "Change") until you enter a password that it measures as "strong". So "snowy" or "HiSnowy" or even "HiSnowy!" isn't good enough. It might take you a bit of fiddling to get this one right, and unfortunately since it is complex, you'll need to write it down so you can let the new user know what you've entered (which rather defeats the purpose of a strong password in the first place).
Once you've got it set and assessed as "strong", you'll be able to click "Change".
Back at the main window, the account is now ready to go, but hey, let's add a photo of the user too!
To do that, click on the silhouette by the account name. A pop-up will offer some popular icons:
Or, if you have a photo or picture laying around, click on "Browse for more pictures…" and find it. You'll then be able to crop it so that it's just the user's face that will be used:
Click "Select" and you're done!
That's it. Good luck and props to you for teaching your children how to use Linux!