I've been having fun making weird videos and uploading them to YouTube. What I really want to do, though, is share them with my friends on Twitter and Facebook. What's the easiest way to share a YouTube video on Facebook?
More weird videos on YouTube. Just what we need. 🙂
No, seriously, it is pretty fun to make some videos and share them with friends. You can upload videos directly to Facebook, but then anyone who isn't on Facebook can't see them, so you've inherently limited your viewing audience if you do that. Plus, you then can't really share it with Twitter: Facebook is still what people call a "walled garden" in that regard.
Fortunately, YouTube makes it easy.
I'll show you by using the example of my own weird "where is this escalator" video, which you can find on YouTube by going to this URL: http://www.youtube.com/watch?v=HUmHlgHVzG0
Going back to that page on YouTube, it looks like this:

Look more closely at the lower part of this window and you'll see this detail:
We're interested in the "Share" button. Click on it…
There's your shortened URL for Twitter usage, with the rather savvy domain of "youtu.be". (where do they come up with these? Do I need to now register "askdavetayl.or" too?). You can also click on the "t" Twitter icon if you want to skip the copy and paste step.
One thing solved. Now, for Facebook, simply click on the little "f" facebook icon. You'll see a window pop up: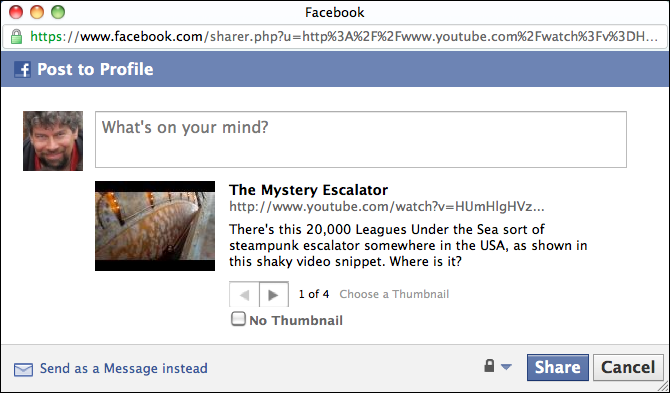 If you have never done this before, you might need to grant permission here for YouTube to access your Facebook account, and if you've changed your login credentials, you might need to log in again before you get to this window. Easily done, in both cases.
On this window, you can see the thumbnail of the video appears, and it gives you a chance to specify the comment you want to have associated with the YouTube video. If you don't want everyone to see it, click on the little "padlock" icon. Otherwise, if it all looks good, click on "Share".
Published.
On Facebook, here's what your friends and anyone else with whom you share your updates will see:

Simple, fast and quite attractive. Now, about those weird videos…