I'm bored with the current wallpapers on my iPhone! How can I easily download and set new wallpapers in iOS 12?
Apple and Google seem to have very different opinions when it comes to wallpapers on their mobile devices. In Android there are plenty of wallpapers from which to choose and a thriving wallpaper marketplace for artists. On the iOS side, however, Apple seems to be including less and less options as the system evolves. What's odd is that this is such a ridiculously easy area to innovate and offer a bigger catalog of options – and images are pretty small compared to modern smartphone storage capacities – but my Apple iPhone XS has barely a dozen across the three major categories (dynamic, stills and live).
Fortunately it's super easy to grab new images off a Google Image search and set them as new wallpapers, literally a half-dozen taps is all that's required. Which leaves you with the really hard question: Which image is the best one for your aesthetic, preferences and interests? I'll demonstrate all the steps needed and we'll look for a cheery spring flowers image for the lock screen…
Note up front: Since you're just using the image on your phone, intellectual property isn't a really big issue, but if you were doing the same basic thing to build an app that would offer people a range of wallpapers for $0.99 or similar, you'll really want to ensure you have legal rights for each and every image in the collection. That's on you, though. 🙂
With that disclaimer, let's jump in. Start by going to your iPhone Web browser and doing a search for your phone model + wallpaper + a word or two to describe the category of images you prefer. In my case, it's "iphone xs flowers wallpaper hd" (Google suggested the HD suffix):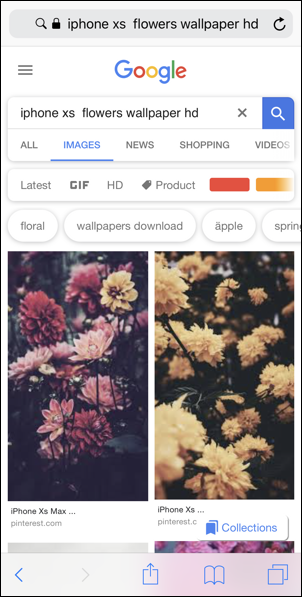 If you aren't looking at the images results, tap on "IMAGES" just below the search box to switch over. Notice the two color swatches too! You can actually choose a predominant color for the images matched if you really want blue, or red, or light green as an overall thematic color.
Swipe down – this is the fun part! – and find an image that jumps out at you as a splendid choice. For me, it was the image of tulips on the lower left in the below screenshot: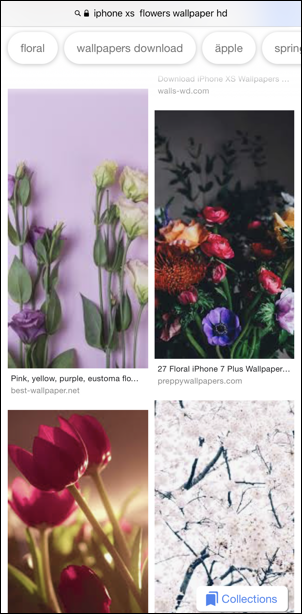 A tap on the image in question and you'll see it just about full screen: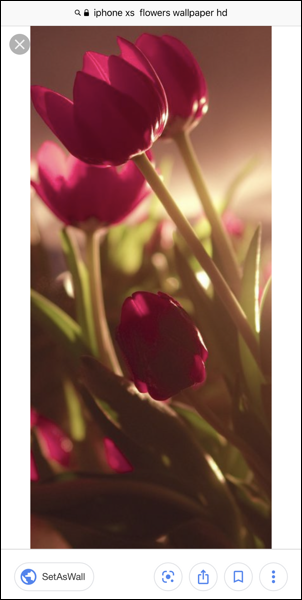 Confusingly, the button "SetAsWall" refers to the Web site that hosts this image, not a secret feature of Google Image search. All good, I prefer the old school way of saving it to my photo album for later reuse anyway. That's easily done by tapping and holding your finger on the image for a few seconds. Safari will then offer up the following options: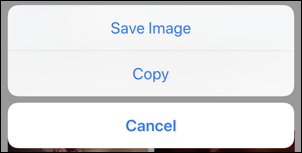 Choose "Save Image" and that photo will be saved to your Camera Roll, as if you'd taken the photo.
Handy, really.
Now switch to your "Photos" app and find the image. It'll show like this: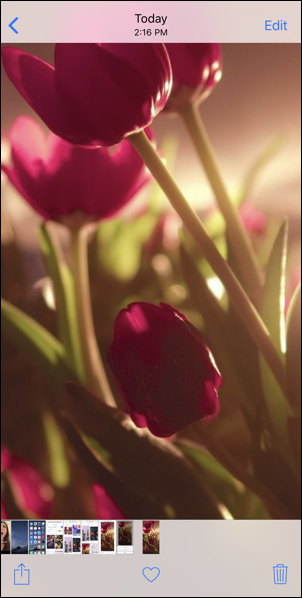 A pretty cool image, if I say so myself! At this point you want to tap on the square with the arrow pointing out of it on the lower left. That's the 'share' feature in Photos and it offers up quite a range of sharing options: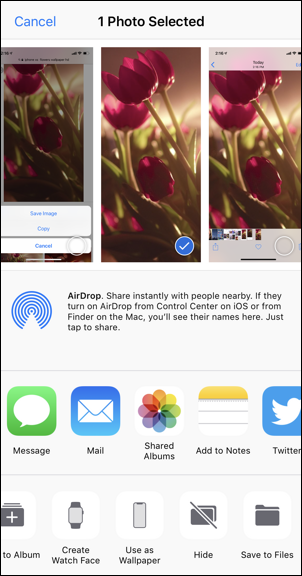 Swipe along the lower set of options until you can see "Use as Wallpaper", then tap on it. Or check out all the other sharing options on both rows of icons and marvel at the freedom you have in the app! Then <chuckle> tap on "Use as Wallpaper". Either way, you'll now see the image presented in a way that lets you imagine how it'll display as a wallpaper: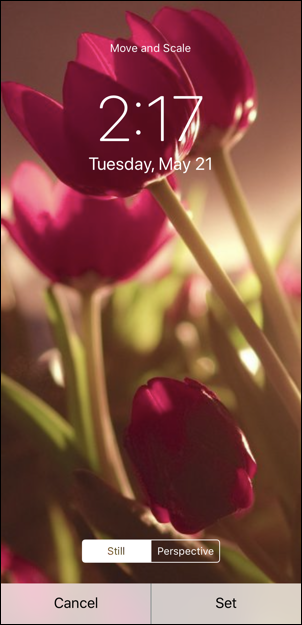 Experiment with "Still" versus "Perspective" (tilt and move your phone around a bit in Perspective to see what it does), and note that you can also pinch to zoom, tap and move and otherwise fine tune how the image appears within the display.
I generally use Still to save a bit of processing power and thereby some battery life, but realistically it's probably just lost in the noise of usage and usage patterns, so you can make your own decision on which you'll use.
Looks good? Ready to proceed? Tap on "Set" and you'll get three options: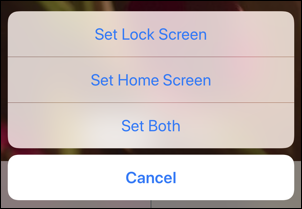 I always have my lock screen (what shows when you're iPhone is locked) and my home screen (what shows behind all the app icons when you've unlocked your phone) as different images, but you might want to try having them matched. If not, pick which you'd prefer for this particular image. You can use the same process to set a new home screen if you're setting a great lock screen, for example, and you can see, it's pretty easy.
I'm going to use the tulips photo as a lock screen, so I tap "Set Lock Screen". After a few seconds it indicates it's set and I can now quit Photos, lock my phone and see the new image in all its tulip glory:
Once you get the hang of it, this is a pretty easy process and I suggest you consider creating a new folder in Photos called Wallpapers and save favorite images there. Then you can switch between them at any time and it's fast and easy. Done.
Disclosure: You can find the original image on SetAsWall.com here: iPhone XS wallpapers.
Pro Tip: I have written quite a bit about the Apple iPhone since its initial release. Please check out all my iPhone help while you're here!