My professor has assigned all of us to run and learn Ubuntu Linux as part of my operating systems class and I really don't want to get another computer. Is there a way I can easily run Ubuntu on my MacBook?
I like your professor already, requiring everyone install and run a popular Linux operating system on their computer. Almost all modern computer systems support multiple operating systems through what's known as a boot loader, a program that scans your drive to see what OSes are installed and either automatically decides or lets you decide which OS to use. On a Mac system, the boot loader is known as Boot Camp and using it you can indeed switch between Mac OS X and Ubuntu Linux every time you restart the computer.
I'm not a fan of this approach, however, when there are some splendid virtual machine systems available for the Mac, software that lets you run a foreign operating system like Linux (or Microsoft Windows) as an application within its own window simultaneous to the Mac operating system.
The two leaders in this space are Parallels and VMware Fusion. We run them both and they're quite similar in performance and capabilities (though each claims they're better than the other, of course). For this article, we'll use VMware Fusion, and as you'll see it really makes the entire install process rather astonishingly simple…
To start, you'll need to download an ISO (International Standards Organization) disk image. For Ubuntu Desktop, it's just a bit over 1GB in size and you can download it here: Download Ubuntu Desktop.
Now you'll need to download VMware Fusion if you don't already have it and, yes, it's commercial software, not free like Ubuntu. Still, in my opinion, well worth it — it's how I run Windows 10 on my Mac too, actually. You can grab a download here: Download VMware Fusion for your Mac.
Ready to go? Excellent! To start, launch Fusion and choose:
As shown, choose New… from the File menu to create a new virtual machine. It offers a variety of options:
Since you've already downloaded the Ubuntu Linux disk image (that's what an ISO is) that's what you'll want to do, but the good news is that it's the default choice here.
Click on "Continue"…
As you can see, I just dragged the Ubuntu .ISO file directly onto the window to get started. If you're not comfortable with that, you can click on the button to select it with a more traditional dialog box.
In any case, as soon as you've selected the disk image, VMware goes to work and figures out what it is, as is immediately obvious on the next screen: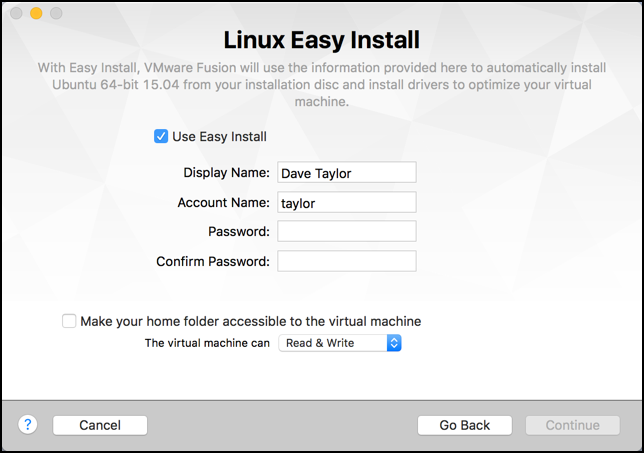 In fact, this is about all the configuration you'll need to do for the entire installation process. It's that easy. I do strongly, strongly recommend you use Easy Install, set a password and remember the account name. Enter that, and you can click on "Continue" to proceed.
Just about done with the process. Click "Finish" and you'll need to enter a name for your virtual machine: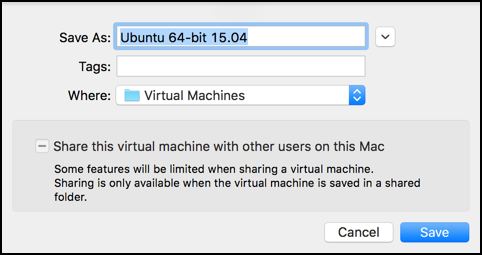 Beware, it's going to be a big file, so make sure you have space for it!
Once you've entered the name and clicked "Save" the installation process will start in earnest:
After a short while, you'll progress in the Ubuntu installation:
And progress some more, until rather more quickly than you expect, it's ready to go, ready for you to log in!
Pay attention to the top bar, too, it's where you can see that it's running in VMware Fusion, not just a full-screen OS: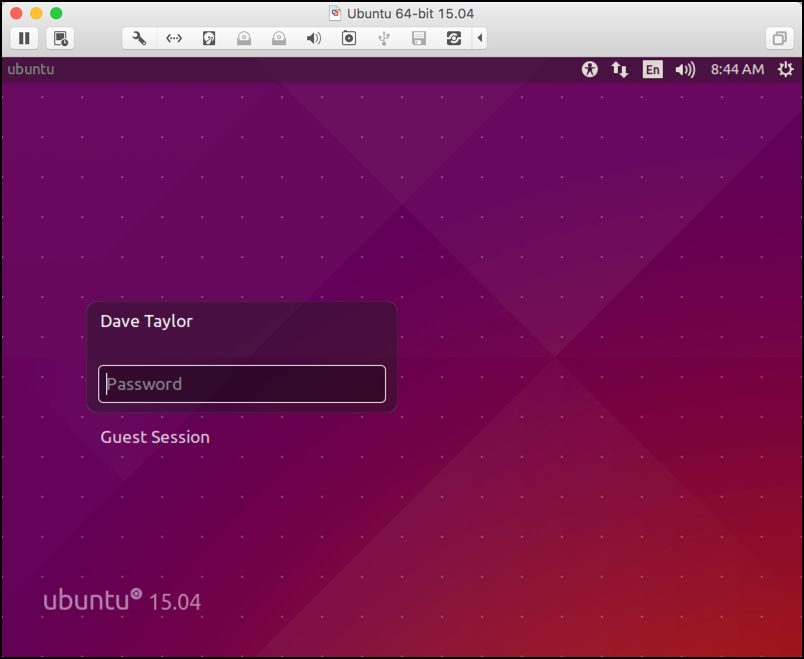 At this point you're basically done. Congratulations!
Log in and you'll be running Unity window manager, ready to jump into the surprisingly polished world of Ubuntu Linux:
That's it. Explore the Ubuntu Software Center to find cool apps, enjoy surfing the Web with Firefox and try the rather impressive Libre Office Suite, all while you're learning about one of the best distributions of Linux, a great operating system and completely free alternative to Mac OS X and, yes, Microsoft Windows.