I want to run wireless CarPlay from my iPhone 11 to my terrific new Dodge Charger running Uconnect. UConnect is the infotainment system on all Chrysler cars, apparently. So what's the easiest way to do that?
You're right that the entire Chrysler vehicle lineup now uses Uconnect for its entertainment, navigation, and overall infotainment system. It's a good thing because the company has had many iterations to get it all pretty nicely set up and has figured out most of the weirdnesses inherent in car info systems. The addition of Apple CarPlay (and Android Auto) was a big step forward, but wireless CarPlay (and, yes, wireless Android Auto) is a game changer: All the goodness of CarPlay without ever having to hook anything up!
Fortunately, it's pretty darn easy to set up because you'll be prompted to configure things as part of the regular Bluetooth pairing process on your Dodge Charger. I have a Dodge Durango SRT Hellcat in my driveway and it runs the same Uconnect system, so I can step you through the process…
HOW TO BLUETOOTH PAIR PHONE WITH CHRYSLER UCONNECT
Step one is to find and tap on the "Phone" button along the bottom of the Uconnect screen on your vehicle. You'll want to have your phone in hand too, of course. You will get to this screen: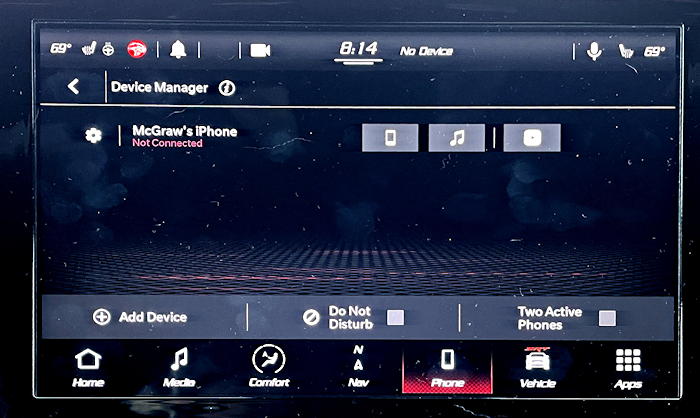 In this instance, my colleague Dawn McGraw has already paired her phone but no worries, these systems can store quite a few phones in memory and still know how to connect to yours automatically.
To add a new device, tap on the ingeniously labelled "Add Device" button on the lower left.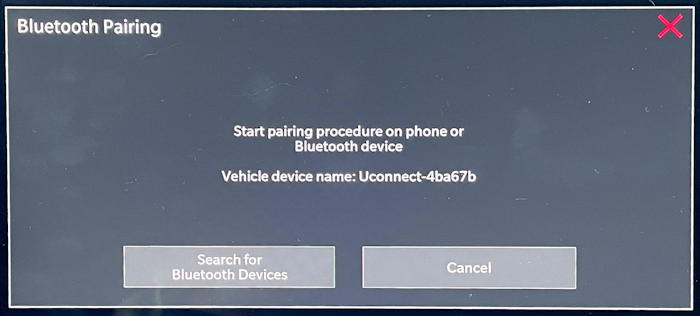 As prompted, it's time to pull out your iPhone and begin the pairing process. On an iPhone, just go into Settings > Bluetooth and after a moment or two you'll see the new Uconnect device appear:
You can see it on the bottom of my (abbreviated) list of Bluetooth devices. Notice that the Uconnect number matches what's shown on the vehicle display screen too: Uconnect-4ba67b. Tap on it (on your phone).
The phone will pop up a pairing message that includes a unique PIN code: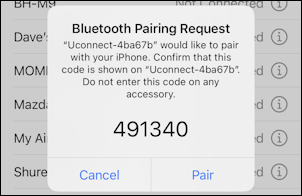 Meanwhile, the car's info display has changed too: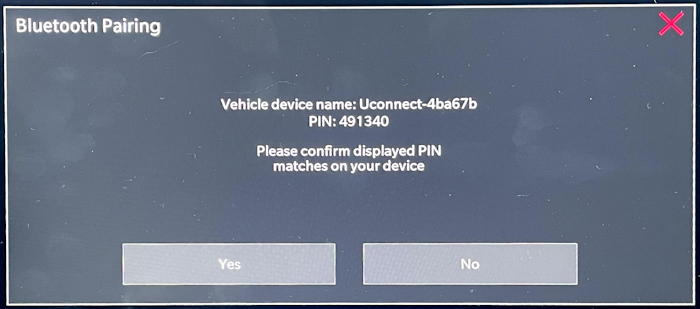 I can't imagine any situation where they wouldn't match, but if they don't match, I'd quit. Then drive somewhere else, maybe a big empty parking lot, and try again. But I've never seen these PIN codes not match.
On your phone tap "Pair" and on the Charger display also tap "Yes" to proceed.
Now your phone will ask permission to do something that might surprise you:
Yes, a normal vehicle Bluetooth pairing includes the vehicle being sent a full list of every contact and favorite from your phone. Why? So you can use the car's voice prompt system (or Uconnect) to search for and call a friend without having to use your phone. This is a bit redundant with the feature set of Wireless CarPlay, of course, so you can opt out by tapping "Don't Allow" if you want to. I generally just tap "Allow", however.
SETTING UP WIRELESS APPLE CARPLAY WITH UCONNECT
You're now done pairing your iPhone to your Dodge Charger running Uconnect, but there are a few more steps required to get Wireless CarPlay up and running too. Your phone will prompt:
And on the vehicle screen you'll see this: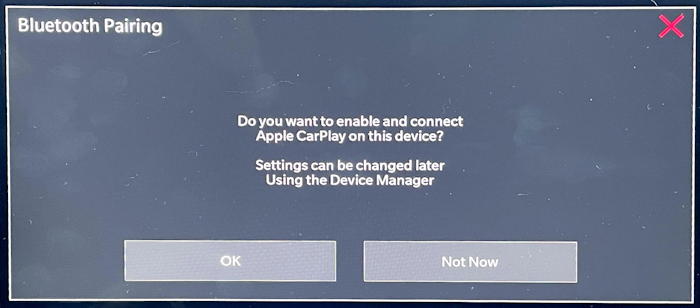 If you want to proceed – and you do! – tap on "Use CarPlay" on your phone and "OK" on the Uconnect display screen. That's basically it, you're done!
The third of the three boxes associated with the new phone (mine is "iDave 12 Pro") shows that CarPlay is configured and enabled. The first indicates you can use the device for phone calls and the second, the musical note, means it can be a media and audio source too. More importantly, notice along the bottom of the Uconnect screen that the "Phone" button has been replaced by a "CarPlay" button.
Tap on it.
Now you're rockin' with Wireless CarPlay. Next time you start the car, it'll automatically reconnect and be ready to play too. From phone calls to all of your music sources to Apple Maps or Google Maps, it's a big upgrade to the smarts of your new Dodge Charger!
Pro Tip: I've been writing about Bluetooth pairing, car electronics and the bigger world of software and computers for quite a while. Please do check out my extensive computer help library for lots more useful material to make your digital life better and easier! Thanks.