I'm new to the iPhone world with my new iPhone 5c and am wondering what the easiest and fastest way to apply OS updates is in iTunes? How often are there updates from Apple anyway?
Ah, for the good old days where you'd buy a cellphone and it'd have its firmware burned in at the factory, never to be updated again. If you had it for years, you had the bugs, hiccups, glitches and quirks for all that time too, making every phone update a game of find-the-new-bugs.
Well, thinking about it, maybe not such good old days after all. In fact, as our devices have become more complicated and many times more sophisticated, it's become increasingly important that the developers keep up with fixes, security updates and new features. But you already know that.
In the Apple camp, there are two categories of updates: major releases and minor "dot" releases (so called because we'll go from, say, 7.0.1 to 7.0.2). The major releases, like iOS 6 or iOS 7, happen roughly every 12-18 months and are a big deal. The dot releases? That's hard to pinpoint but I'd say about every 4-6 weeks there's an incremental update, and immediately after a major release like the new iOS7 there'll be a few dot releases fairly quickly thereafter as bugs and security holes are exposed by enterprising hackers and the like.
What's handy is that you don't even need to have iTunes in the mix at all to update the OS on your Apple iPhone 5c.
What'll happen is that one day a little number will show up on your "Settings" icon. Like this: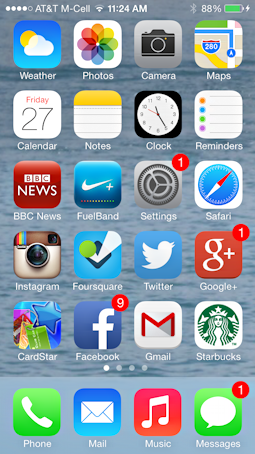 When you see the number appear, simply tap on "Settings" and it'll show you which category of settings has the update: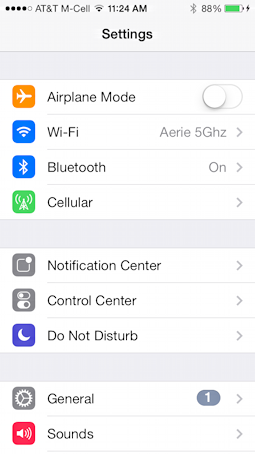 Tap on "General" to proceed…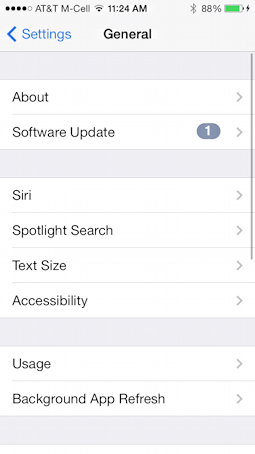 No surprise, tap on "Software Update". Notice how smart design means you don't need to know how to navigate to the software update area on the iPhone's settings.
Tap on it and you'll see:
You can read the details of the update, but as you can see this particular one is just addressing a few very specific bugs.
Tap on "Install Now" and…
Now you can read the details if you're so inclined, but I have to be candid that in all the years of updating software on my various computers, I've never read any of these "shrinkwrap" agreements.
Instead, I do what 99.9999% of people do. I click on "Agree" without knowing what I'm actually agreeing to. 🙂
Now the update downloads:
This can be a bit disconcerting, because the next thing that happens is your phone goes dark.
Then it restarts and runs the actual install, for which you get a progress bar:
Note I have my iPhone plugged in here: I strongly, strongly recommend that you always ensure that your devices are plugged in whenever you do a firmware or OS update, be it a smartphone, tablet, video game console or anything else.
When it's done with the install your iPhone will simply restart and you're good to go. No additional notifications will appear.
Really, it's incredibly easy.