How do you download songs onto a BeatSounds EMP-ZII PLUS MP3 player? I just got it and i'm desperate to know since no one else will tell me. I have a windows xp comp. So please tell me how to download songs to my mp3!
So what do you think of the Beatsounds devices? From the pictures they have on their Web site, they're incredibly cool looking devices, I must say, far cooler than even an iPod Nano.
On the other hand, a user's guide that features the phrase "This Warranty is effective only in Korea" doesn't instill great confidence…
But nonetheless, you can connect the EMP-Z with the USB cable by hooking the device up to your player then your computer.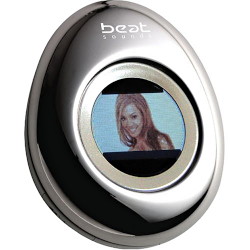 It should automatically show up as a removable drive (look in "My Computer" to find it), then Beatsounds recommends that you "conveniently manage the files by classifying them into folders by genre or singer"
Note that you should have received a CDROM that included the necessary drivers for your EMP-Z to work properly with your PC too, but according to the company you shouldn't need to install it if you are running either Windows Me, Windows 2000 or Windows XP, or, if you're on a Macintosh, Mac OS 8.6 or higher.
Unfortunately their documentation doesn't detail the specifics of the device file system, but most likely there's a top-level folder on the device called "MUSIC" or similar. Make sure you music is in MP3 format (not WMA format, which is the default from Windows Media Player, or AAC format, which is the default from iTunes Music Player).
Good luck to you!