Hi i brought a new Samsung sgh-d500 mobile phone and i can't put music on my mp3 player. I need to know how to put music on my phone from the computer but i don't know how. Can u please help me? Thank you!
First off, as with just about any modern product, you can pretty quickly dig up an online copy of the user's guide online with just a little bit of fiddling on Google. For example, I pulled up the user's guide for your slick new Samsung SGH-D500 cellphone with the following search: Samsung SGH-D500 Guide -Press site:samsung.com, which quickly lead me to the Samsung documentation download area for the SGH-D500. One more click and I was reading the guide itself.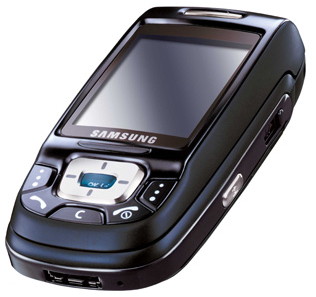 It didn't take me long to ascertain that there are three different ways that you can download music onto your phone, according to Samsung:
Download from the wireless Web,
Download from a computer using Samsung PC Studio II,
Receive via IrDA or Bluetooth
The browser solution of using the wireless Web is straightforward, but you still have to figure out a site that has compatible audio content, which isn't what you seek: you want to download music off your own computer.
The PC Studio II software is doubtless on the CDROM that came with your phone, and if you can't find that, call Samsung and ask them to send you a replacement CDROM (I couldn't find a download link, oddly enough). It has its own documentation and basically works like Windows Media Player and other audio management packages: you hook up your phone, drag MP3 files into the program and sync the two to copy the music across. Should be pretty easy.
Finally, I'm a big fan of bluetooth and find that it is just about always the easiest of the different possible ways you can both access data on the phone and copy new material onto the phone too. You'd need to have bluetooth capability on your PC, but you can buy bluetooth USB attachments for about $25-30 so it's a pretty cheap investment for the ease of grabbing photos, copying ringtones, etc.
The User's Guide has a detailed section on how to set up bluetooth on the SGH-D500 then how to pair it with a computer (or headset or other bluetooth peripheral) and that should get you going.
Or, if you have a pal with the same phone, you can use the Infrared capabilities of the phone to transfer music files across: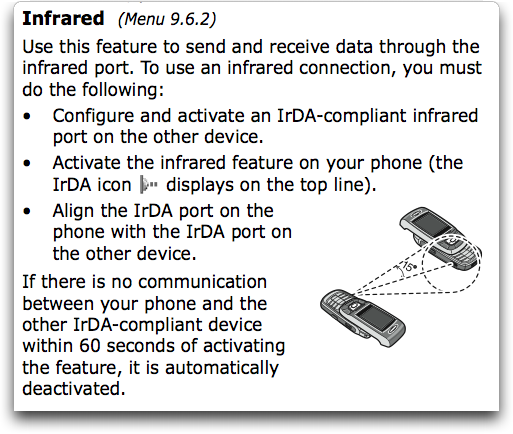 Hope that helps you get the most out of your new Samsung phone!