I'm a big fan of MySpace and all my friends are too, but we really want to be able to talk real-time rather than just send email messages back and forth and post endless bulletins. I know Google has its IM service, Microsoft has one, heck, even Yahoo has an IM service, but what about MySpace? Is there a MySpace Messenger?
Funny you'd ask that, actually. While there's not a formal published and downloadable instant message client for MySpace yet, there is a MySpace Messenger client that they're starting to talk about.
(Note: last I tried that link now redirects you to the MySpace home page, but it used to show you some interesting information about MySpace Messenger)
Fortunately, I scrounged up a few screenshots thanks to Pete Cashmore: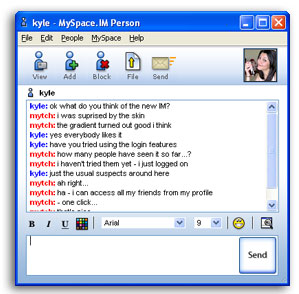 This, of course, lots a
lot
like AOL's Instant Messenger service AIM, but maybe that's just because all the IM client developers are stuck in a rut? Of course, it could also be a mockup and not legit at all, but it
was
on the MySpace site, so…
Here's another image, this is of the Buddy list window: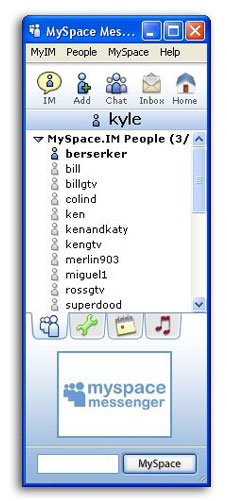 Again, very reminiscent of AOL's IM client on Windows XP, but it's hard not to like the big "MySpace Messenger" graphic on the bottom, isn't it?
Is it real? Is it a sign of things to come? Or is it a dead page that surfaced on a project that's already been cancelled? According to the
comments on Digg
this client's already been abandoned after beta testing and MySpace has given up on IM. But I really find it hard to give credibility to
anything
on Digg, somehow.
In any case, you might check out the latest version of
Skype
. With its 10-way calling and easy IM interface, it could be a nice alternative to The Usual Suspects in the IM wars and help you and your friends stay plugged in.
Good luck!