Dave, I've bumped into a new service that claims to pay you for simply adding specific links to your weblog entries, which seems like a darn easy way to make some money as a blogger. The service is called Blogitive and I'm just wondering if it's legit or not?
I hadn't heard of this service so I checked out the link and found that, yes indeed, Blogitive offers to pay you for links in your weblogs. The problem is, the payment is miserably low.
Let me step you through the backend and you'll see what I'm talking about.
First off, sign up, get approved, then you'll see a set of "offers" that you can opt to subscribe to or not:

You can see the entire program here in a nutshell: if you're willing to add the phrase "marine electronics" to your blog and make sure that points to the URL they specify, they'll pay you a whopping
$5.00
.
That's not $5 per month or per ad per month, that's for the lifetime of the advert and you need to commit to leaving the link live for at least a year: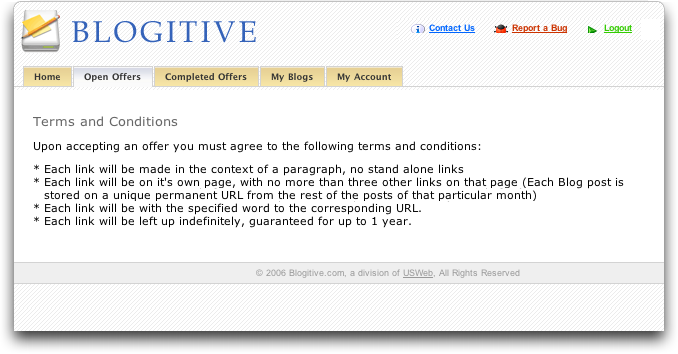 Accept an offer and you'll get to see all the details and also have a chance to enter the "permalink" for the relevant blog entry:
So, theoretically, if I were to include the phrase "American Eagle Gold Coins" in this weblog entry and make sure that it points back to Monex.com, I could earn a quick and easy $5.00.
The price is outrageously low for even the most trivial and uninteresting of weblogs, but more importantly, this is a potentially dangerous game for Blogitive and all of its advertisers and publishers, because what they're really doing here is gaming the search engines. The words that you use to link to another site are considered very important for calculating search results, so obviously Monex wants to be easily found when people search for "american eagle gold coins".
While I'm not saying it will happen, I think it's worth being aware that for a payment of $5.00 you are potentially risking your own search engine ranking by participating in this program. If Google somehow caught you, for example, it could theoretically ban your own weblog from the search engine results, or certainly penalize your site, causing you to get less traffic, the exact opposite of what any blogger seeks.
So that's the scoop. Blogitive is an interesting idea, but with terrible payouts and an (admittedly small) potential to get you in trouble for gaming or scamming the search engines, it's not a program that I would recommend to anyone.
Hope that helps!
Tip: If you are comfortable joining a link service of this nature and have a weblog with at least a PageRank of five, drop me a note and I'll introduce you to a far more lucrative alternative.