I'm trying to limit my caloric intake and am wondering if I can get calories and nutrition information for Starbucks food and beverages directly from the Starbucks mobile app? I can't find it anywhere!
Ahh, Starbucks. A huge company that sells more cups of coffee in a week than there were people on our planet 200 years ago. Well, not sure that's true, but the company does sell an awful lot of beverages and foods with its menu of almost 175 different items and millions of variations to keep even the fussiest customer happy. Barista happiness? That's a different story entirely!
From informal observation, I'd estimate that over 50% of customers use the Starbucks for Mobile app with its simple star (point) system and rewards. It's no wonder people are curious about what other information is included in the app than just ordering and that barcode for scanning. As it turns out, one of the things you can access for standard food and beverages is nutritional information, along with a full list of ingredients! But it's not easy to find.
WHERE TO FIND THE FULL STARBUCKS MENU IN THE APP
The first question is: where did the menu go? Check the home screen and it's noticeably missing from the options: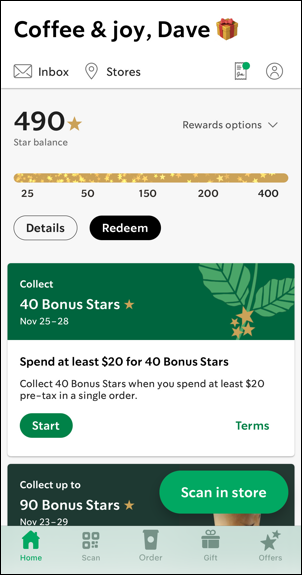 Old pros know to look along the bottom, but while I think there used to be a "Menu" button, it's now loaded up with Home, Scan, Order, Gifts, and Offers. To get to the menu, you need to go through the steps of placing a mobile order. Do that by tapping on "Order".
You'll then need to choose a specific Starbucks – don't worry, you won't have to complete the order – like this: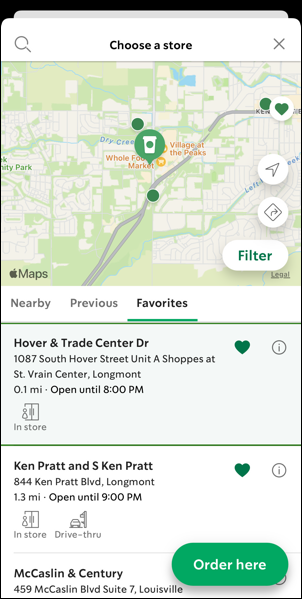 I'll pick the Hover & Trade Center Dr. store that's 0.1 mi away from my current location. This is a bit weird since I took that screen capture while sitting inside the Starbucks. Maybe it's bigger than I realize? Either way, once you choose a store, tap on "Order here" then tap on "Menu" along the top if needed:
See that "See all 165"? That's just drinks. There are another 95 items under Food, 29 for At Home Coffee, and 14 for Merchandise. In total, over 300 menu items!
FINDING CALORIE COUNT FOR A STARBUCKS DRINK
For this tutorial, let's figure out the calories, nutritional content, and ingredients for a Grande Sugar Cookie Almondmilk Coffee Frappuccino.
Do that by choosing the correct category – in this instance, it's "Frappuccino Blended Beverages" – then choosing the specific drink:
The Sugar Cookie Almondmilk Frapp' is the first one on the list, so that's easy. A tap and…
You can see that the Grande is 370 calories (at least, until we start making modifications). Okay. But where's that full nutritional label?
FINDING NUTRITIONAL INFO FOR A STARBUCKS DRINK
To find the full nutritional information and ingredients, you need to scroll to the very bottom of the screen that shows your favorite beverage. At the bottom are these options:
Do you see it? Just behind the "Add to order" button? It says "Full nutrition & ingredient list" and that's where you want to tap to learn more about your beverage. A tap on that and here's the full nutrition "label" for the Sugar Cookie Almondmilk Coffee Frappuccino: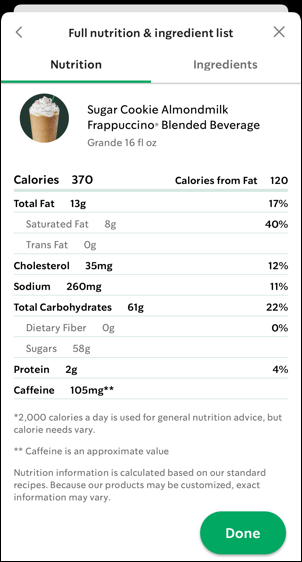 You can see that it has 370 calories, as we already knew, with 260mg of sodium, 2g of protein, and a surprising 105mg of caffeine. No wonder people feel happy after a frappuccino, right? Sugar + caffeine is a potent combo.
Tap on "Ingredients" along the top and you can also see all the surprising ingredients in this particular beverage: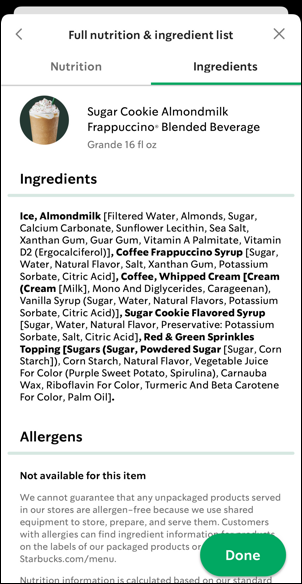 I'll let you Google individual ingredients, but did you realize that purple sweet potato was an ingredient, along with corn starch and carnauba wax? Whatever's in that Frappuccino, it sure tastes good, and now you know how to find nutritional and ingredient information on over 270 items from the Starbucks menu!
Now, while we're talking about Starbucks, please don't hesitate to buy me a latte while you're visiting my site. I promise I'll drink it as soon as possible! 🙂