I've become a bit paranoid about privacy as of late and am wondering if Google Plus makes my location information available on photos I post?
That's an excellent question and one that is important to check for your own Google Plus account like right now, because if you haven't set your privacy properly, every photo you post to Google Plus could potentially also include a map that shows your exact location. Your house. Your office. Where your kids go to school. Alarming? Yeah, it could be.
The issue is that most posted photos are now taken with smartphones or other devices that have built in location awareness (in the biz it's called "geolocation" and it's built around having a GPS or using wifi or cellular data to pinpoint the location of the camera when a given photo is taken. By default, this information is then stored with the photo itself as latitude and longitude, data that's hard for us humans to understand but really easy for mapping software — and any program that can tap a map system behind the scenes — to figure out and display.
Let's start by having a look at a photo a friend of mine posted on Google Plus from when he was at the racetrack.
Here's the image:
Cool photo, for sure, but while it's tagged for location, where exactly was it taken?
To find out, click on the photograph itself and you'll see comments and additional information about the image:
What most people don't explore is the "Photo details" link just below the comment or caption associated with the photo.
Let's look at it just a bit more closely to ensure you know what I'm talking about:
Click on "Photo details" and, surprise: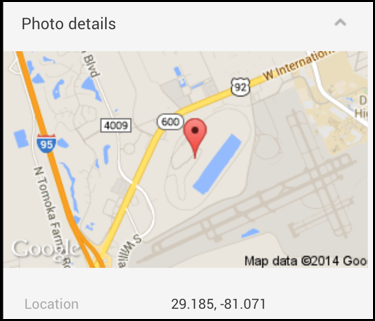 The lat/long location is displayed as 29.185 / -81.071. Hard for us humans to understand, but something you can copy/paste into Google Maps if you're curious.
Instead, just click on the map thumbnail and you'll jump to Google Maps anyway, with the location perfectly centered on the map: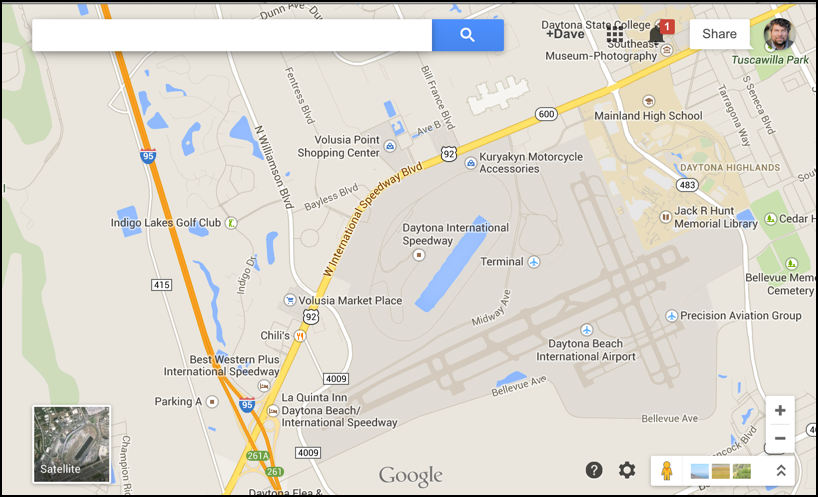 Turns out that this information might well be just as convenient and accessible to people who view photos you post on Google Plus.
Even worse, if the info is in the photo and you aren't displaying it to the public, it's still going to show up when you view a photo you've posted, which is rather confusing. Here's what I see when I looked at one of the photos I'd posted:
See the check box on the bottom? It says "Share location data for this album with viewers" and it's super subtle. Since it's not checked, this means that even the photos I upload that have location data have it masked from others, which is a relief, but if I were paranoid, a click on the "Remove" button would get rid of the information.
To check your status, choose the "Settings" option off the menu that pops up on the left side of your Google Plus page when you click on "Home" on the top left. Then scroll down to find this:
It's the first one that you really care about here: "Show geo-location information on newly uploaded photos and videos." Just make sure it's not checked, click "Save" at the bottom, and you're safe for future photos. Older ones that you've already posted? I'd hope that they are also instantly masked and protected too, but haven't experimentally verified this fact.
Privacy. It's worth paying attention!