I use Gmail in Google Chrome on my Windows computer and have been wondering if there are any keyboard shortcuts? I don't mind learning, but I figure it could make me a lot faster dealing with all of my daily email.
Does Gmail have keyboard shortcuts? Holy cow, does it ever. I was tempted to ask a rhetorical question about bears and the woods, but let's keep this G rated so the short answer is yes, Gmail has keyboard shortcuts. Not only that, but you can change and modify them if you prefer, and these changes can work on a Mac, Windows computer or even a Linux system, as long as you access Gmail through the Web interface. Worth noting is that third party Gmail programs like Kiwi for Mac would also be affected by these changes because Kiwi is actually a wrapper around the Safari Web Kit so it's also accessing your inbox via Web browser.
Indeed, the challenge is that once you learn how many shortcuts there are, you're going to need to focus on a subset that will actually be helpful as almost every letter of the alphabet has been assigned a task. If you've ever accidentally started typing without the focus being on an text input box, you've watched Gmail go bonkers: you're just triggering all sorts of keyboard shortcuts without knowing. Not good.
At its most basic, if you simply type "?" at the main Gmail window you'll get a full-screen pop up of all the main keyboard shortcuts:
Got it?
Yeah, it's overwhelming. Probably the most useful on this entire page is the link on the top right labeled "Open in a new window". That takes you to this page on Google: Keyboard Shortcuts for Gmail. Much calmer and easier to read.
Google breaks down the shortcuts into the following categories: Compose & chat, Formatting text, Actions, Hangouts, Jumping, Threadlist selection, Navigation and Application. I find that the Navigation shortcuts are the most useful for my Gmail usage, and here they are: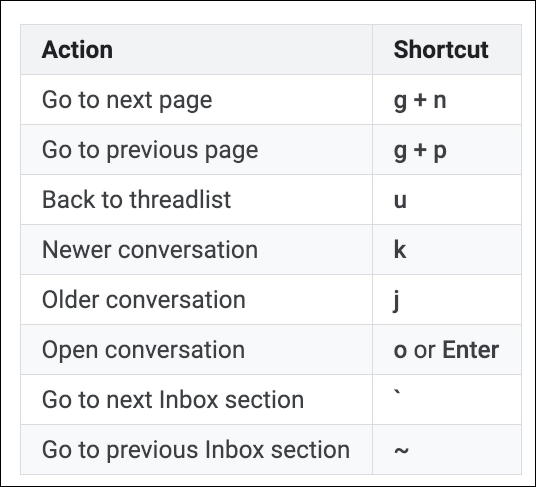 Note that none of the keyboard shortcuts will work if you haven't enabled keyboard shortcuts (though I believe that's enabled by default). Need to check? Go to Settings off the gear menu on the top right, then scroll down the general settings until you find this:

Don't like a particular shortcut or find it unintuitive? You can change your shortcut key sequences!
Go to "Keyboard shortcuts" in the Settings area (it's the last choice along the top list of settings areas) and you can remap things to your heart's content:
Between all of those, you should be able to customize your own keyboard shortcuts as needed, then create a cheat sheet to learn the most important of them. If at any point you would rather back off to the default settings – or even turn off keyboard shortcuts entirely – you can see how to do that too from with Gmail settings.
As for me? Honestly, I probably use Delete ("#") more than anything else as I go through my daily email!
Pro Tip: I've written a lot of Gmail tutorials. Please check it all out while you're here. Thanks!