I've been looking at the Taskbar on my Windows 7 system pretty closely and realize that a lot of the icons shown are useless and just take up space. Prime example: The little speaker icon that lets me change audio output volume. But I have a "volume up" and "volume down" button on my computer, so why do I need that? Can I remove some of these stupid icons?
I know what you mean. It seems to be endemic to the entire design of Microsoft Windows, actually, whether you're stuck back on WinXP or whether you're running the latest version of Windows 7 and poised to leap into the brave new world of Win8 when that's officially released. Desktop icons, programs pinned to your START menu and, yes, tiny notification icons on the Taskbar. It all adds up to a very cluttered look.
Fortunately, you can wrest control of the situation and clean up your Taskbar, particularly all the little notification icons. The trick is to, well, know the trick, because the default behavior of "right click on what you want to change" rather surprisingly doesn't work in this instance.
Let me show you the steps and you'll see what I mean.
First off, here are the default notification icons that are always present on my own Taskbar, in its soothing shade of dark blue:



You can see that pesky volume control icon, it's a tiny speaker with waves (which indicate the sound is on: if there are no waves the audio's muted). Click on the icon and a slider appears to let you adjust the volume: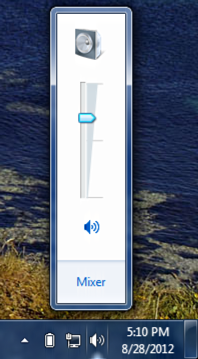 Okay. Right click on it, though, and the context menu actually doesn't give you the option of disabling this particular notification icon, though I think it should:


The secret? To get to the notification control area,
right-click on the time display
. Yup, check it out: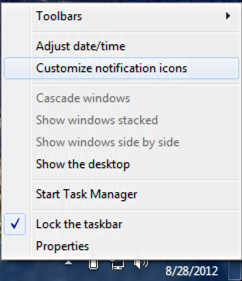 As highlighted, choose "Customize notification icons" and you'll find that there's quite a bit you can tweak: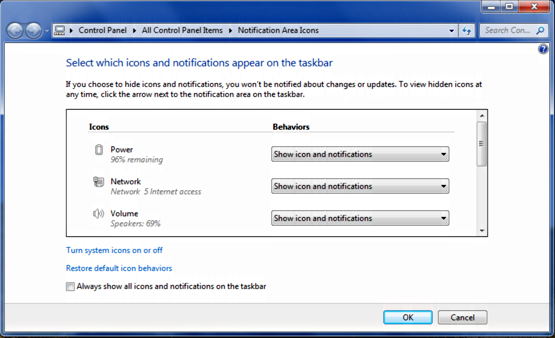 You can make changes at this point, as shown here when I click on the menu options associated with the McAfee Control Center:



"Only show notifications" is a good option because if there aren't any notifications, it's a hidden icon. That doesn't really make sense for the volume control, however, so to get access to the configuration for the system icons, click on "Turn system icons on or off" at the bottom of the window.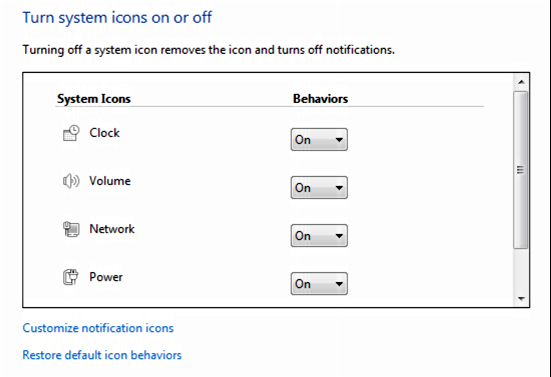 At this point, I actually decided to disable my Volume, Network and Power icons as I have other widgets that show those particular status items. A click on "OK" and suddenly my Taskbar is delightful uncluttered:


Heck, I could even remove the date and time display, but that, well, that I kind of like. You can tweak things to your own desire on your system, however.
Hope that helps you gain control over what's on your screen when you're using your PC!