I'm about to migrate my blog from one server to another and a wordpress guru friend of mine said it's important that I disable commenting on my blog before I do so. What's he talking about and how do I turn off comments on my site, then turn them back on?
Your timing is impeccable, dear reader! As you sent this in, I was busy migrating my new WordPress blog — GoFatherhood — to a new server so I was able to capture all the steps needed.
Coincidence, or serendipity? You decide.
Anyway!
This example is also taken from WordPress 3.2, so if you're running an earlier or later version (like 3.3) then it's possible that things will look slightly different. Still, the basic steps should still prove accurate.
Start out by logging in as the admin on your WordPress blog, then looking on the left side of the admin control area for "Posts". Underneath that heading should be a group of options, including "All Posts". Choose it: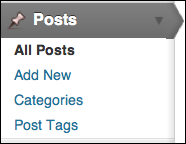 Now click on the box just to the left of the "Title" column heading and it'll automatically select every blog entry on the current page: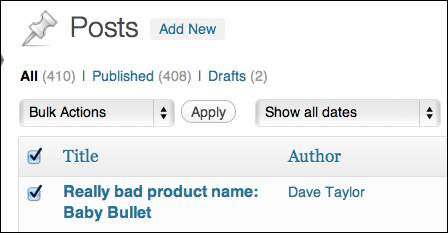 Everything checked? Good. Click on "Bulk Actions" and choose "Edit" instead…

Clicking on "Apply" shows you the selected entries and a bunch of things you can do, including apply new categorization, tags, change author, etc:

Most importantly on the right side is a menu "Comments". Click on it:

Choose "Do not allow", click on the "Update" button on the lower right of this section and…

Good job. Now you just need to duplicate that for all the blog entries you have.
Tedious? Yes. In fact, I surmise that there's a way you can really select
every single post
before you take an action, but I don't know what it is. Perhaps one of you readers can enlighten us? Thanks.
In any case, I hope this helps you migrate your WordPress blog from one server to another.