I find it very distracting that every time the cursor goes over the search icon on the Taskbar (Windows 11) that a menu of recent searches pops up. Can I disable that feature?
While Windows 11 has a big name change, it's surprising how much hasn't changed of the basic Windows experience. The Taskbar is a bit brighter and cheerier with its new icons and layout, but it's still fundamentally the same utility you've been using for years! This means that it's quite customizable through the Taskbar settings, which you can easily reach by right-clicking on a blank spot on the Taskbar itself. But I'm getting ahead of myself!
In terms of the search, one of the best improvements in modern operating systems is the internal search system. Nowadays with much faster processors and drives, both Windows and Mac systems can search amongst your thousands of files, emails, notes, images, and photos in fractions of a second. Better, search now also has a smart index to help you find specific settings and preferences even if you don't know the exact words!
With that in mind, let's have a look at how to customize your Win11 search on the Taskbar.
HOW TO HIDE WIN11 RECENT SEARCHES
First off, let's start with a quick display of the search pop-up that you're talking about. Easily done by simply moving the cursor over the magnifying glass search icon on the Taskbar:

It's pretty cool that you can tap or click on "Select here to search" and quickly invoke a search but… if you don't want your most recent searches showing up each time, it can definitely be annoying! To remedy the problem, right-click on a blank portion of the Taskbar…
Choose "Taskbar settings" (though you could also have searched for 'taskbar settings' if you preferred!) and you'll get to this settings window…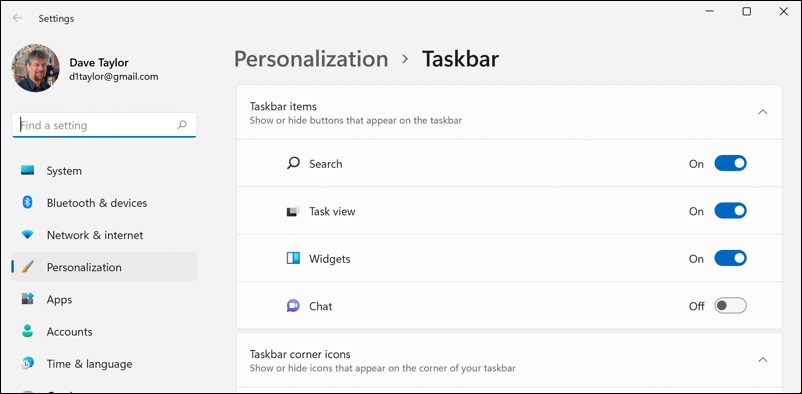 Look back at my Taskbar; you can see that I have Start, Search, Task View and Widgets all shown. To hide any of them it's a simple click on the corresponding entry here in Taskbar items. I disable Chat, notice, so it doesn't show up at all on my Taskbar.
So one way to get rid of the search box is to simply turn off the Search icon from the Taskbar itself. Not recommended, though, because search is so darn helpful.
CHANGE RECENT SEARCH POPUP BEHAVIOR IN WIN11
Instead, scroll down in the Personalization > Taskbar window…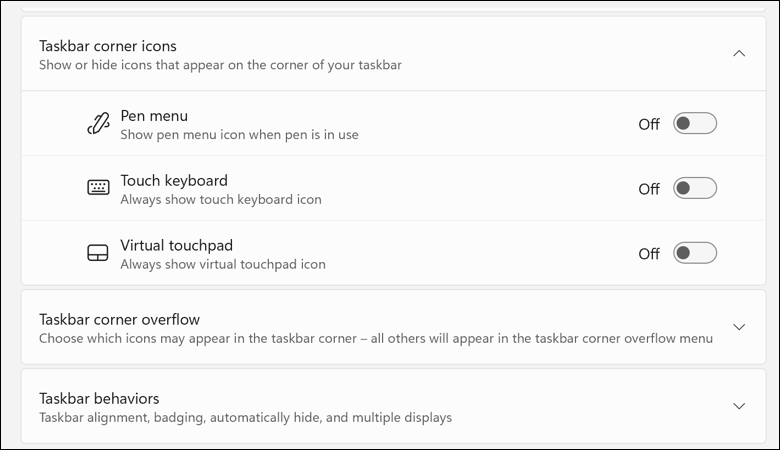 Probably you won't want to enable any of these settings, but it's good to know that they're available if you prefer to have a pen menu, touch keyboard icon, or the virtual touchpad.
What you really want from this area is "Taskbar behaviors". That's where all the good settings are! Click on it and revel in the control you have over your Windows 11 Taskbar:
Notice that you can left align all your Taskbar icons if the centered default bugs you. I kind of like it, personally. You can also enable auto-hide for the Taskbar, a classic Windows 10 setting, and, most importantly, disable the "Show recent searches when I hover over the search icon".
That's it. Disable that and you'll still have that magnifying glass search icon on the Taskbar, but without the recent searches pop-up. Heck, you can even left align things while you're at it:

That should get things back to where you want. Good luck with the rest of your Win11 customizations!
Pro Tip: I've been writing about Windows for many years and now have an extensive Windows 10 & Windows 11 help area. Please check it out to find lots of additional tutorials and guides while you're here. Thanks!