I sometimes have to restart my PC computer in the middle of the night, which makes that startup tone really annoying. Is there any way to just mute or disable the startup chime?
If you're experiencing hardware problems, it's very helpful to hear that familiar "chime" sound when you restart or boot up your Windows PC, no question. After all these years of the same chime sound, it's also just nice to know that your computer is starting up normally even if there aren't any issues at all. But as you say, restarting your computer at 10am is very different from 10pm in most households and particularly if you have external speakers hooked up, a late night reboot can be a bit of a disaster!
Fortunately there's a way to disable the startup sound without having to hack your system, assign a new silent tone or any other hijinks. People, as they say, do the craziest things! Instead, ever since Windows 8 (which goes back a ways, Win8 was introduced back in August, 2012) there's setting buried deep in your PC controls that lets you check a box and disable the chime. Let's check it out…
First off, a typical Windows 10 search might be for "startup sound":
Nope, that doesn't work, just brings up a bunch of Web pages like this very page.
Tweak your search to replace that first word with "system", however, and the matches are much better:
Indeed, it's the Change System Sounds control panel that we want, so click or tap on that match to launch what is decidedly an old-school Win3.1-type of settings window:
The "Playback" tab will show you your output device. Mine is the default output speakers.
Click or tap on the "Sounds" tab and here's what you see: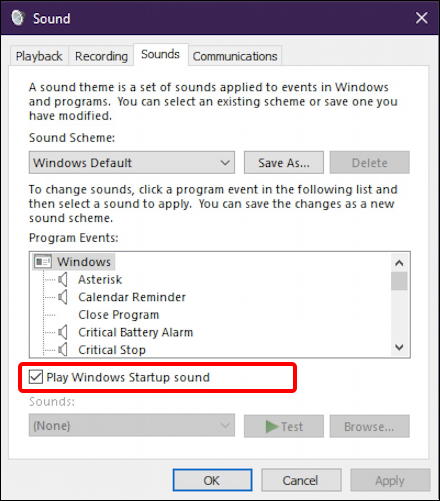 That's the spot and I've highlighted the checkbox you want to uncheck. It's labelled "Play Windows Startup sound". Uncheck it, click on "Apply" on the lower right and you're done!
But while we're here, I will also note that you can change any of dozens of system sounds too. For example, the beep that is played every time you get an instant message can be found in the "Program Events" window in the middle:
I've highlighted the choice – Instant Message Notification – along with the section below that lets you hear the current sound (click "Test") and even lets you change it if you want. There's no way to mute or disassociate a sound with an event, which is a bit of an oversight, but you can always download and save a silent WAV file like my own SILENT.WAV then set the event to that specific sound.
Tip: Right-click on the words "SILENT.WAV" in the previous sentence to save that audio file on your computer for later use.
That's it. You can turn on or off the system chime / startup sound and you can fine tune the audio sounds played on specific Windows events. Note that some themes include their own sound package so that could overwrite any changes you make, so beware of new themes once you've customized all of this. Good luck!
Pro Tip: I've been writing about Windows since the very beginning of the system. Please do check out my quite extensive Windows help library for hundreds of useful tutorials and guides while you're visiting. Thanks!