Dave! How do I turn off predictive text [autocorrect] on my android phone? I'm sick of sending dumb messages! "Lickdown" anyone?
Autocorrect is one of the great mixed deals of the technological age. On the one hand, it's great that "teh" automatically becomes "the" when you're typing or tapping away on your device, but when "piza" becomes "piazza" or "pipecleaner" instead of "pizza" it's just… weird. Some of this involves training your software to know common abbreviations and nicknames you might use for common words like "caf" for "café", but particularly on a mobile device, that training period can bre quite annoying and generate a lot of frustration.
Fortunately, you can disable auto-correct, as it's called on Android, from the Settings app. While we're at that setting, though, there are a lot of other ways you can benefit from the same spelling engine even without it automatically changing every word you type. Let's have a look…
HOW AUTO-CORRECT MESSES UP YOUR TYPING ON ANDROID
Here's a pretty typical situation. I'm typing in a note in the "Keep Notes" app…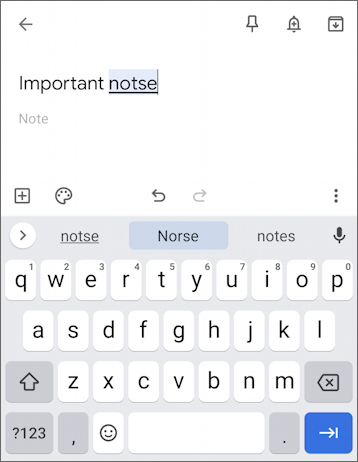 You can see that I have misspelled "notes" and that the auto-suggest has offered up "notse", the current spelling, "Norse" (how did it get that?) and "notes". But if I do nothing, auto-correct itself will just pick what it believes is the most likely word I'm trying to type:

Well, I suppose it's one wrong letter rather than a transposition of two letters, so it's arguably the closest in spelling… But I have never once actually written anything about Norse people or mythology or geography, so… is it the best choice for me? Arguable.
Fortunately, however, I can disable auto-correct entirely, and so can you!
HOW TO DISABLE AUTO-CORRECT ON ANDROID
Fire up the Settings app, then search for "auto":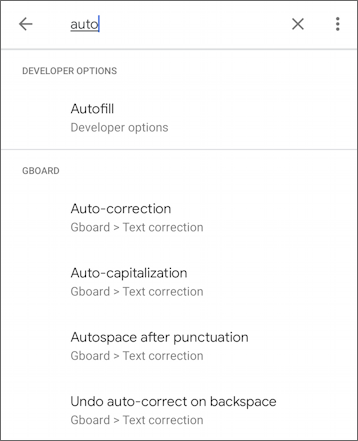 There are a lot of automatic features you can enable or disable in Android – which is great! – but for this purpose, it's "Auto-correction" that's the specific feature to disable. That's accomplished by tapping and choosing "Auto-correction", as you may suspect…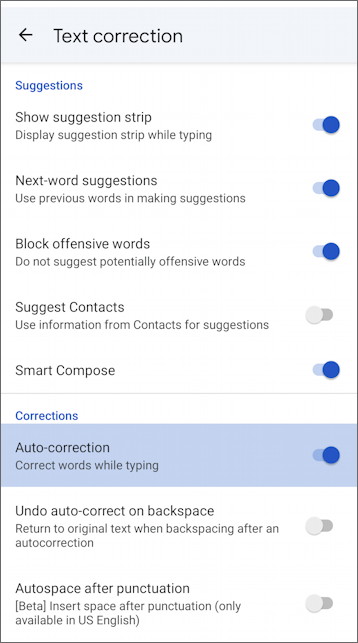 As you can see, there's really a huge amount of flexibility regarding what you display and let the keyboard show or do. For example, if you don't like the suggested spellings / words strip, you can hide it by disabling "Show suggestion strip". Tired of "fork" having an obscene suggested correction? You can disable that with "Block offensive words" (we won't talk about the fact that this feature needed to be implemented!). Trying to type in "gare de lyon" and having it autocorrect to your buddy Gareth's name? That can be disabled with "Suggest Contacts".
The task at hand, however, is to disable autocorrect. That you can fix by disabling "Auto-correction". But there are even more options if you swipe down:
Auto-capitalization can be really helpful, for example, if you tend to type so quickly you forget that, say, the Empire State Building should have initial caps. Double-space after a period? That's up for debate, but if you aren't a fan, disable it here!
What I do encourage you to keep enabled regardless, however, is "Spell check". This offers up a squiggly red line under words that Android believes are misspelled.
SHOWING MISSPELLED WORDS IN ANDROID
What's interesting is that not every app will show you those misspellings. For example, Keep Notes shows this:
But if I'm trying to send a text message to someone and have misspellings, well, that does exactly what you'd hope:
A tiny bit of experimentation might be in order to figure out which apps support flagging misspellings, but you have to admit that being able to see misspellings without having them auto-corrected is a definite win!
Pro Tip: I've been writing about Android since the beginning. Please check out my extensive Android help area while you're visiting for lots more useful tutorials and guides! Thanks.