Once I shared that you can turn off the Popular Highlights feature in the Kindle app, lots of people have been asking about their specific system and configuration. Apparently, it's not as, um, popular as the Amazon team might think. In fact, it seems like exactly the kind of feature that should default to being off, not on. But that's just me. 🙂
My primary ebook reader is also an Apple iPad, though I use an iPad Mini, and the first generation units (which you can find for a steal through third parties and refurb sites. Heck, Apple itself often sells older generation iPad Mini units at a substantial discount through the Apple Refurb Store) work great as an ebook reader and have zillions of other iPad apps you can run, including mail, iTunes, movies, Netflix, and much more. A win:win from a technological perspective.
Back to your iPad, though. It's easy to turn off Popular Highlights, but the setting isn't where you might think it should be. In fact, the Kindle iOS app has an interface all its own, quite unlike any other iPad app I've seen.
To start off, however, here's the end of a chapter in a book I'm currently reading with the Popular Highlights displayed (it's the dotted underscore):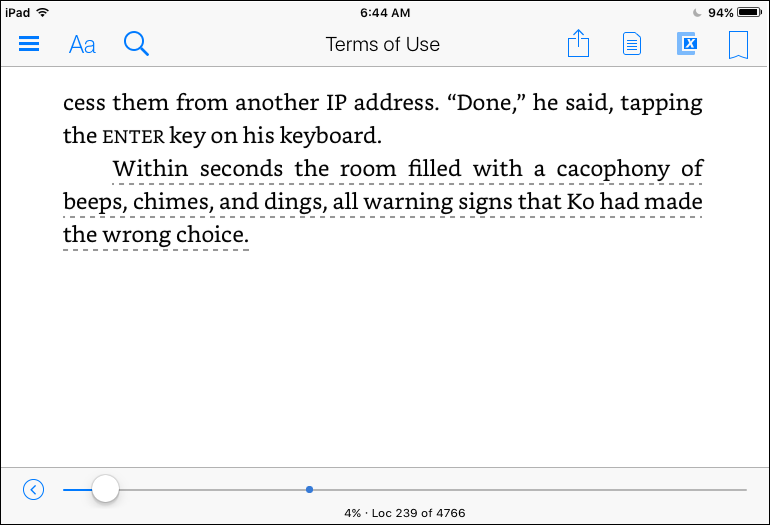 (I have, of course, chopped down the image just a bit to make things flow better. In case you're wondering!)
You might think that tapping on the three horizontal lines on the top left would give you the ability to hide these highlights, but quite the opposite, it actually gives you a shortcut to the page that lets you see all the popular highlights instead:
You can tap on "Popular Highlights" and see more passages that people particularly like, if you're curious. Or you can just proceed by tapping on "Library" to go back to the home screen of the Amazon Kindle app for iOS.
Yours will look like this (though with different books!):
Here's the secret: On the very lower right, barely visible, is a button labelled "Settings". Tap on that and you'll have a small menu pop up: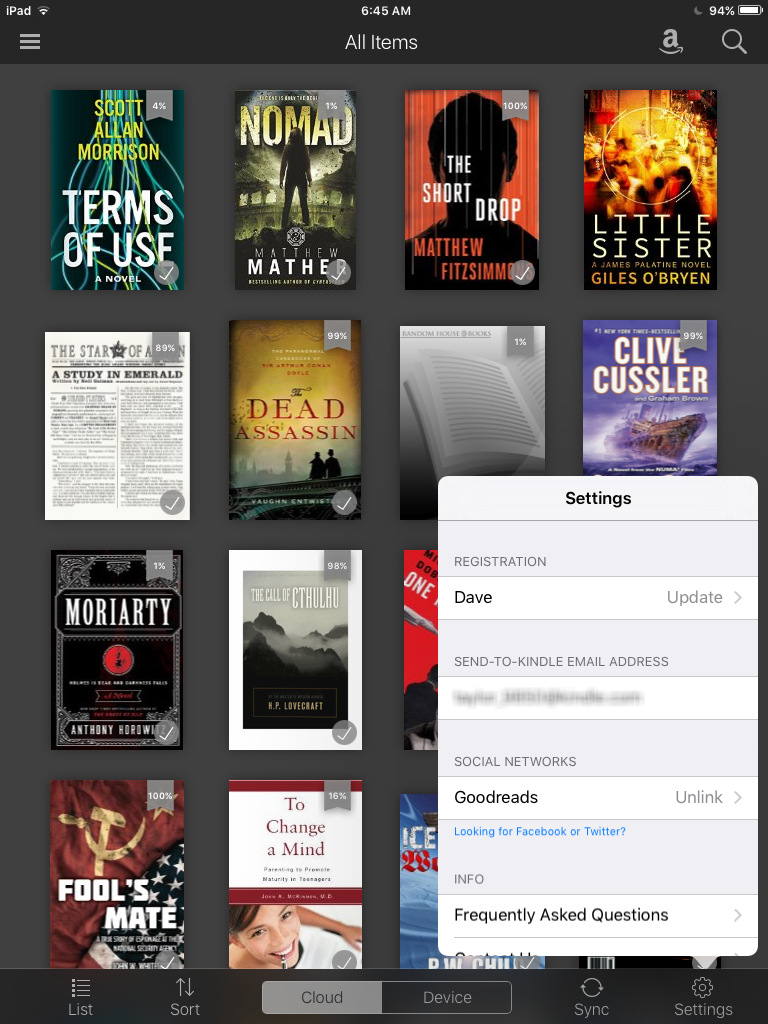 What's not obvious at all is that there are more choices on this menu than are being displayed.
What you want to do is swipe upwards on the menu itself, and more options will be magically revealed: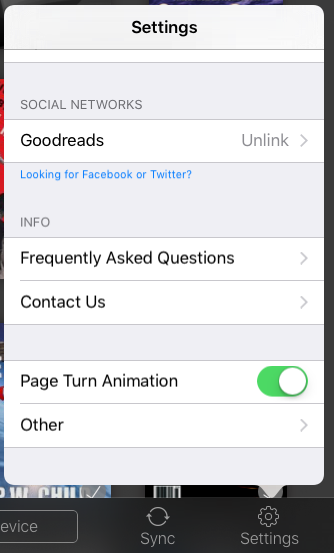 Still not quite what you want, so tap on "Other", the very last choice on the hidden app menu.
Now you'll see how to disable or turn off Popular Highlights in the Kindle app: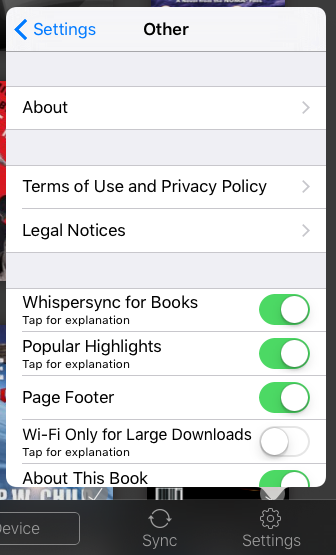 So there's the feature! Simple tap on the green slider adjacent to "Popular Highlights" and it'll be disabled. That's all there is to it. Easy, once you know where to look. Oh, and the other features here are worth checking out too, if you want to swipe up and see what options you have.
Finally, tap on "Settings" to close the menu, tap on your book again, and those pesky highlights are now gone:

Now you know how to fix it, go forth and read up a storm with the Kindle app on your iPad!