I sell a lot of random stuff I pick up at garage sales on eBay and recently eBay has been posting information about these sales on my Facebook newsfeed. Embarassing. How do I disable this "feature"?
It may seem like this is happening randomly, but at some point along the way you must have put something up for auction on eBay and then shared that auction information with your Facebook friends. eBay has a slick Facebook app that manages this task and it's a bit tricky: you're thinking "share this auction with my Facebook friends" but it's thinking "share this and all future auctions with my Facebook friends".
That's likely what happened, at some point you said "yes" to eBay sharing your auction info on Facebook.
Not to worry, though, it's easy to disable (though a bit of a bear to find where this setting is found on eBay).
Now you can jump onto Facebook, find the list of apps you've approved to access your account, find eBay and remove it, but let's solve the problem on the eBay side.
Start out by logging in to your eBay account and looking for your "account" settings. The menu with that option's on the top left:
Now you'll find that there are at least 100 different settings you can tweak. Yeah, I'm already exhausted and we haven't started! 🙂
Whatever your default account settings view is — probably "Personal Information" — look on the left side for this menu: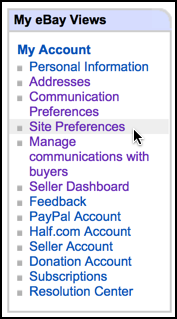 As I've highlighted, you'll want to click on "Site Preferences" to get to the area where you define how eBay interacts with other sites.
Choose that and a bunch of options show up. Scroll down to find this one:
It's tricky because if you search the page for "Facebook" or even "Twitter" they don't show up. Until you click on "Show":
Now you can see the options you want to change. You can turn off the data feed between the two sites by choosing the second option "Do not share eBay items with Facebook at this time", or you can permanently sever the tie with the third option, to Cancel sharing eBay items with Facebook.
Pick which works for you, click "Apply" and you're done.
Nice. Now how are all your Facebook friends going to know about your great eBay auctions?
Answer: click on the Facebook button on the specific eBay auction you want to share. Not too hard!