I love Instagram but sometimes when I post photos of my girlfriend people leave really crude and offensive comments. What I'd like is to be able to disable comments entirely on Instagram. Doable?
You're in luck because Instagram just added the ability for you to disable comments on your posts, and what's even better is that you can specify no comments as you post or you can change the status of an existing post (even after you delete the dumb comments).
Which brings up a more general topic about trolls and rude folk who think that what they post online is inconsequential and that "it's just a joke" and we're wrong for being offended. I say bah humbug! If we all put effort into being kinder and more positive, the Internet would be a remarkably different place. But I suppose I should hope for a unicorn to knock on the office door too, while I'm at it. 🙂
Right. Back to Instagram.
To demonstrate how to specify that you don't want comments, I'm going to use the iPhone iOS Instagram app and let's just jump straight to the feature, so imagine I've already picked the photo I want to post and am entering a comment and other details. That looks like this:
You've probably seen this dozens of times before, right?
But look closely. At the bottom is a barely visible link "Advanced Settings". That's what you want, so tap on it…
At this point, turning off comments is the only option you have for Advanced Instagram Settings, but perhaps down the road there'll be more? We can only hope!
But… let's say you forgot to specify that you don't want comments on your post and just shared it with your friends and family. Now you realize "ah heck!" and want to turn off comments. You can do that too!
Here's the same post, shared on my Instagram channel:
See how to stop comments? No? That's okay. I gotcha. Tap on the "•••" button on the top right.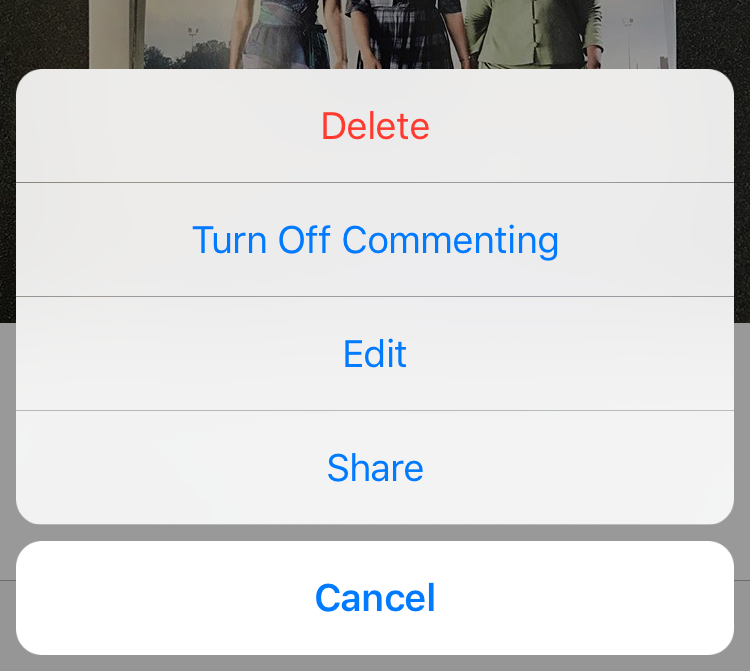 There ya go, choice #2: Turn Off Commenting.
And now you know. Enjoy, and don't forget to follow me on Instagram too! I'm d1taylor on Instagram.