I love my Android phone, but I'm bothered by the fact that it keeps telling the network where I am. Even photos aren't safe, they're getting geolocation tags from the GPS and each identifies exactly where it was taken. How do I disable all of this privacy nightmare on my Galaxy S4?
You're right to be worried about privacy in the age of geolocation. We don't really think about it but basically every teen and adult in the Western world is now carrying around a highly accurate tracking device. Worse, we almost always happily share its data with friends, family and the public at large, trusting that only good people are online and that we're safe and all is well.
The prime offender are the tiny computers that we all know and love, whether it's an iPhone or Android device, devices that are so sophisticated that few of us even realize what's going on within the device when we're using it. Let's just point out that your Samsung Galaxy S4 is more sophisticated than the lunar lander back when the Apollo mission sent men up to explore the surface of the moon. Pretty amazing, if you think about it. But still a privacy issue because all those satellites your smartphone's talking to non-stop allow it to pinpoint its location to within a few feet, including when you're sitting at home posting a selfie.
On Android devices, it's a bit non-obvious where to find the setting to disable the GPS feature on your camera app (and any other apps you'd like), so let me show you. First off, pop into Settings and swipe down a bit to find this:
Tap on "Location"…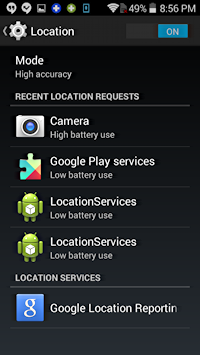 So these are the apps and low level APIs (API = application programmer interface) that have access to the location data the phone keeps calculating.
Notice that they're rated by battery usage, but not by privacy risk. Probably appropriate, but since that's what we're looking at, you might well want to just turn the entire location feature off for all apps. To do that, slide the "ON" setting at the top to "OFF".
But let's instead go into Location Services. Tap on "Google Location Reporting" at the bottom.
Here's what's revealed: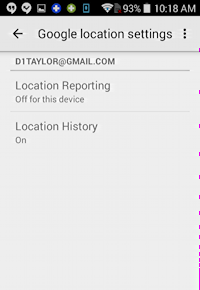 If you want to stop apps reporting on your location automatically, including the Camera app, make sure that "Location Reporting" is off, as you can see I have it set in the above screen capture.
The second option is more interesting. Tap on "Location History"…
Yup, your phone is dutifully reporting in to Google every place you go. Does that make you feel good?
Me neither.
Delete the old location history by tapping on "Delete Location History" and disable this feature entirely by swiping the "ON" at the top of this screen to "OFF".
That's better.