I'm trying to clean up my Facebook news feed and want to get rid of some friends. Well, not "get rid of" but hide their posts or unfollow them. How do I do that and what's the difference between all these unfollow, hide, and unfriend options?
With its billion active users, it's no surprise that there are people on Facebook at this very moment posting things that are diametrically opposite to any of our beliefs, values, morals, and philosophies. Given just how many people post their views and opinions, it's actually surprising that there aren't more arguments and debates on the massive social network! Part of that is because each of us has the ability to fine-tune what shows up on our network feed through a set of connection tools available through the Facebook interface.
At its most basic, if you don't follow people with the opposite – or upsetting – views, you don't see their posts and can live in blissful ignorance of their online activity (for the most part). A lot of people have a diverse set of friends, colleagues, and acquaintances, however, and so do end up being "friends" with people who post diverging opinions. The four basic options for dealing with that are acceptance (everyone's entitled to their opinion, right?), hiding posts that are upsetting or offensive, unfollowing someone, or unfriending them completely. But what's the difference between 'em all?
HOW TO HIDE A POST ON FACEBOOK
Let's say my friend Diane shares a post originally made by Tim and I just find it dumb or just don't want to see it again. Here's a typical post (with the actual words redacted to avoid controversy here on my site!)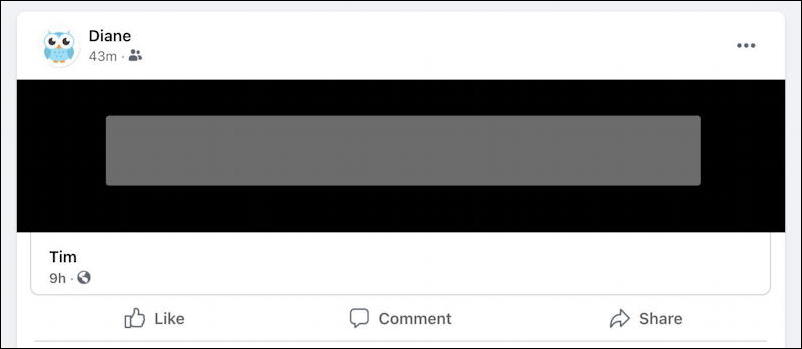 You might not realize it, but there are two places here where I can click or tap to get a menu of relevant options. The more obvious one is the "•••" on the top right, but did you know that you can click on your friend's name and get a different menu of options there, including the option to unfriend them? We'll get to that.
For now, I'll click on the "•••" to bring up this menu: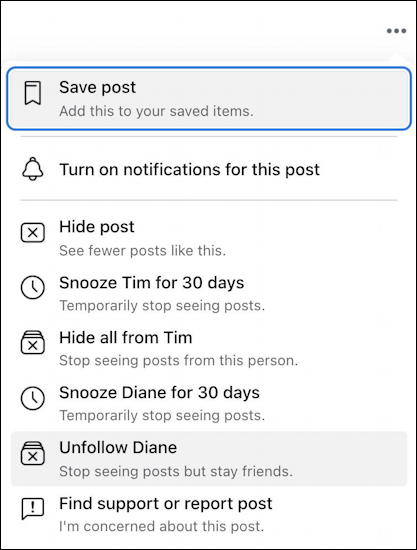 If it's a post you like, choose Save post and you can find it again days, weeks, even months later. But if it's one you don't want to see in your newsfeed even if it garners more comments or engagement (which usually bumps it back up to the top of your newsfeed), then choose "Hide post".
You can also snooze either Tim (the original poster, though I don't think this is a particularly useful feature since I'm not following Tim in the first place) or Diane (who I am following).
HOW TO SNOOZE SOMEONE FOR 30 DAYS
Let's say that I really like what Diane usually posts, but in the last few days she's gotten really political and I just want a bit of a break from the endless vitriol. That's exactly what "Snooze Diane for 30 days" feature is for. Choose that and a month later she'll show up in your newsfeed again.
Note that she does not get a notification you've done this. In fact, this is true regardless of which option you choose, hiding, snoozing, unfollowing or unfriending. That's important to know!
Also notice that if you change your mind, you can click on "Undo" and unsnooze Diane.
But what if you're just fed up and don't want to see someone's posts for longer than 30 days?
HOW TO UNFOLLOW SOMEONE ON FACEBOOK
That's the purpose of unfollow and it's a great feature. If you unfollow someone you're still listed as a friend – so they don't get upset you unfriended them! – but you don't see any of their posts show up in your personal newsfeed. A win:win, if you ask me.
This is accomplished by choosing "Unfollow person" from that same "•••" menu.
Then again, perhaps unfollowing isn's sufficient. This person's hateful, a real nutjob, and you just want them out of your digital life entirely. That's the purpose of the "I made a mistake" unfriend feature.
HOW TO UNFRIEND SOMEONE ON FACEBOOK
Interestingly, it's not quite so easy to unfriend someone. For that, you need to bring up the second menu I referenced earlier by clicking on their name on the top left of the post. This brings up a little info window reminding you who they are and offering a few buttons: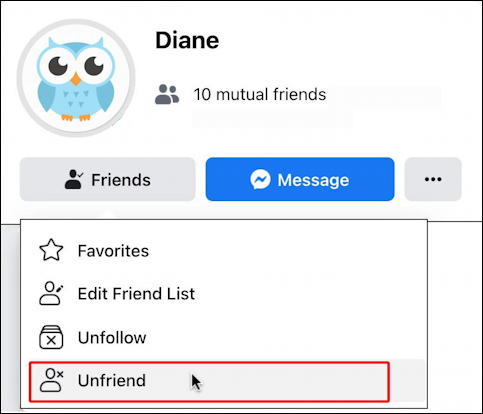 Click on the "Friends" button and the above menu appears, from which you can axe 'em with "Unfriend".
And that's it. All the different ways you can wrest control of your Facebook newsfeed and improve the experience!
Pro Tip: I've been writing about Facebook since it first came online. Please check out my extensive Facebook help library for tons more useful tutorials while you're visiting. And why not follow AskDaveTaylor on Facebook too, while you're clicking? Thanks!