That's funny. Then again, when you're working with Windows, it is a rare luxury to have a half-dozen drives to test software against. I'm thinking it was E:, F:, G:, H: and I:, or does Win7 skip "I" because of potential alphabetic confusion? 🙂
In any case, you must have seen the button that lets you delete the virtual drives since it's at the bottom of the window that lets you specify the size of the drive, but that's okay. I can imagine in your zeal to create as many drives as possible (is there a theoretical limit? I expect so) that you weren't paying attention to little details like how to delete them again when you were done.
It's all good, though.
So to delete the drives, start up VMWare Fusion, but shut down Windows itself. Now you can go to "Settings":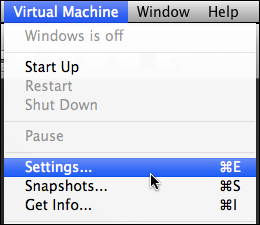 Once you're there, you'll see a window full of icons: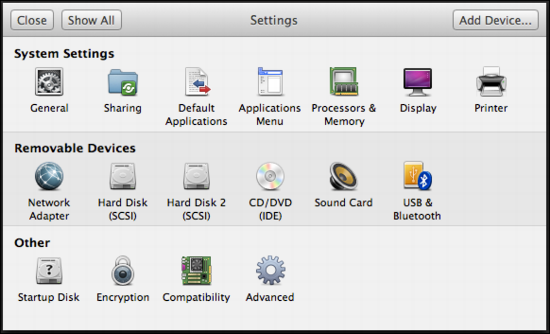 Look closely at the list of hard drives shown. They're actually all virtual drives, so you'll have quite a row of them. I have two, a SCSI-based and an IDE-based virtual drive, as you can see.
Find the drive you want to delete and click on it. I'll axe "Hard Drive 2" for this example. You'll end up seeing something like this:



The trick is to click on "Advanced options" to reveal the delete button that you seek: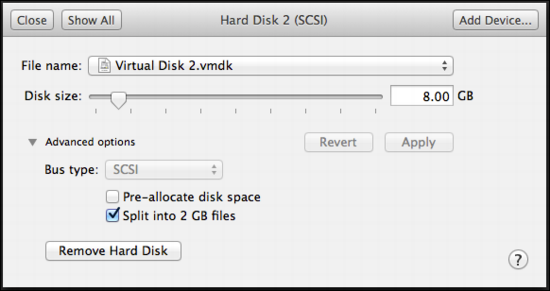 Now you can see it, the
Remove Hard Disk
button at the bottom. If you're
double sure
that it's the virtual drive you want to delete, click on the button.
A few options appear before it's committed:



If you're 100% sure you're done with the virtual drive and all its contents, use "Move to Trash" so that you don't waste disk space. If you want to keep the virtual drive image but simply have it not visible to your current Windows system, choose "Keep File". Realized you don't want to remove the drive after all? "Cancel" is that choice.
So there ya go. I'm curious: how are you finding VMWare Fusion on your computer? Works for what you need?