I went to check in to a local bar in Foursquare and was rather surprised to find that it existed twice in their database as a venue. That can't be good. Is there some way to clean that up or otherwise fix things so that there's one venue?
What you're seeing are the rough edges of any user-generated database, actually, exacerbated by the fact that Foursquare (a geolocation game for the iPhone, Droid, Blackberry, etc) awards bonus points if you create a new venue in their database rather than check into an existing spot.
Needless to say, it's not uncommon in my experience to see the same place listed more than once on Foursquare and to even have them in slightly different locations on the map. Usually that tells me that one was created at the venue and the other on the way to/from the venue.
Fortunately, it's not too difficult to fix it, though you do have to pay attention to what you're doing as you go, because the venue number from the venue that you think is the "good" or reference entry needs to be entered on the page that is the duplicate, less helpful entry.
Here's what I saw on my iPhone, as an example, when I was having dinner at the California Pizza Kitchen this evening: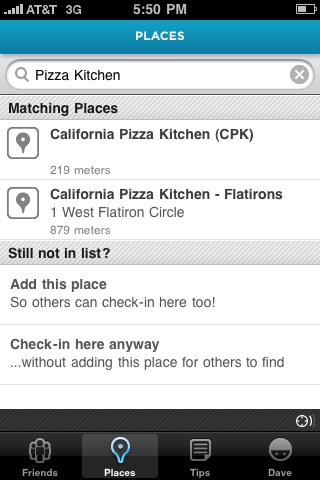 As you can see, there were two matches for "pizza" within a small radius of my current location, both of which are for the same restaurant. Not so good!
To fix it, I needed to go to
Foursquare.com
and log in. First step then was to search for the venue on the site: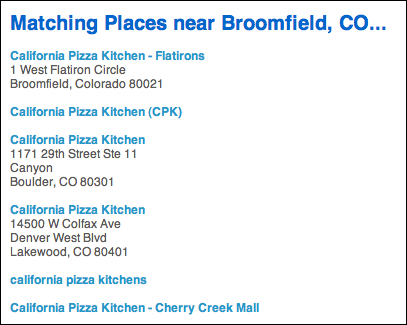 There are those two matches again. Since I'm using Google's Chrome browser, I can take a shortcut: move my cursor over a clickable link and on the lower left it shows the URL of that link. For the
good
venue entry, I do this and ascertain:



You can see the venue number here: 208757
Now click on the other, the
duplicate
venue entry, and check out what it shows us: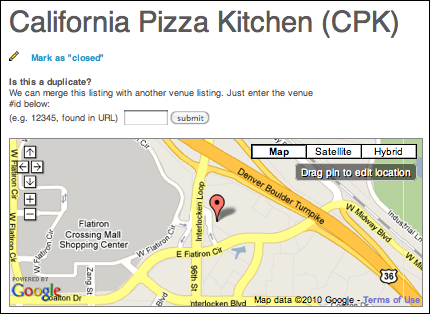 See the little box in the middle with the "submit" button next to it? Look closely and you'll see it says "Is this a duplicate? We can merge this listing with another venue listing. Just enter the venue #id below".
So that's what I'll do. I type in "208757" and click on "submit":



That's all there is to it. Now it's up to the crack admin team at Foursquare to fix and tweak things to make the database happy. Not too bad, eh?