I saw your earlier article about Deleting MySpace comments on someone else's profile in which you said that it can't be done. But you're wrong. You can indeed delete comments by choosing "Show All Comments" in their profile, then you'll get a "delete" option for your own. Check it out!
By jupiter, you're right! 🙂
Let me show you how I tested out your suggestion and found out that indeed my previous blog entry was wrong and how you can indeed delete comments that you've left on someone else's MySpace profile. And thank goodness for that.
First, I'll leave a comment on a friends' profile by clicking on the "Add Comment" link just above his block of comments:

Click "submit", verify your comment on the subsequent page, and it's there and appears to be under their control, not mine: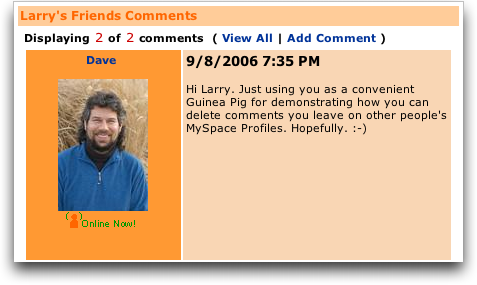 The trick, as you so kindly highlight, is to choose "View All" on their profile page. Sure enough, a new link appears: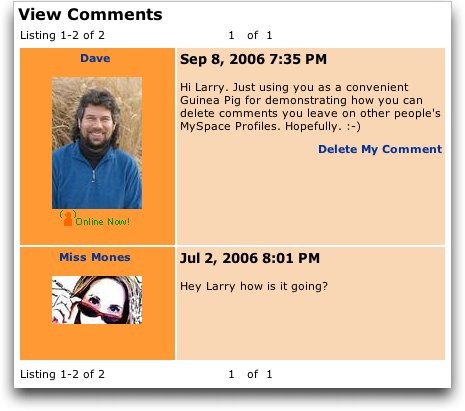 Notice that the comment I've left has "Delete My Comment", but the comment left by Miss Mones on this profile doesn't have that option. That makes sense, since I shouldn't be able to delete someone else's comment on this profile. I click on "Delete My Comment" and am prompted to verify what I've done: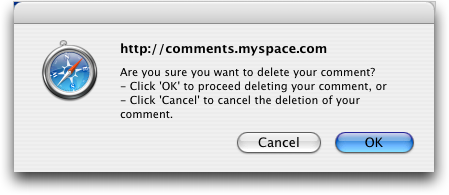 One click on "OK" and my comment has vanished again. Of course, the owner of the MySpace Profile will get a new comment notice and then won't be able to find it when they visit their page, but I'm guessing that they also get a "Comment Deleted By User" message too, so it won't be too much of a mystery.
Anyway, THANK YOU for correcting this mistake on my blog. There are a lot of MySpace users who are going to be very happy to learn this little trick!
If you aren't sure how to delete comments on your own profile, please check:
How do delete MySpace comments
. Also, while I'm at it, I have a lot of additional
MySpace Help
here, and you can also become my friend by checking out my
MySpace profile
.